Day 8
Mystery Quilt
For most of the schedules, today we start with some 3″ blocks – the smallest block size. Only if you are doing the 24 blocks version you will keep the sizes in order ;)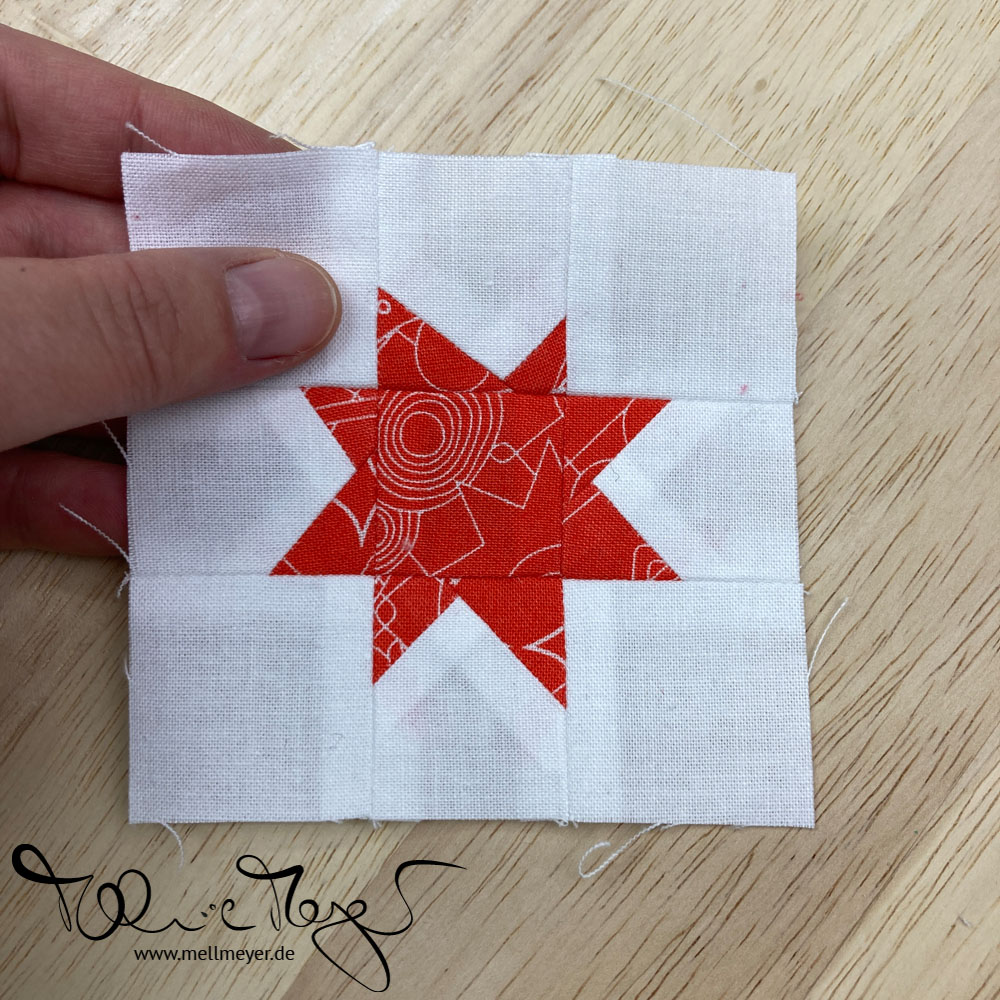 If you do not feel comfortable with the construction method yet, wait a few more blocks. Or try a test version to see how it goes. You might also try a bigger cutting size and then trim further. I preferred to handle slightly bigger pieces and did not mind the bigger cut-off. I think I did a quarter inch more for each square. But the standard size works fine! It was just personal preference. I did a few of each to test ;)
I also want to address pressing: With the 12″ and 9″ blocks I pressed the added triangles to the side (my darker fabric was the star fabric but it would work both ways). I pressed the seams from connecting the units to a block open. I try to nest when possible but with this design and the interlocked stars, it felt impossible. I also wanted to keep myself lots of options on where to put which star later on and twist them around to my liking.
With the 3″ block I would recommend pressing ALL seams open to reduce bulk.

And here is your task for today depending on your chosen version:
24 blocks:
sew (1) 9″ block
(your total should now be 3)
24 quilt top:
sew (1) 3″ block
36 blocks:
sew (1) 9″ and (1) 3″ block
(your total should now be (3) 9″ blocks and (1) 3″ block
36 quilt top:
sew (3) 3″ blocks

I also promised that you could collect "letters" for a special coupon code for the full pattern download at the end. It might also work for the other patterns in my shop ;)
So for your letter collection, write down:
No. 11 = 2
Here is the link again in case you want a code-breaker template:
I have to admit that I am fond of these smaller stars. Besides being smaller, they are as simple but soooo cute!
Merry Christmas,
xo Melanie