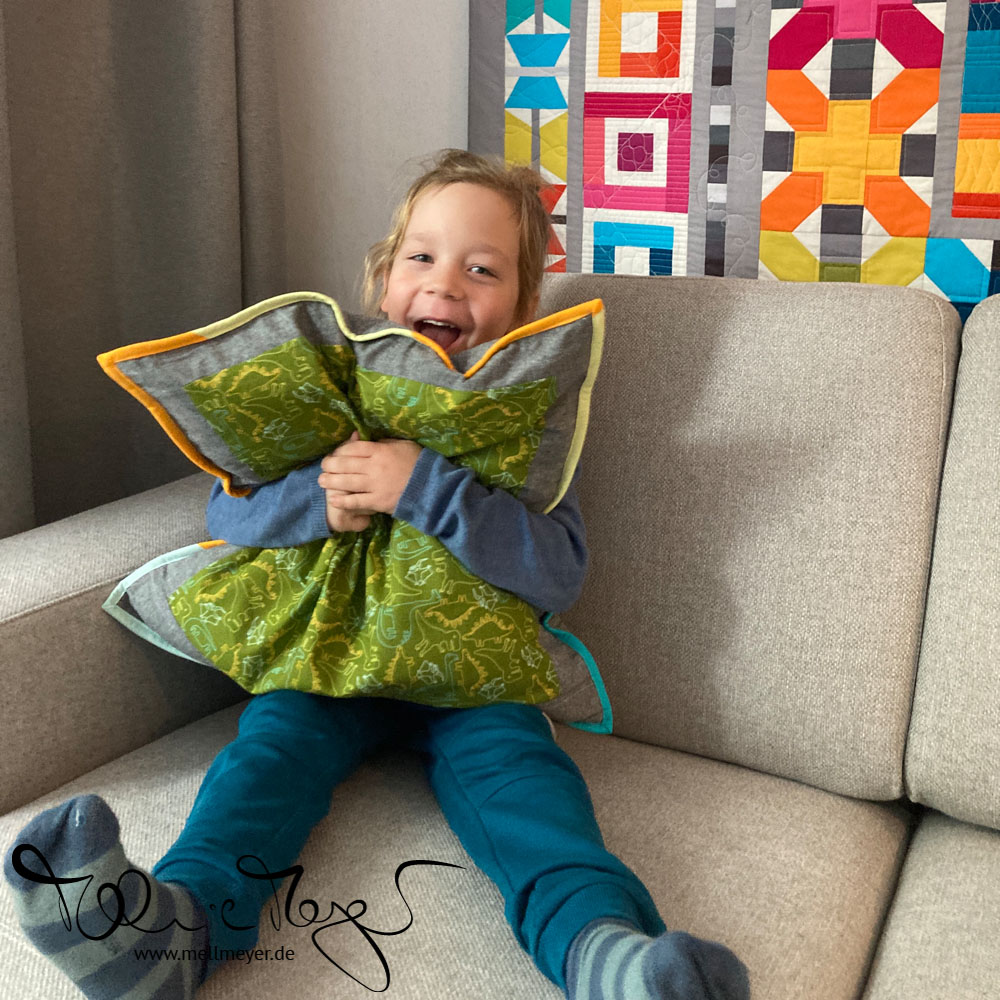 Let me just jump in here real quick and show you my new in-between finish: A dinosaur pillow for my nephew.
I saw this fun print when I was ordering my fabrics for my QuiltCon visit in February. And I showed it to my nephew on my next visit in March asking him what he would like to have made out of it. The most reasonable suggestion – he was still five at the time – was a pillow.
I did not have it finished for my next visit when we celebrated him starting school. And I also think because of all the gifts on that day, it might have just been "lost" anyway. So when I learned, he would visit me one Sun in November, I rushed and used my Sat crafting time to finish it.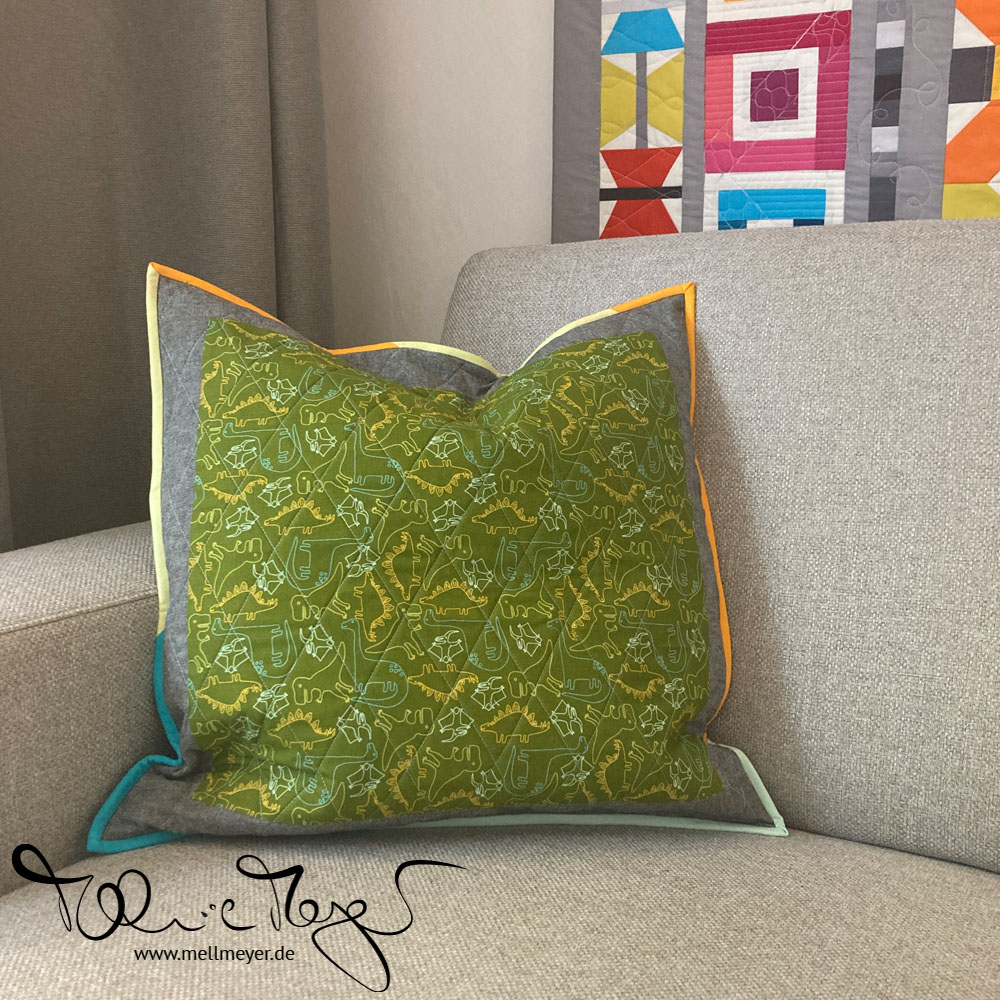 There were a lot of internal discussions about the how. First, I wanted the new print to shine. Unfortunately, it was not large enough for the pillow form I had at home. And making a smaller pillow did not sound right. I also knew I wanted a zipper. But I have never installed one in the bottom seam and did not want to try it on a gift. But I also wanted the back to have a similiarly big print area. And then: What fabrics to combine with the print?
In the end, I decided on a simple Essex Linen border. The Essex Linen is grey with a blue undertone and works great with the light blue and petrol lines in the print. I added the fun – that a kid pillow needed – through a scrappy, colorful binding. Can someone please remind me, that the next time I bind a pillow, I should cut a 2.5 inch binding strip. My usual 2.25 inch strip was a bit "friggely".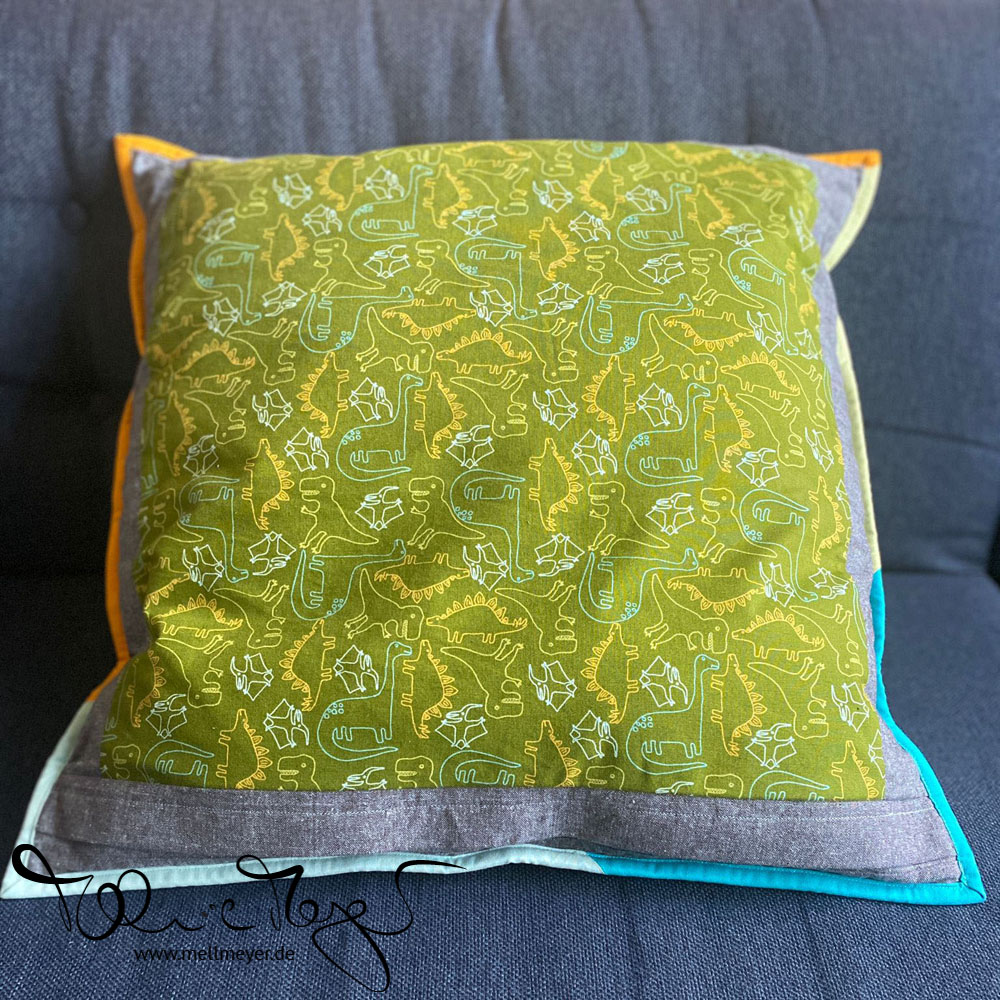 The zipper was installed in the bottom border strip. Making front and back similar. I always use this tutorial to make a flap over to cover the zipper. Which in my case was a fun pop of blue/turquoise.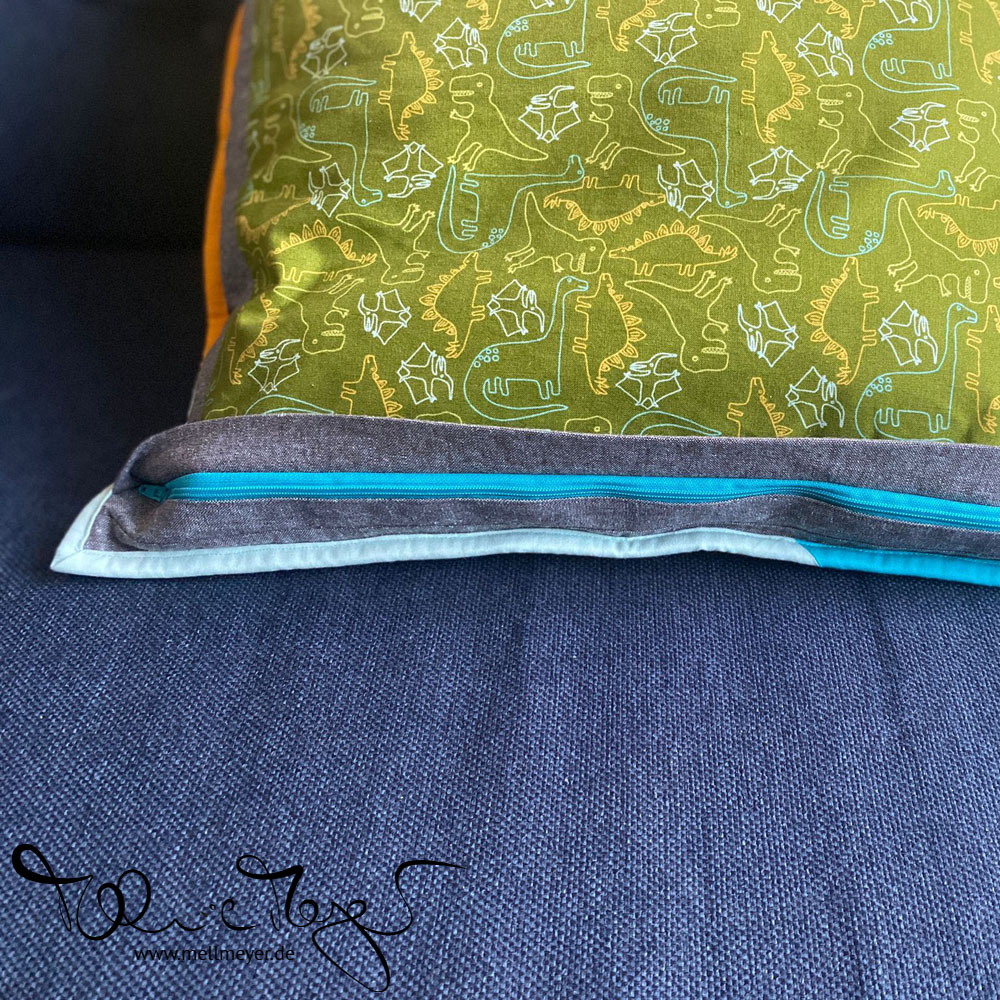 The front was quilted. And for the first time, I tried a diamond grid. I used the 30° line on my ruler and it was a lot easier than I anticipated and I liked the look a lot. Glad to have found a new variation for all my walking foot quilting ;)
I also recently purchased a Hera marker. And I like it too!
Accidentally, the aqua-colored thread I bought for Throwing Stars fit perfectly.
So after I got the confusion about the design out of the way, an overall fun little make!
Because of my usual last minute attitude, I forgot to take pictures and just squished one in before and during the visit. When writing the blog post, I realized I had no photos of the zipper construction and asked my sister to send some. Thanks Sis!
Best wishes
xo Melanie
So far this quarter …