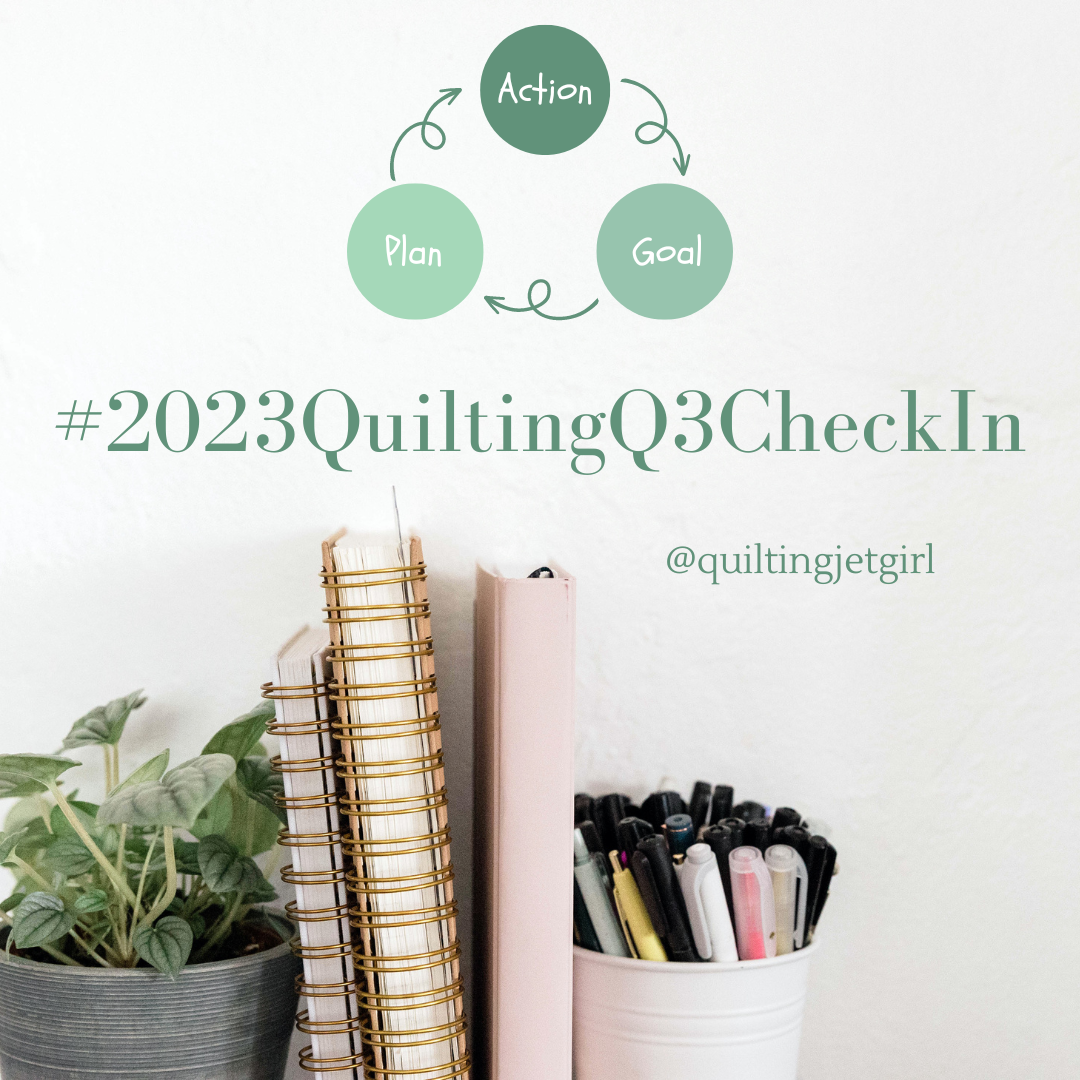 Yvonne @ Quilting Jetgirl decided to do quarterly check-ins this year instead of only one at the half-year mark. I love the idea because it is easy to lose sight of one's goals with all of life happening. So this is a great reminder, an opportunity to course correct, or even a chance to write new goals ;)
I will keep it short and only comment on the changes since the last check-in. So let's dive in!
2023
Goal Setting
The goals in strong print are my main goals, followed by secondary aka additional goals.
+++
The Sewing Goals for 2023
Tackle all the WIPs with a starting date before 2021.
Get the unwilling WIP list down to 3-6 projects
Reduce fabric stash
Continue habit tracking for daily sewing
How did I do with my sewing goals for 2023 so far?
With three finishes in Q3 I have almost compensated my QuiltCon shopping spree.
My project number is still sounding awfully high, even after all this effort, so I checked my old Finish Along posts. The last time I was in my goal range was in 2017! Then I almost instantly doubled my numbers. So I think with hopefully a few more projects to be finished in Q4 I am on an amazing track!
While I have commited to finishing projects, I have not made an effort for it to be the older ones. But I have one from 2019 that is a close contestant for a Q4 finish.
+++
The pattern goals for 2023
Publish "Spikes & Diamonds" (January 2023)
Publish another pattern in the second half
Update all patterns to matching style…
Publish a special for newsletter subscribers
Host a sew-along for pattern releases
How did I do with my pattern goals for 2023 so far?
I published my first German translation. It is not a new pattern but a pattern release. So I am counting this as accomplished ;) I am also currently running a Sew Along for this release.

+++
Additional goals for 2023
Host another Advent Calendar Swap
Host another Blog Advent Calendar
How did I do with my additional goals for 2023 so far?
I did organize the Advent Calender Swap. I am still planning to do a Blog Advent Calendar but haven't started on it yet. Getting a touch close.

+++
The personal growth goals for 2023
Get back to a normal weight.
Get into a fitter state.
How did I do with my personal goals for 2023 so far?
I found some new motivation at the end of July and changed some more eating habits. I have since lost a bit more weight, for a total weight loss of ~19kg and am at the lowest point in four years. Whoohoo! I did try to incorporate more movement but it only worked for about three weeks. I think I still have a lot of mindset work to do on this.
I am still so happy with what I can accomplish when I set my mind to it.
So in Q4 I will focus most of my attention once again on my WIP reduction and weight loss path. I hope I can also write the Blog Advent Calendar. Anything else will be a nice bonus :)
Best wishes
xo Melanie
Linking up at
#2023QuiltingQ3CheckIn @ Quilting Jetgirl