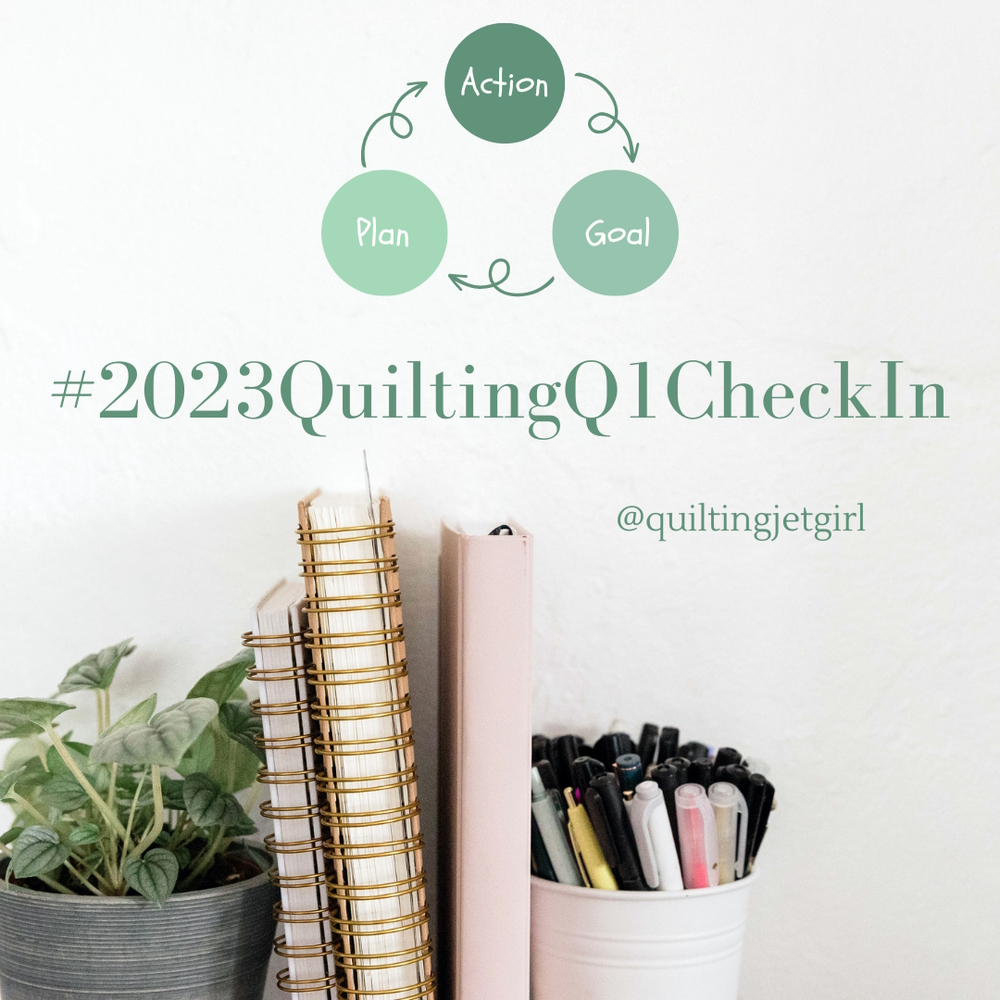 Yvonne @ Quilting Jetgirl decided to do quarterly check-ins this year instead of only one at the half-year mark. I love the idea because it is easy to lose sight of one's goals with all of life happening. So this is a great reminder, an opportunity to course correct, or even a chance to write new goals ;)
So let's dive in!
2023
Goal Setting
The Sewing Goals for 2023
Tackle all the WIPs with a starting date before 2021.
Get the unwilling WIP list down to 3-6 projects
Continue habit tracking for daily sewing
Reduce fabric stash
How did I do with my sewing goals for 2023 so far?
I made good progress on one of my seven "old WIPs". I am very happy about that though looking at that number, I need to step up my game. The same applies to the full WIP list. I have gained in total numbers although I had a few finishes this quarter. One is a scrap-busting project, that will later work well for my goal of stash reduction, one is a QuiltCon class project and another is a sew-along I just couldn't resist ;) But I challenged myself to use only stash for the sew-along as well, so stash reduction is still a priority over here. Though the QuiltCon shopping – no sense in passing up this amazing shopping opportunity – still has me in the positives. The tracking for daily sewing is still happening and overall I am sewing a lot. Covid couch time excluded.
And though it might look bleak in numbers I am feeling very good with this section.

The pattern goals for 2023
Publish "Spikes & Diamonds" (January 2023)
Publish another pattern in the second half
Update all patterns to matching style…
Publish a special for newsletter subscribers
Host a sew-along for pattern releases
How did I do with my pattern goals for 2023 so far?
Spikes & Diamonds was published and I started to work on another idea or two. Though I did not host a sew-along for the release. I am still debating the benefit and technical options for a sew-along which has played a big part in my not committing to this yet. This is a goal I am reconsidering.

Additional goals for 2023
Host another Advent Calendar Swap
Host another Blog Advent Calendar
How did I do with my additional goals for 2023 so far?
These two are for Q4 :)

The personal growth goals for 2023
Get back to a normal weight.
Get into a fitter state.
How did I do with my personal goals for 2023 so far?
I have lost an additional ~ 3 kilos (6-7 pounds). It is not as much as I had hoped for – to be honest. But I know slow and steady will win the race and is a lot more healthy. So I am grateful that it is still going in the right direction and that no matter how hard life got in between or whether I was traveling, I stuck to my new eating routine and did not slide back into unhealthy behaviors. Very proud of that!
Unfortunately, I have not managed to incorporate more movement. QuiltCon was awesome with lots of steps but otherwise …
Overall with just three months into the new year, I think I am still on a good track. I have a few stubborn items that might need some more vigilance or brainstorming but I am especially happy with all the good habits that mean that the goals are getting really integrated into my lifestyle.
Are you also working with goals? How did you do? Any ideas for my "special candidates"?
Best wishes
xo Melanie
Linking up at
#2023QuiltingQ1CheckIn @ Quilting Jetgirl