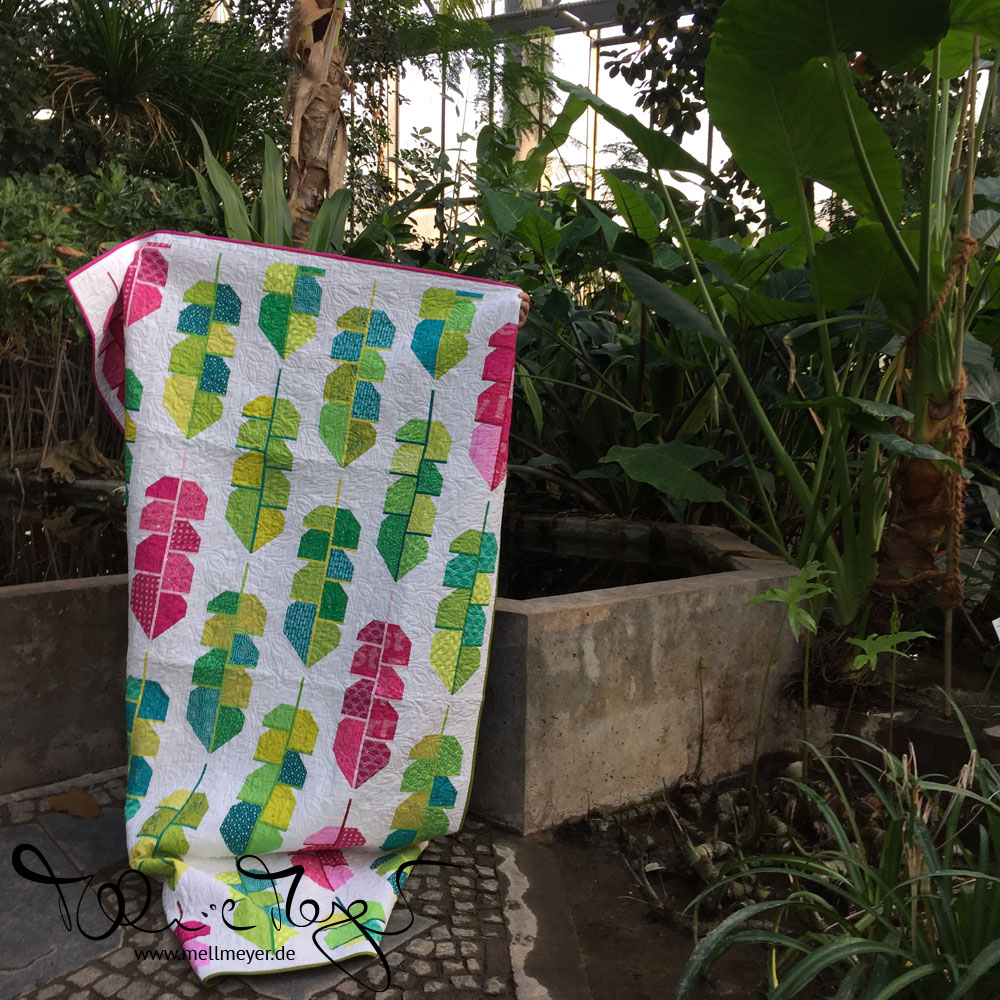 Click on any image to see all pictures in full as a slideshow.
Name: My Jungle Quilt
Working Title: Leafy
Started: 20th of August 2019
Due Date: none
Completed: 19th of December 2019
Days till completion: 122
Pattern: Leafy pattern by Elizabeth Hartman
Technique: traditional piecing
Fabrics: approx. 32
(7) pink fabrics and (18) green fabrics from various designers/collections plus a few (~6) solids for the stems (Kona Cotton). The backgrond fabric is an Alison Glass print called 'Stitched in Paper' from 'Seventy Six' collection.
Binding: by machine
The binding is half and half another Alison Glass print called 'Union Jack in Heart' from the collection 'Road Trip' and a Carolyn Friedlander print called 'Crosshatch in Leaf' from the collection 'Architextures'.
BTW: The Backing is 'Jungle in Pink' from the collection 'Junglemania' by Mia Charro.
Quilting Design: Simple Loopy Leaves 2 done by longarm quilter Rachel @ Stitched in Color
Size: approx. 57×82 inches (145×208 cm)
Block Size: approx. 6×19 inches
differs from pattern because I used sashing instead of the small block borders from the pattern
Different Block Designs: 1
but the layout uses half blocks for a staggered design
Blocks: 25 Full, 3 Upper and 3 Lower Blocks
Units per Block: all calculated for my version
Full Block: 27
Lower Block: 15
Upper Block: 16
Pieces: 802

"Leafy" was the first Sew Along I organized. You can find out all about the Sew Along here:
"Leafy Quilt Sew Along"
Link to the blog post about the finished quilt: Leafy my Jungle Quilt
Costs are calculated via my Quilt Price Calculator: Factors are the size & pieces as mentioned above and the presets for a twin quilt. I did set the batting to 0 Euro because it was ordered at the longarmer. And I addet those costs of 180 Euro to the extras.
In my opinion the normal theory of factor 2 and factor 3 sales prices does not apply here, because I "subcontracted" the quilting part. That theory accounts for the piecing AND quilting work. So in this case, I'd guess a better sales estimate for this quilt would be the factor 2.