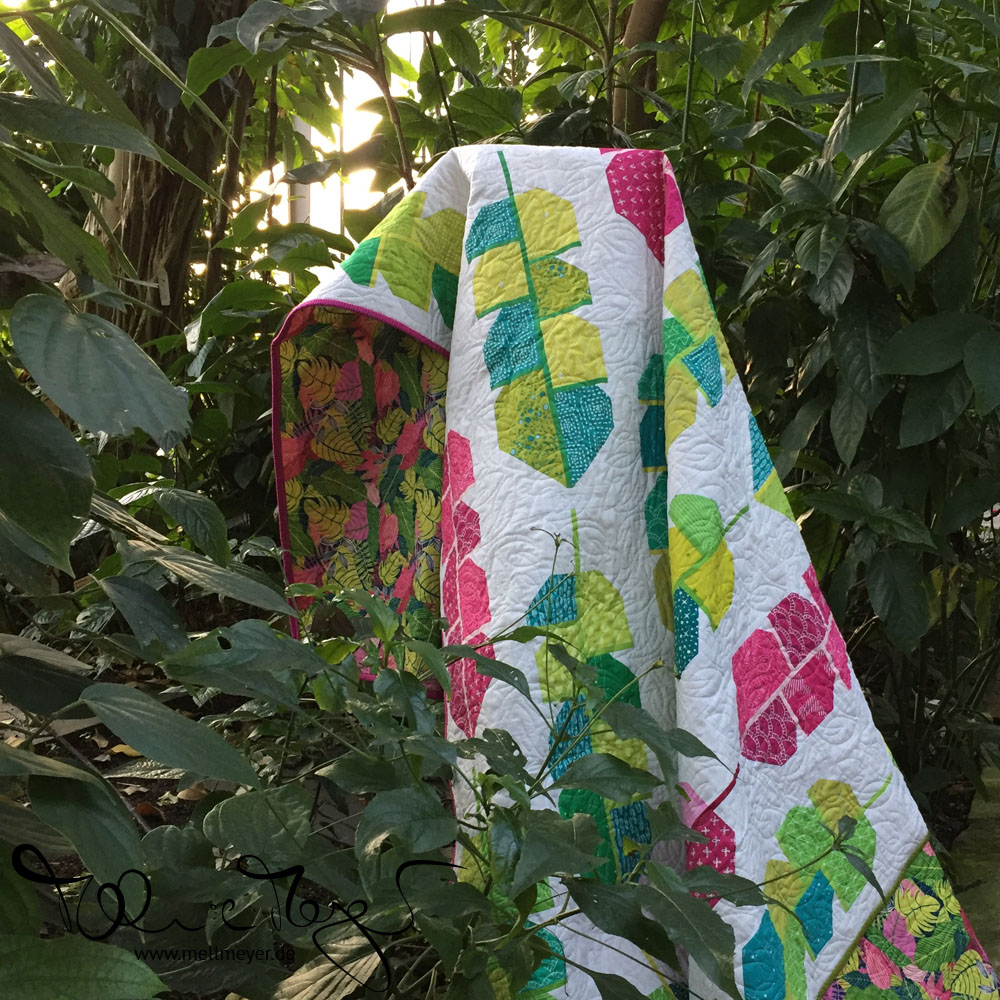 No. 9 of my Finish Along List for Q4 is finished!
This must be one of my fastest finishes. And I loved it all the way! Ok, I might have been stressed a bit because of my Sew Along time commitments but…
I so enjoyed the community of the Sew Along, the sewing of the blocks and especially the small stems… yeah I know, I did already tell you… I did even get the sashing done fairly fast. I am very happy with my backing fabric and totally exhilarated by the fun quilting design Rachel @ Stitched in Color did for me. I am amused by the fact that the two fabrics I ordered with the backing by chance were the perfect bindings… no I really didn't plan it that way. When I told my Mom that I was thinking about the crazy idea of doing a two colored binding with them because they fit so well but that it didn't feel like the well thought through choice… she didn't even let me finish because she agreed so fast :)
So here we are four month aka 122 days later with this wonderful finish that brought and brings me so much joy. And I am sure it will give me a lot more when I cuddle under it on the couch.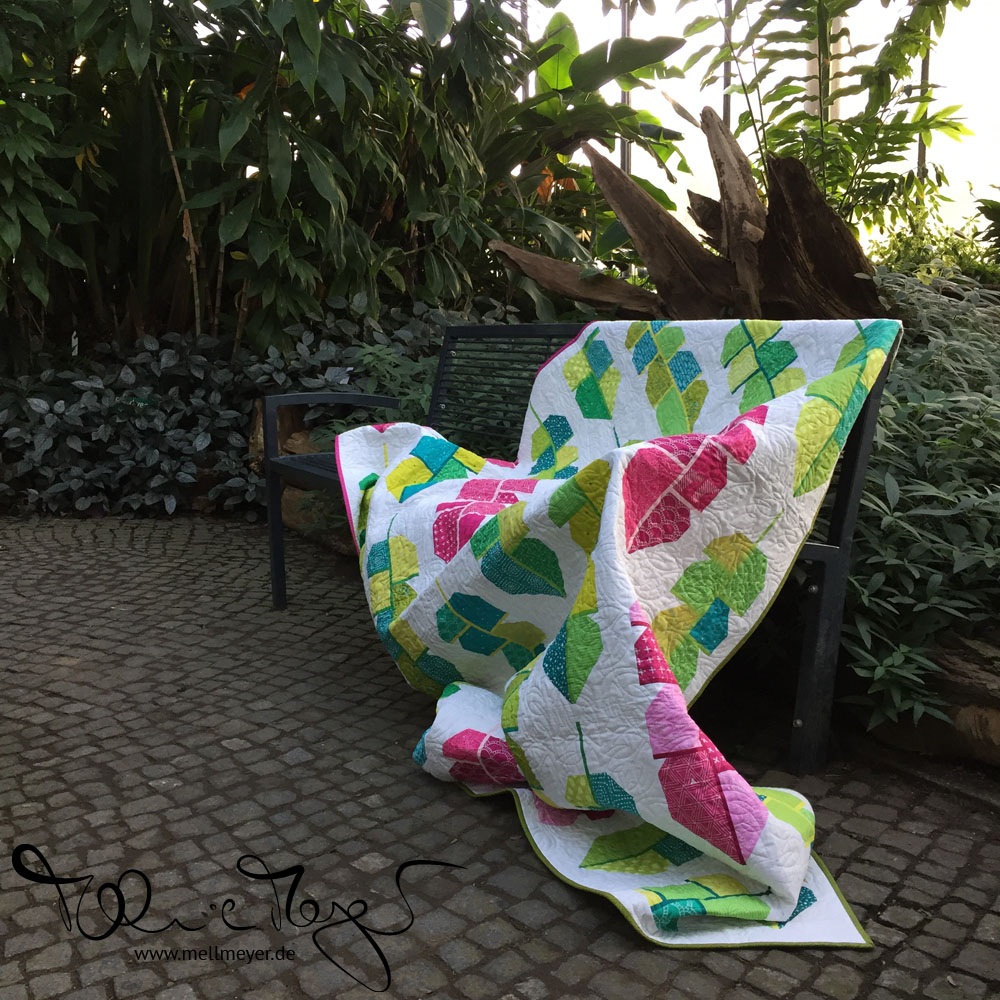 Once again I knew directly where I wanted to photograph the quilt: The Tropical Greenhouses in 'Planten un Blomen'.
I have been to the park 'Planten und Blomen' (which means plants and flowers in Low-German, a Northern German dialect) a few times. I specifically remember the huge play area with "mountains" and slides from when I was a kid and the band shell from more recent choir performances my Mom did and I visited… but to my shame I had never been in the tropical greenhouses. I must even say I didn't even know they were there.
When Preeti and Nina visited this April, we toured the park and they noticed the glass buildings which I could tell them nothing about… but we had time, walked through and enjoyed them a lot.
They were rebuild in 1963 for the International Horticultural Exhibition (IGA) after being destroyed in World War II. The technical peculiarity of the building is that the glass construction is suspended on externally located steel profiles, so that there are no load-bearing elements disposed inside the interior spaces. Today the tropical greenhouses and the adjoining 'Mediterranean Terraces' are under monumental protection.
The 'Tropical House' is where I wanted to photograph Leafy. It is the largest section of the greenhouse complex and dedicated to the plants of the humid equator regions and designed to give an impression of the rain forest's ecosystem. Think palms, orchids, lianas…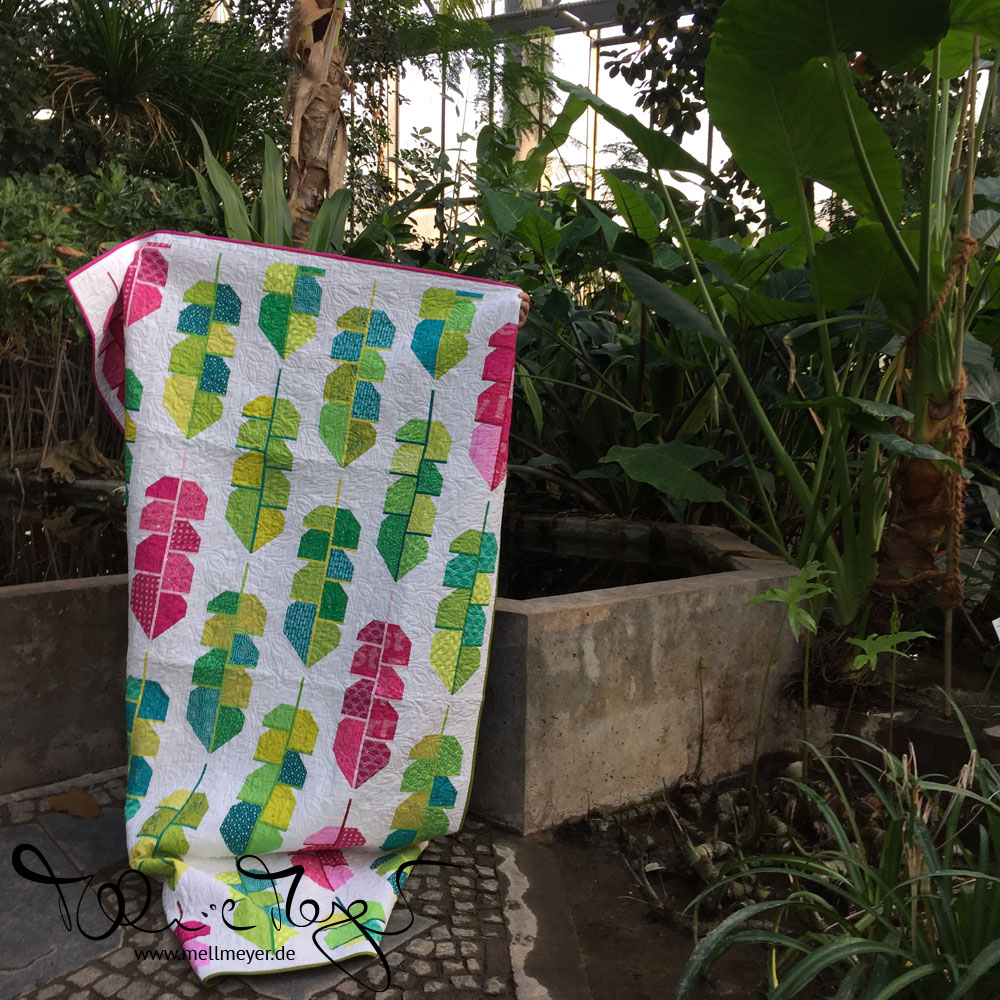 It has the best scenery but not that many places where I could display my quilt. Fortunately shortly after I walked in, there came another visitor. As usual I asked if he would hold up my quilt for a picture. And sure enough he was very willing to help. But when he started to hold the quilt, quickly the next response was… I will sit down here… and his arms started to shake immediately. I took the picture very fast… only realizing then that he was probably in his 80ies. But he was very interested and kind, as usual asked about the quilt. Also told me about a cacao plan that he thought was a "decorational one" but that it looked similar to ones he had seen in his youth in South America…
He was a very sweet man and though it was not the full quilt shot I had hoped for, I treasure the moment.
But then something strange happened: When I walked further there was a middle aged guy sitting on a bench enjoying a cup of coffee and I asked him… He was fairly tall, fit… and I was still hoping for the full shot. He reacted very strange, not in a "Sorry, I want to enjoy my coffee not this time" way but somehow weird and did not want to help. This was the first time that has happened to me. Everyone so far was willing to help! I felt lost for a moment….
… went on to the next greenhouse but really wanted that photo. So I decided to go back again and planned on asking the gardener I had seen before. While walking back I met some other guy who did help: So here is the fairly decent full quilt shot :)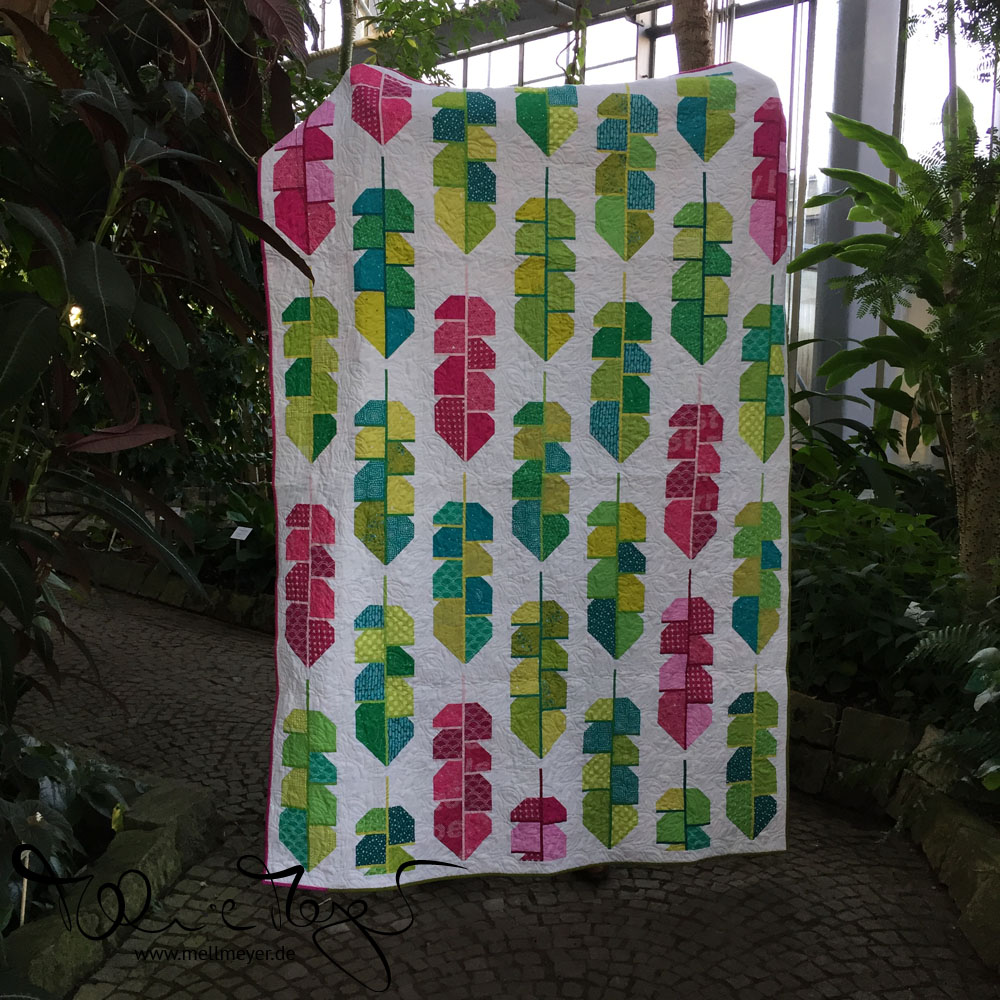 After the 'Tropical House' you walk through a small 'Palmfern House', a 'Subtropical House' and the smallest, the 'Fern House'. And then you reach the 'Succulent House'. It is not the right environment for Leafy but it is a fun contrast in style and temperature as well as humidity :)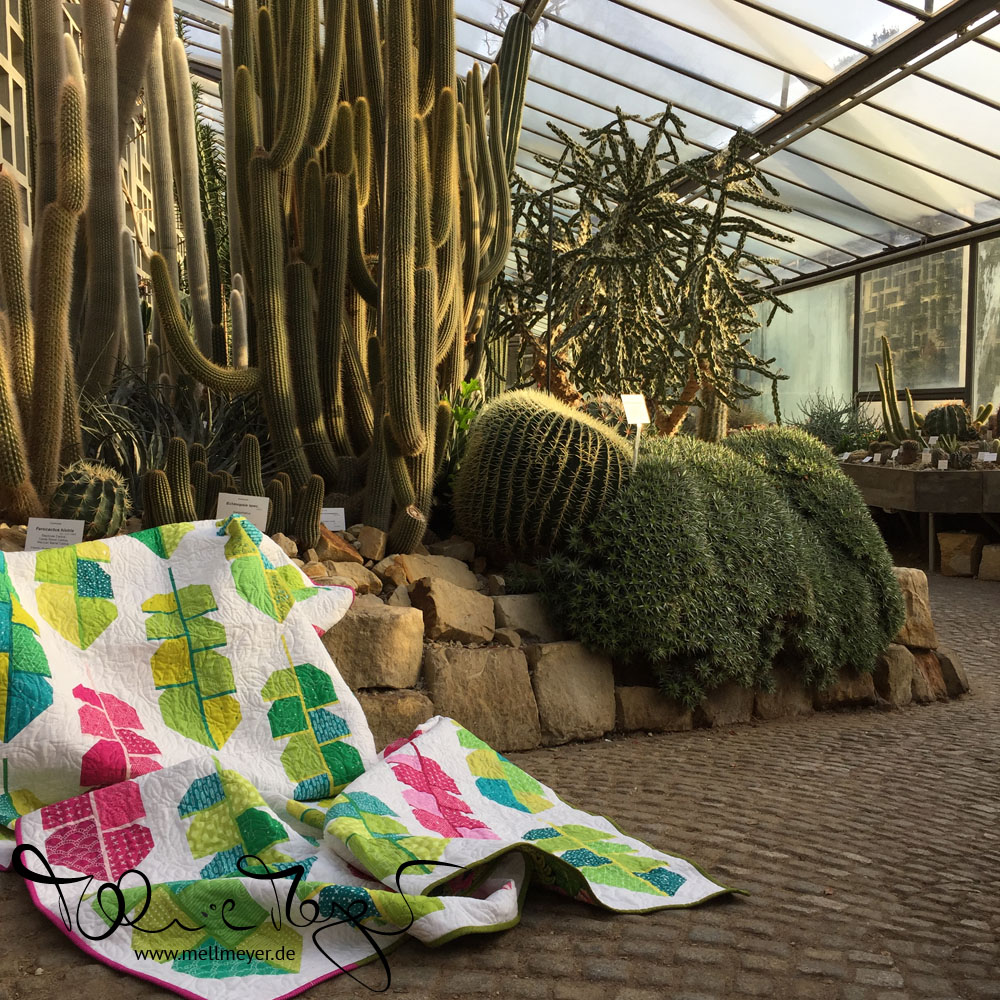 So this is finish number three! And I will finish my part for the QuiltCon Charity Quilt before Christmas and I hope to maybe finish something else after. Not sure that it will get photographed and blogged in time… but I am hopeful. Maybe the sewing mojo and weather gods will comply :)
Hoping you are having a happy Christmas season and wishing you the best of time over the holidays – friends, family, food, music… Merry Christmas!
Best wishes
xo Melanie
So far this quarter …
Linking up at
Beauties Pageant 61 @ From Bolt to Beauty
I will link up with the 2019 Finish Along hosts.