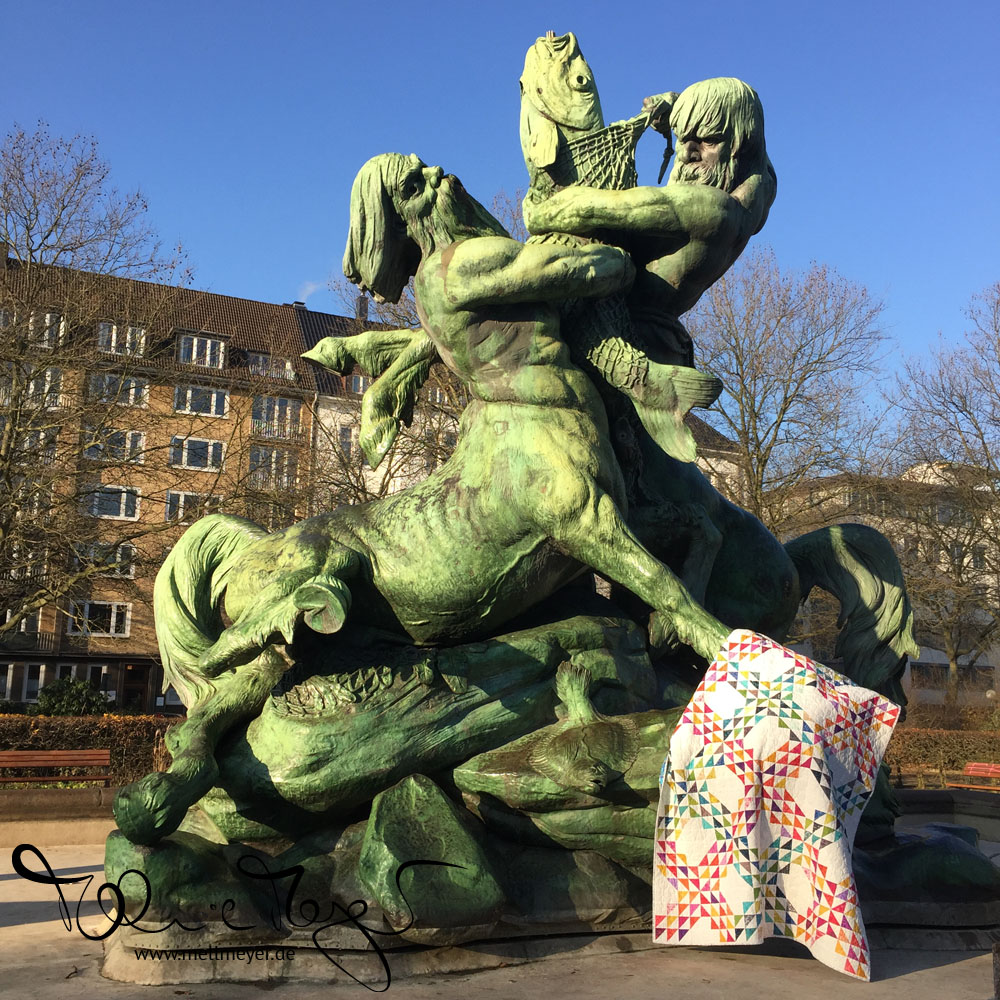 No. 1 of my Finish Along List for Q4 is finished!
If you have been following me for a while, you know that I hate hand sewing. As I am starting to get better, I do not really know why that is, but I guess it must have been from handiwork school classes in primary school. At least I do not have any better explanation.
But this aversion is a big part of why it took me more than three and a half years to finish this gorgeous – if I may say so myself – quilt. The last 14 months it was just waiting for some hand binding. I am pretty sure all you people out there loving hand binding will be shaking your heads by now :)
So before we get to the other pictures and why I choose this photo location… here it is: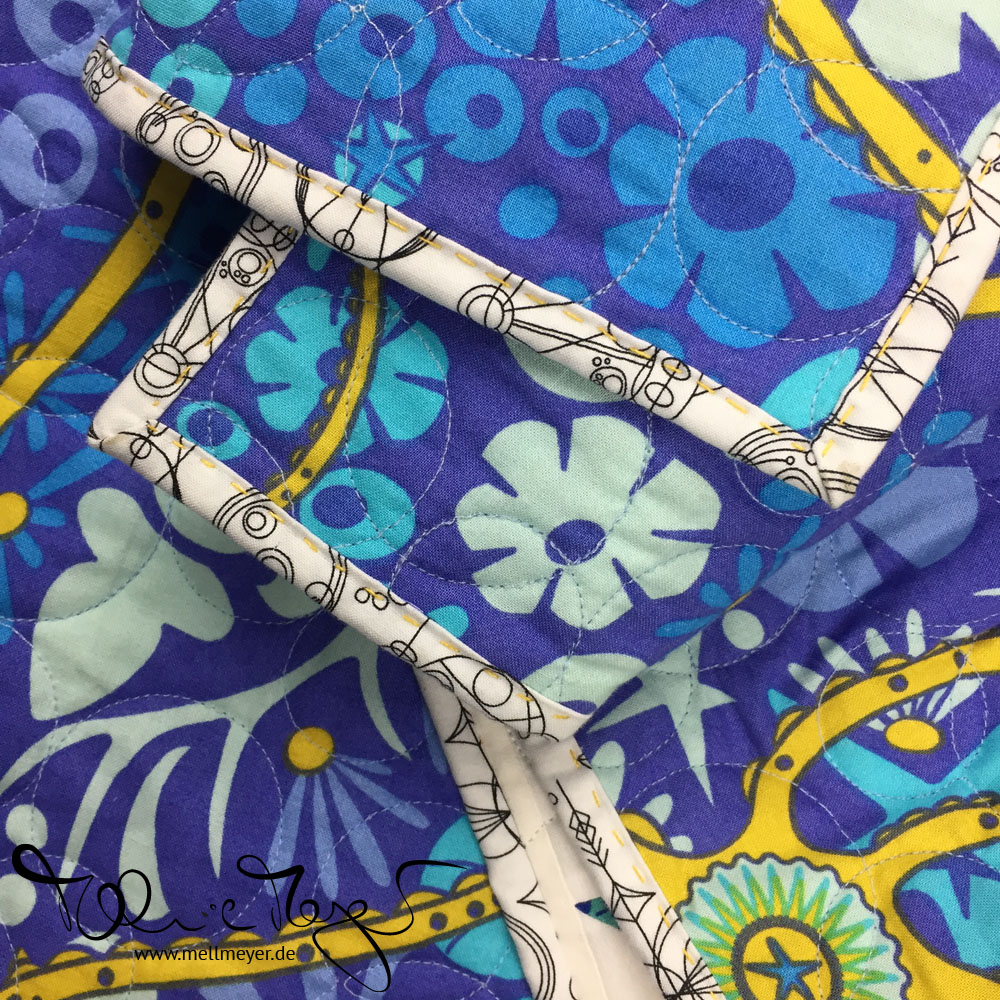 "slightly" longer story about how it came to the hand binding
just skip to the next picture if that is not what you are here for :)
In general I machine bind my quilts and I am very happy with that. Unfortunately "one crazy thing" kept me from doing it here. As you can see, I sent the quilt to a longarmer to have those beautiful bubbles quilted. But of course I was finishing the top "last minute" as the longarmer was just days away from a big move. So I had to hurry. And I just couldn't be bothered with figuring out how wide I wanted my border… I sewed on a few inches and thought I could still decide later. And I guess I could have.
Of course I decided on cutting something off. But that meant I would have unsecure stitches at the edges. The longarmer and I were unsure if the stitches would ripple so we decided on the safer sounding option of sewing the binding on with a very small stitch before cutting, hoping that that stitch line would secure those quilting treads.
But of course my cut was not a perfect quarter inch. Which would neither have been important if I had just used a slightly wider binding… but alas I didn't and as much as I tried I couldn't catch the binding on the backside when stitching in the ditch on the front. So hand binding was my only option :)
I decided on big stitch binding using a thick thread and the mustardy yellow color that is in the backing fabric. I ended up with Aurifil 2132 in a 12 weight.
This is a very helpful big stitch handbinding tutorial.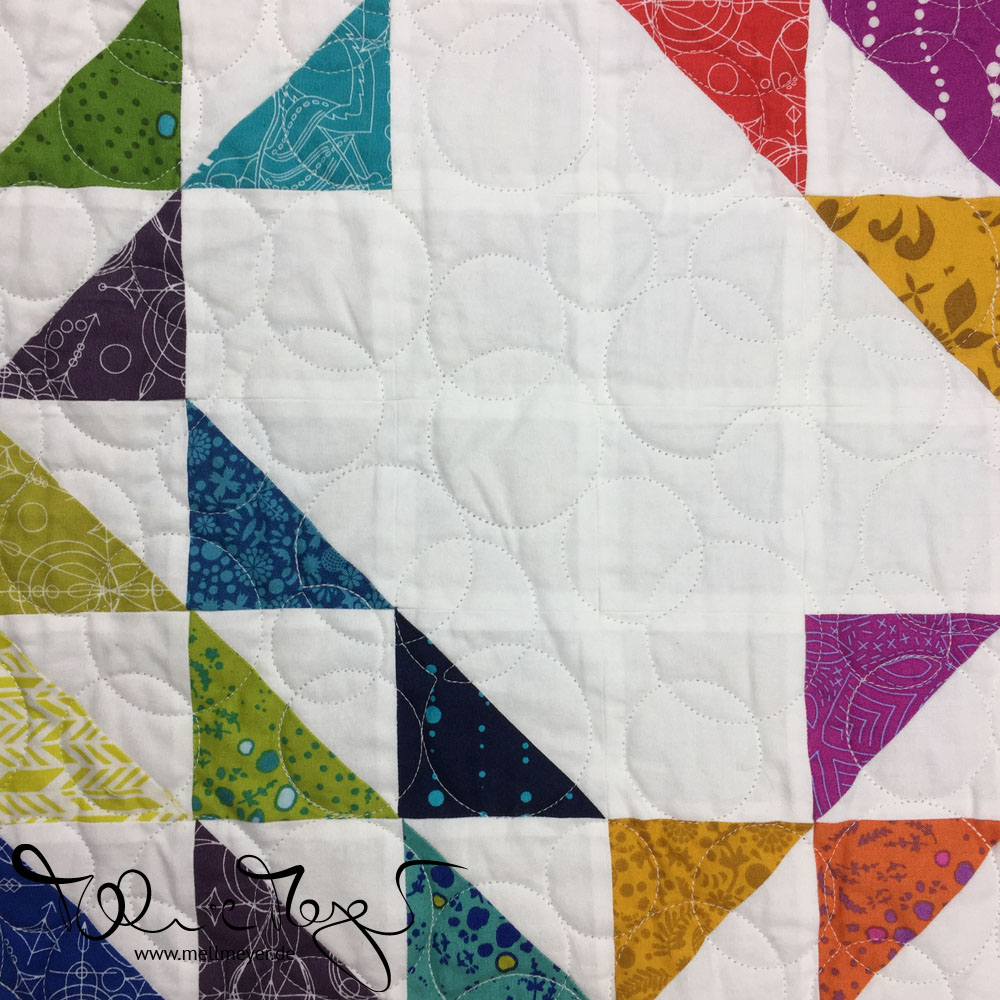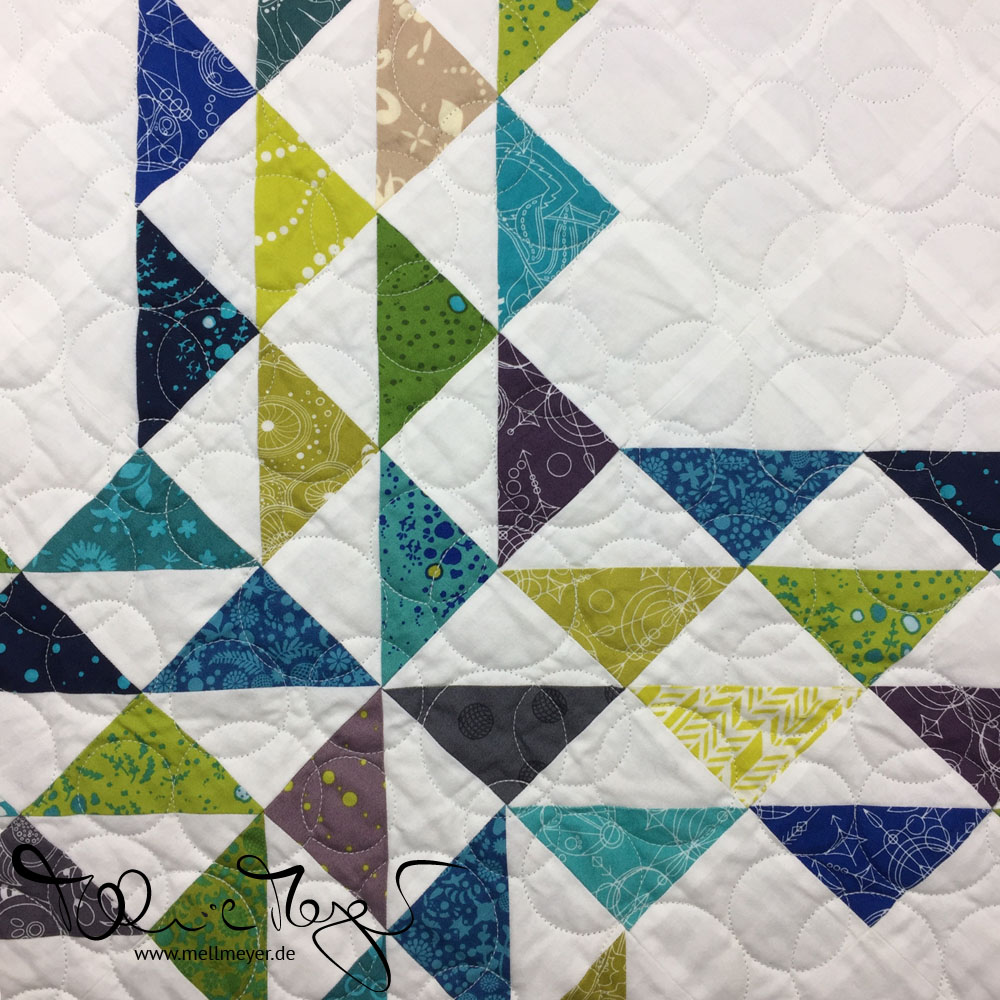 As you can see all the fabrics in this quilt except for the KonaCotton Snow background are by Alison Glass. There are HSTs in there from every fabric I had at the time when I cut for this quilt. The backing is the wideback from the 'Diving Board' collection and the binding 'Mercury in Charcoal' from the 'Abacus' collection.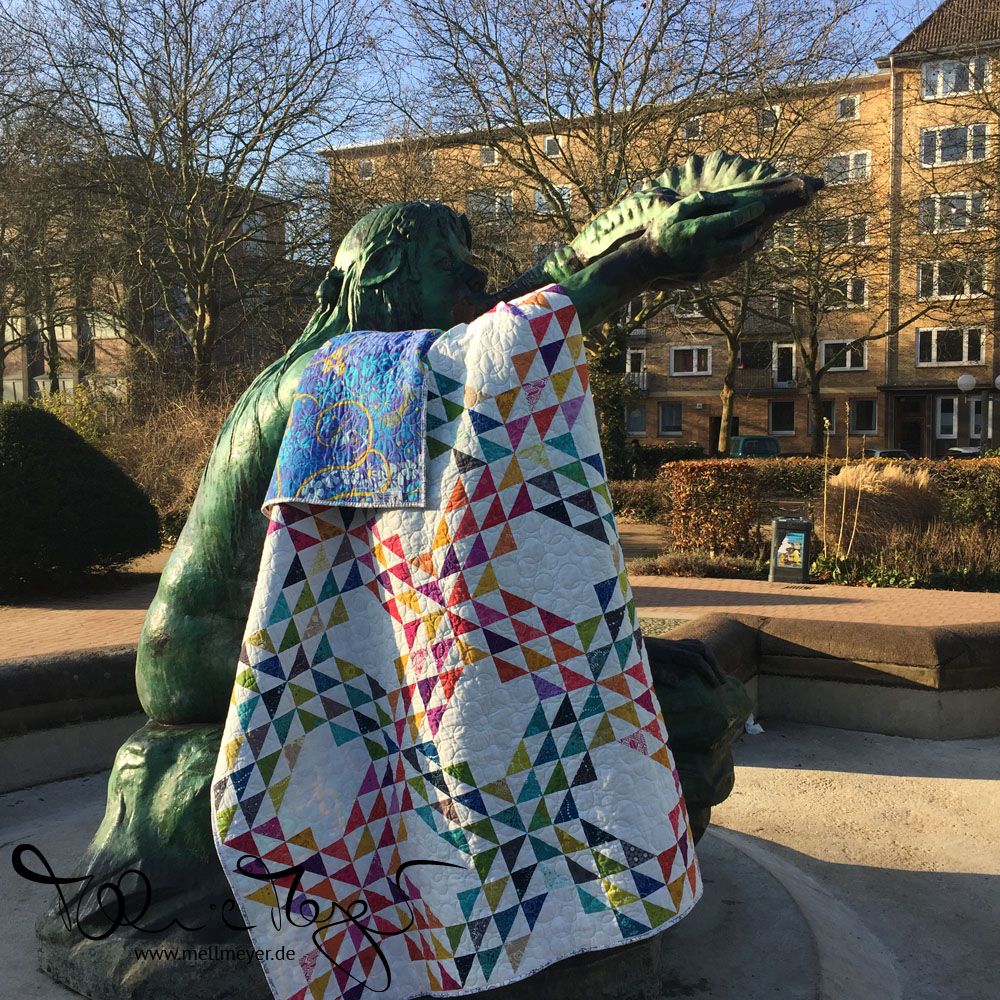 As the block is called Ocean Waves, I had it in my head for a looooong time that I wanted to take the pictures at the beach preferably on a wooden board walk or even under a pier. But none of those are close by and with it being winter at the moment the sunny hours are getting very scarce. So I choose another Hamburg location. But I might go for the other pictures next summer… just because!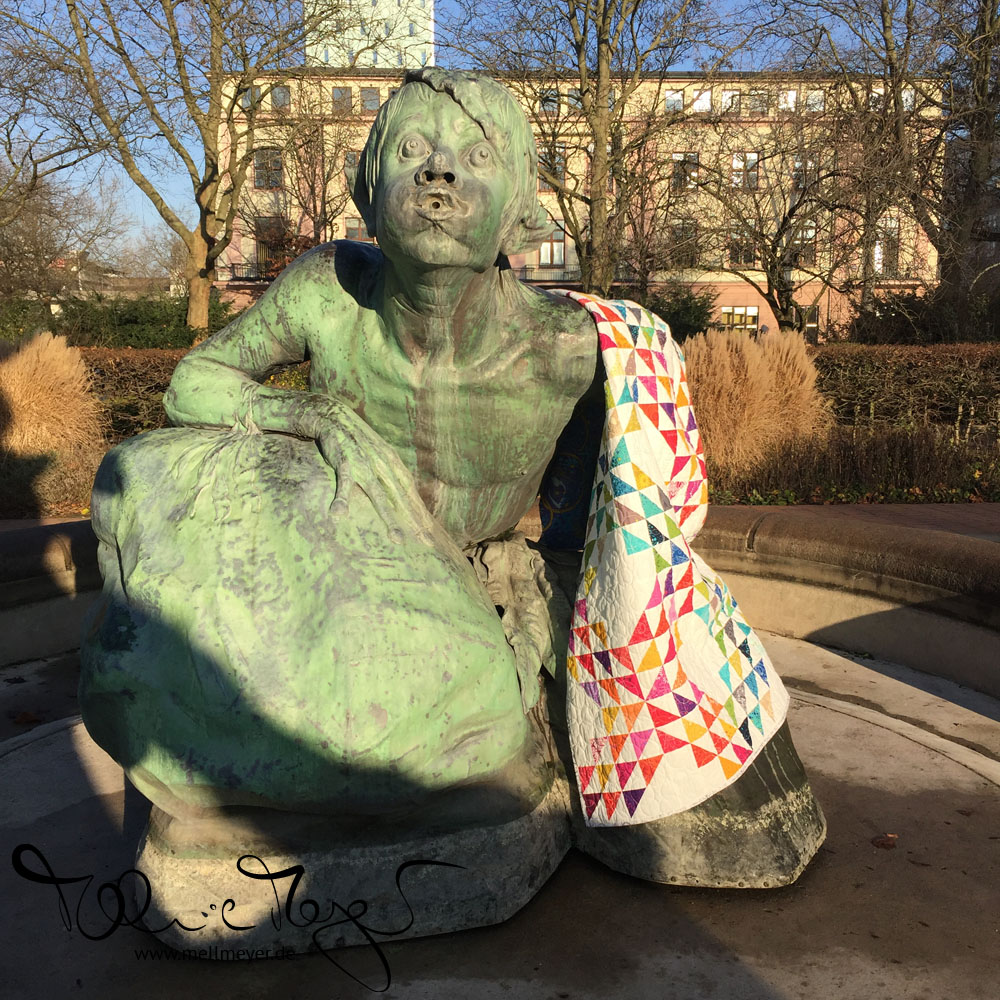 So what is this location? It is a fountain called the "Stuhlmannbrunnen" named after Günther Ludwig Stuhlmann who bequeathed the city of Altona with money for a few things including a fountain. It consists of a ten by twenty meter big basin in which center on a small rock two centaurs are fighting for a huge fish. The center structure is seven and a half meters high.
On pedestals around the basin are other smaller water creatures. Seemingly outraged they spout water-jets at the intruders. And from the mouth of the fish climbs the meter high main fountain.
Here is a link to a beautiful Wikipedia picture of the full fountain, also picturing the saurians. And if you want to see it in action…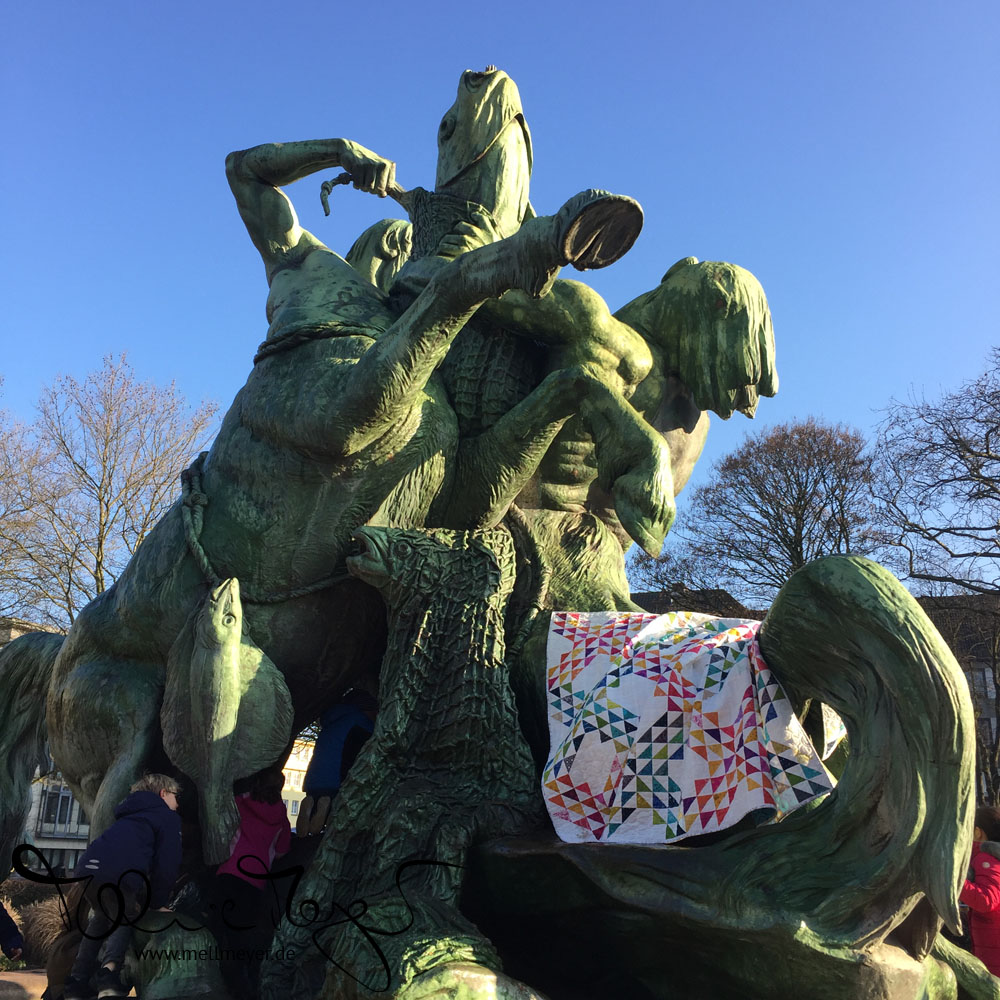 Speaking of climbing. As I was taking my pictures a group of kids climbed around on the structure. They actually helped me get my blanket up there – I didn't feel like climbing myself.
They also enthusiastically cleared everyone from my first picture so I could take a distraction free one. For the other photos I had to accept those intruders as Triton & Nereid had to with the centaurs :)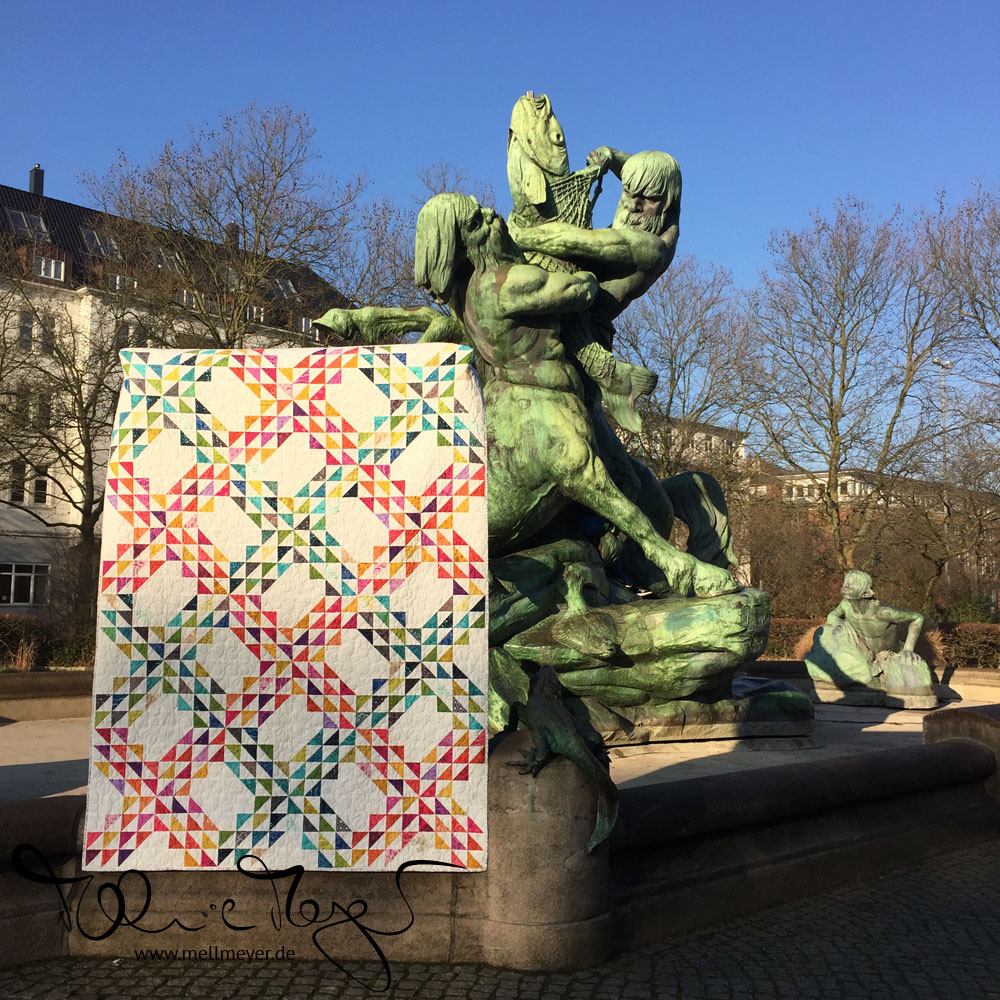 I think they were a school class out to visit the nearby museum. I asked one of the adults to hold up the quilt for the full quilt shot. He was again – as I am starting to expect – very willing to help but also very inquisitive. It was fun to talk with him a bit about why I take these special pictures for my quilts and why I choose the location.
Oh, and besides being nautical in general, it symbolizes the historic rivalry of the cities Altona and Hamburg. Here represented via the business of fishing. I think it is worthwhile to remember that Altona was not always an urban district of Hamburg, but was an autonomous city that grew to be part of my beautiful city.
So this is finish number two! How are you doing? Are you still working on WIPs or are you already busy trying to get all the Christmas presents sewn?
Best wishes
xo Melanie
So far this quarter …
Linking up at
Beauties Pageant 59 @ From Bolt to Beauty
I will link up with the 2019 Finish Along hosts
and I might link it up as my Favorite Finish December @ Meadow Mist Design