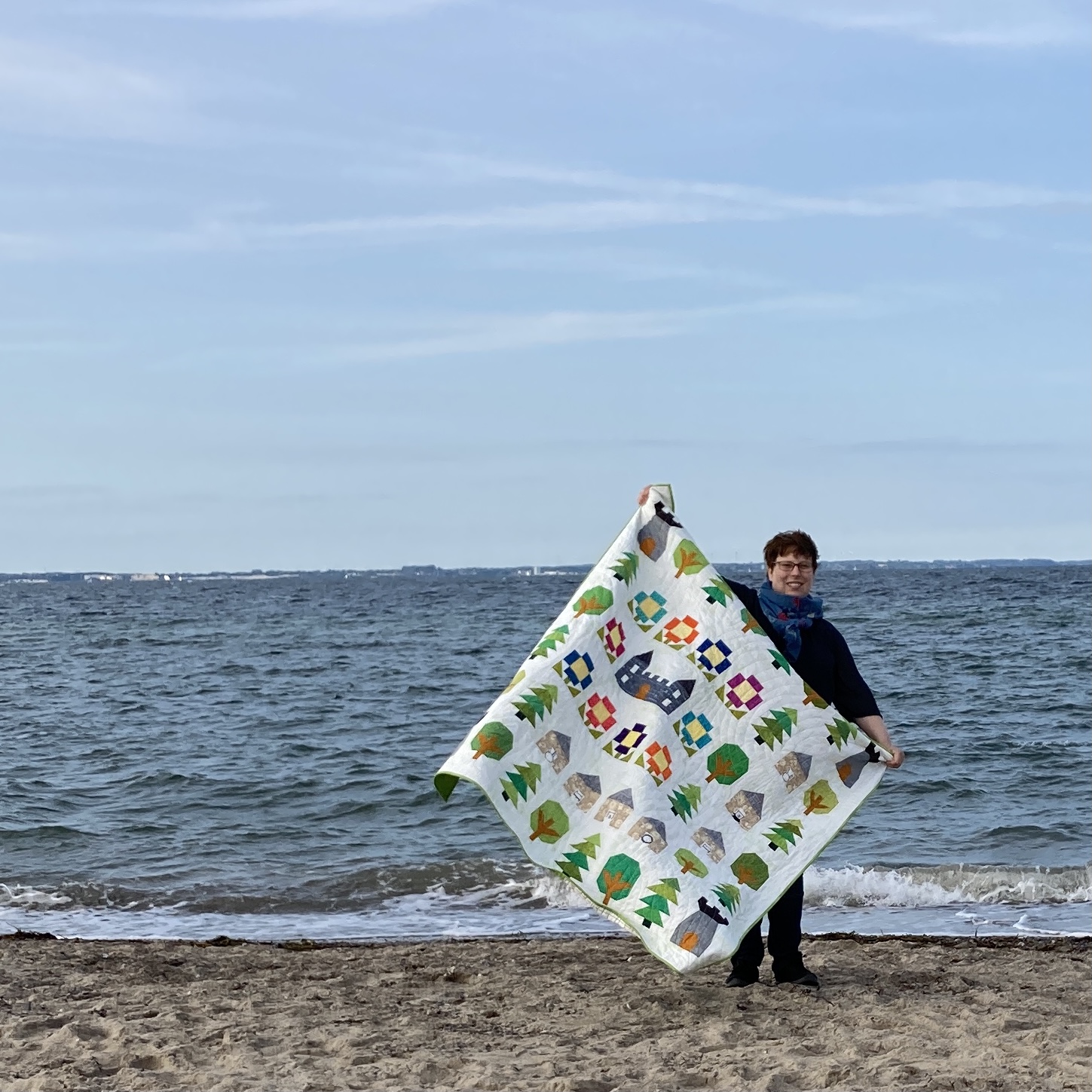 Click on any image to see all pictures in full | as a slideshow.
Name: Nora's Kingdom
Working Title: Little Kingdom
Due Date: 5th of April 2021
Started: 21st of May 2021
Completed: 26th of August 2021
Days till completion: 98
Pattern: Little Kingdom blocks by @applesandbeavers and the Tiny Town blocks by @penandpaperpatterns
Technique: traditional piecing and a tiny amount of fpp (foundation paper piecing) just for the castle roofs
Fabrics: Various prints from stash mixing collections and designers including but not limited to Alison Glass, Caroyn Friedlander, Giucy Giuce, Sassafras Lane, Heather Givans and Zen Chic.
Background Fabric: Moda Grunge Basic in White
Quilting Design: walking foot design inspired by topographic maps
Binding: by machine
Size: approx. 55 ½ × 60 ½ inches (140 × 154 cm)
Block Size: 5 × 8″ finished
Castle: 11 ½ × 8″
Different Block Designs: 6
Blocks: 47
Units Per Flower: 15 (150)
Units Per Oak Tree: 17 (204)
Units Per Pine Tree: 15 (195)
Units Per House: 8 (56)
Units Per Watch Tower: 16 (64)
Units Per Castle: 34 (34)

Pieces: 754
including sashing and borders
Final post about this quilt: Little Kingdom – Finished!
You can find out more about my progress and process there.
some of the pictures are progress posts from Instagram
Costs are calculated via my Quilt Price Calculator: Factors are the size & pieces as mentioned above, the presets for a baby quilt plus 18.50€ in extras (patterns).