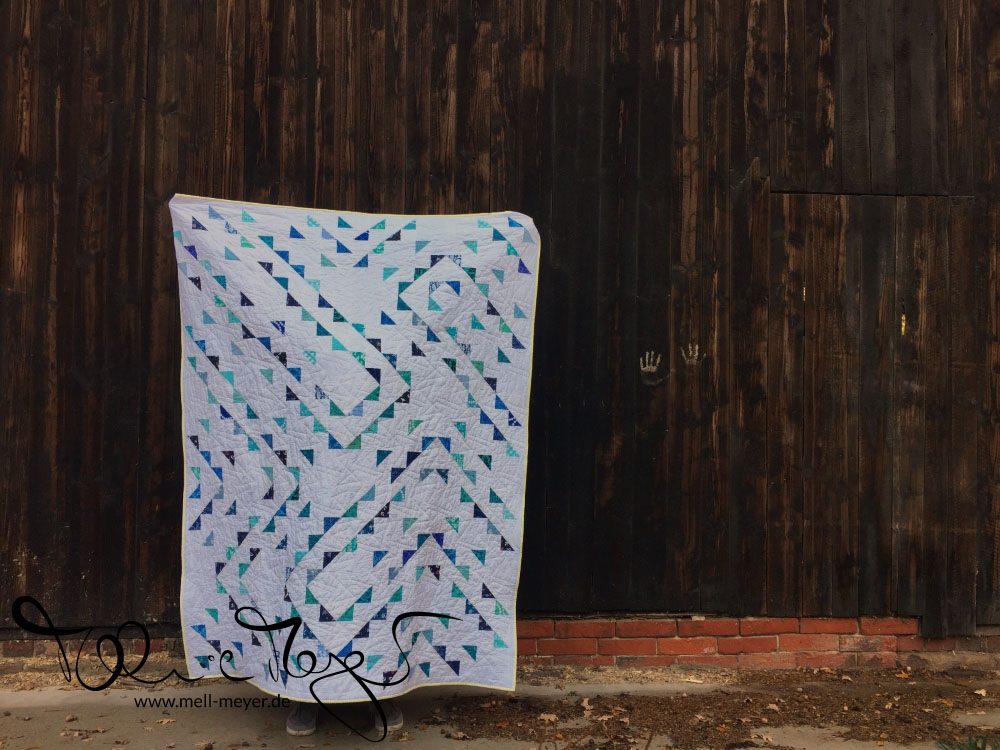 Click on any image to see all pictures in full as a slideshow.
Name: Nonconformist
Started: approx. April 2017
Due Date: none
Completed: 13th of November 2018
Days till completion: +/- 591
Inspiration: This pin of the Block of the Month Quilt April 2017
Pattern: by Rachel Singh was published with the Modern Quilt Guild
Technique: traditional piecing
Fabrics: approx. 33
the leftover triangles from Noah's Quilt "Which Way to the Stars"
(1) white solid for the background (Kona Cotton) and (approx. 32) different blues including aqua for the geese
Fabric Designers: Elizabeth Hartman, Alison Glas, Lizzy House (among others)
Quilting Design: a pantograph designed for longarm quilting, replicated with my walking foot
Binding: by machine
Size: approx. 54×67 inches (137×170 cm)
Block Size: 13.0″ finished
Different Block Designs: 1
Blocks: 4×5 (20)
Units per Block: 39
Pieces: 780

Final post about this quilt: Nonconformist
You can find out more about my progress and process there.
some of the pictures are also from Instagram or progress posts inbetween