Now the update for the fourth quarter for the Finish Along 2015
(all changes and additions colored)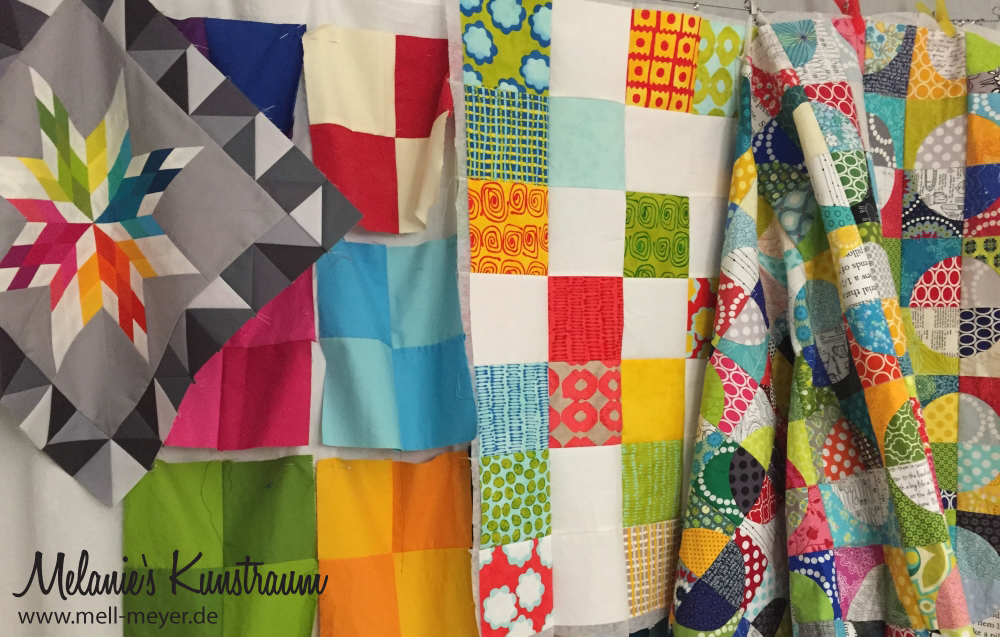 Details:
1. Aviatrix Medallion
1. I would love to finish the Aviatrix Medallion within this year, but not working on it, will make even that impossible. Center block and first border finished. The next two borders are both started. Still a lot to finish the top… don't mention quilting #arghh
Q2: Finished the blocks for the third border.
Q3: Second border pieced and connected. And I made an appointment for quilting on a Longarm. Deadline is now the 13. of December.
2. Modern Four Patch
Supposed to become something different, I have now decided to change this unwanted project into a baby or toddler quilt. At the moment without an individual in mind – maybe to be a charity quilt. At the moment I have a lot of four patch blocks in kona cotton solids and because I wanted to try out the disappearing nine patch pattern. The solution is to use these blocks to try the disappearing four patch #grin
Q3: Changed my mind from disappearing four patch to a modern four patch like this idea. I didn't like the proportions whilst simulation a disappearing four patch. Started the cutting for the smaller four patches.
3. "From Outside Inn"
The top for "From Outside Inn" is finished. The problem here is to find a background and binding fabric. As with No. 2 there is no specific recipient. I am still determined to use something from my "huge" stash as it is probably to become a charity quilt as well. #still-too-picky #undecided
4. Drunkards Path No. 1
Those two quilts have once been pieced for a bigger quilting idea, but I don't like them enough anymore to continue this. So I am rather going to arrange them in two baby quilts then being unfished and unwanted in my home.
My finish for Q3. This quilt has been finished. Click
here
for the blogpost.
br>
NEW: Bee blocks for September/ October
For motivational purposes I am adding my bee blocks for September/ October to the list – even though they will not qualify for an offical "Finish!" later :)
5. Drunkards Path Nr. 2
6. Technocolorgalaxy (Skill Builder BOM)
Q3: I have quilted some of my previous blocks and I did as well work on some more blocks. But the backlog is still huge.
Conclusion:
So I am still running six projects. Q3 was similarly productive as Q2. Still room for improvement :) Overall at least for No. 1 I have to do a lot more in Q4. I am hoping for my holiday week in November. Keep your fingers crossed!
Linking up at Finish Along 2015 @ On the Windy Side.