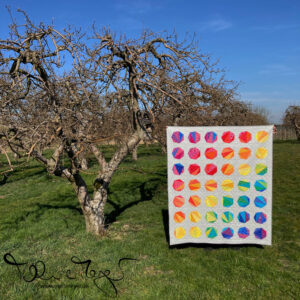 Click on any image to see all pictures in full | as a slideshow.
Name: "Rainbow Fragments"
Working Title: All the Diagonals Rainbow Version
Started: 4th of March 2020
Completed: 29th of March 2022
Days till completion: 2 years 26 days
Pattern:
If you would like to make your own version of the All the Diagonals pattern, you can pick up a copy in the shop or go to QuiltPatternMart.
Fabrics:
Rainbow fabrics in a 12-color-grouping to build the gradient.
Size: approx. 53 × 61 ½ inches (135 × 156 cm)
Block Size: 6 ½ ″ finished
Different Block Designs: 42
Blocks: 42
Units per Block: 11
Pieces: 507
Pieces Backing: 1
Final post about this quilt: "Rainbow Fragments" – The All the Diagonals Rainbow Version
You can find out more about my progress and process there.
some of the pictures are also from Instagram or progress shots from inbetween
Costs are calculated via my Quilt Price Calculator: Factors are the size & pieces as mentioned above, the presets for a twin quilt and the higher off-cut because of the FPP (foundation paper piecing).
Estimated Yardage