Hey, happy new year! Today I want to show you my last finish of 2014. The quilt was finished in December for my colleague's baby girl. Finja was born mid December, but I was just able to visit them yesterday.
Although it would be a girl, I was asked to "not make a pink quilt". Blue would be welcome and other additional colors all right. So I chose a variety of blues with some yellows as colorspots – and a little bit of pink – I can be subborn.
I wanted to use a new bloc loc ruler (kite in a square) and planned the quilt in InDesign. This is what I wanted it to look like: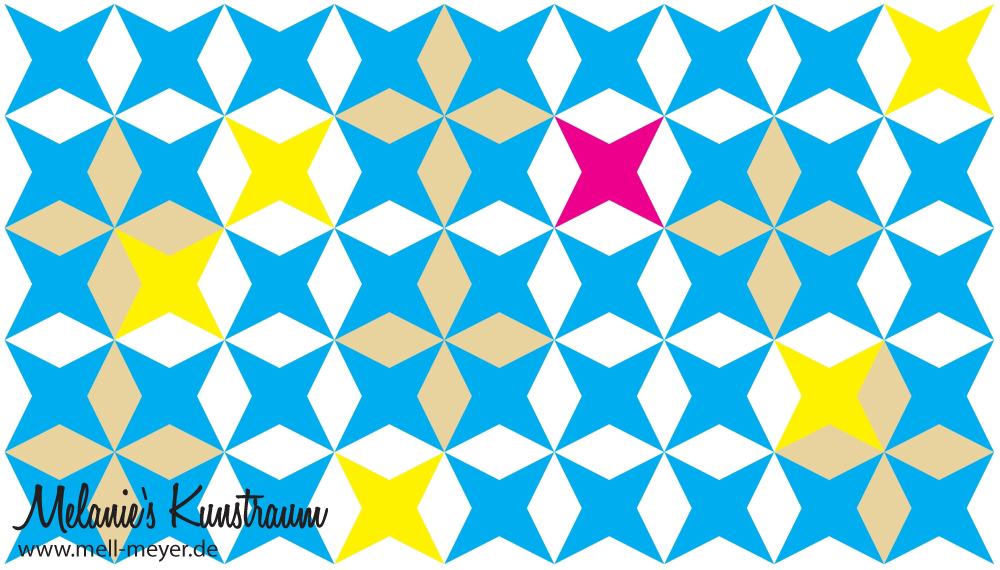 Here the fabric selction: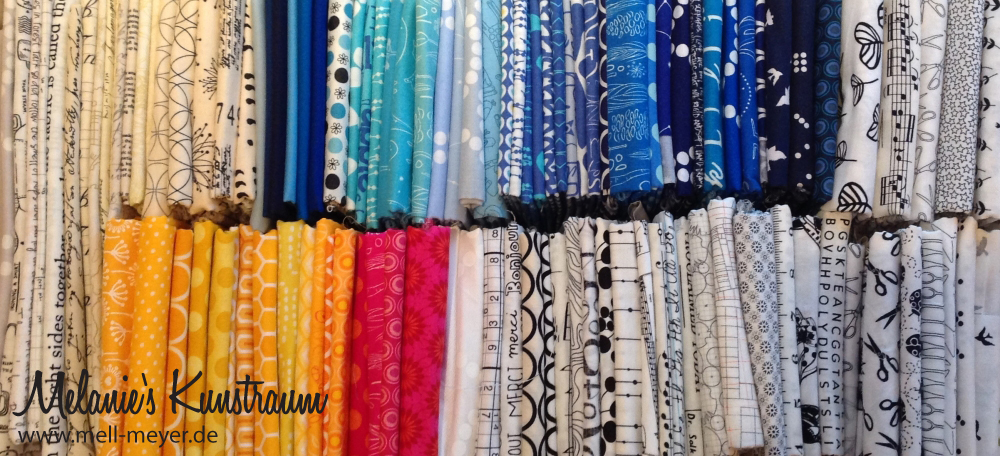 Quite some insane cutting later, I had my different piles of block pieces and a hole lot of "scraps".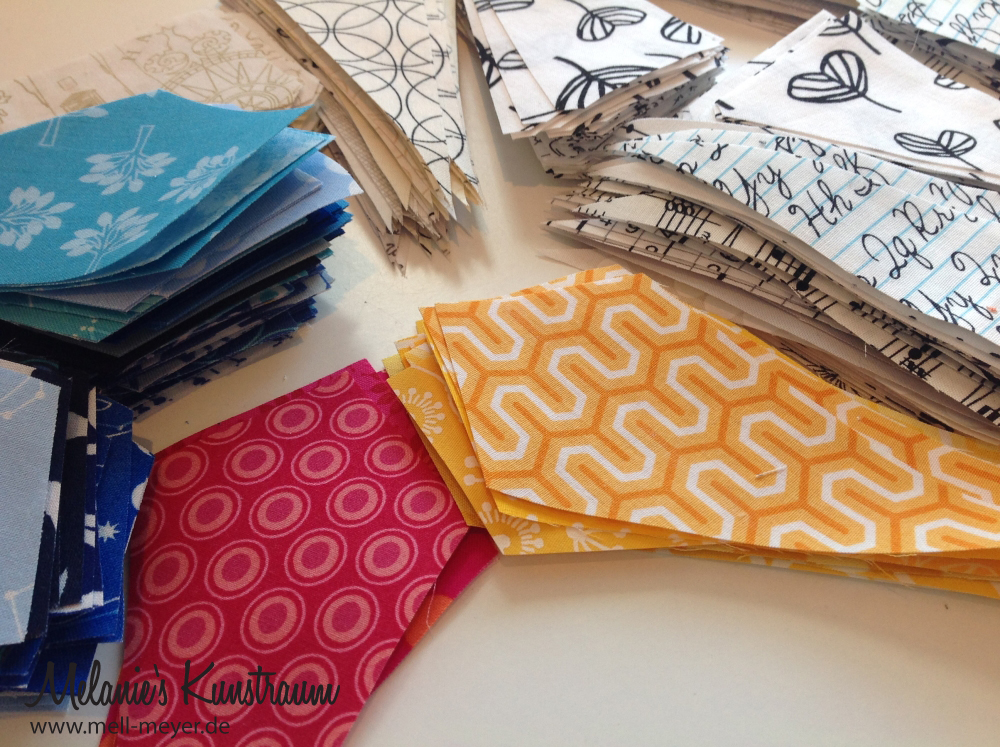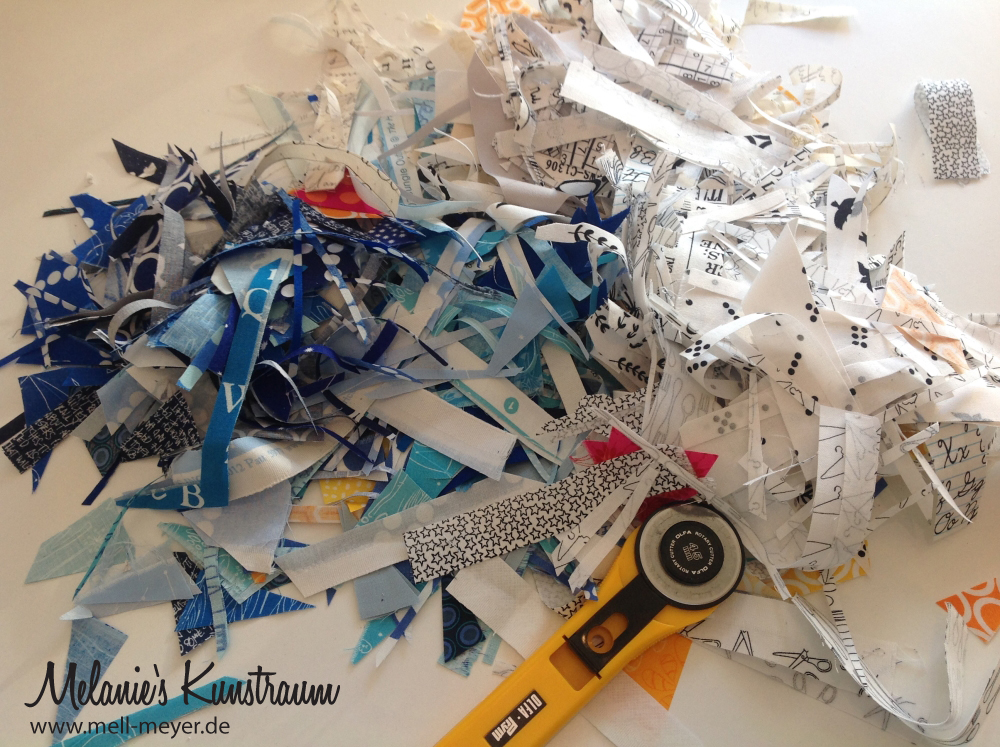 Here a picture of some finished blocks occupying my couch whilst layout planning: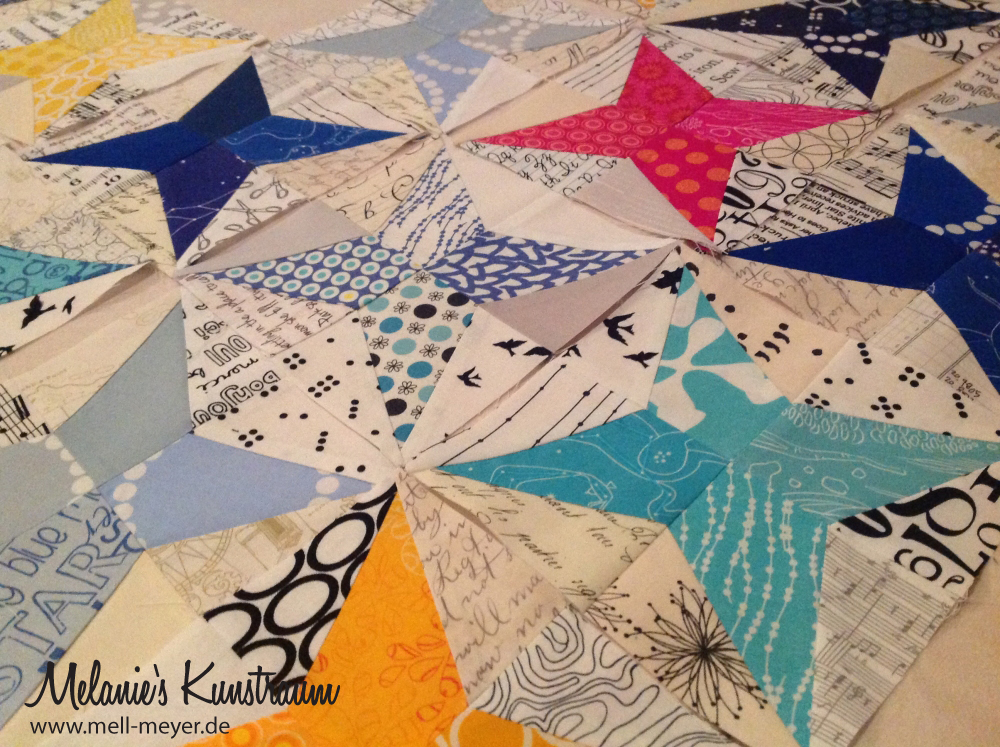 I did most of the quilt in a week of holidays in November. In the same week I took a "class" introduction into longarm quilting at Niemann's Land. Saskia rents her longarm maschine and I was most curios to try it out. So it was an obious choice to practice this new skill on a real quilt. The quilting is an allover stippling and against my first reservations the free motion quilting went quite well. Even I had to search for my "mistakes" after it was all finished, bound and washed :)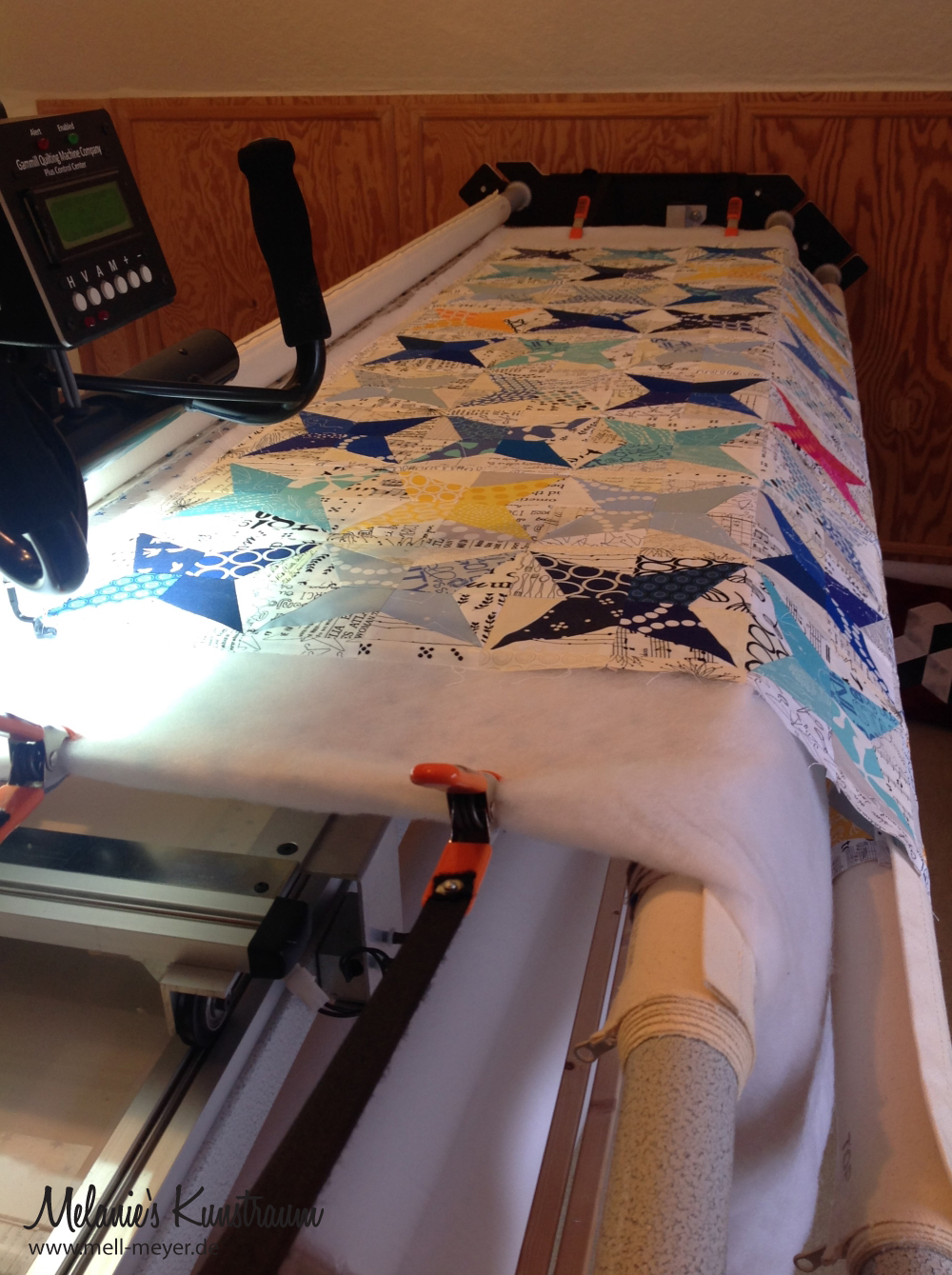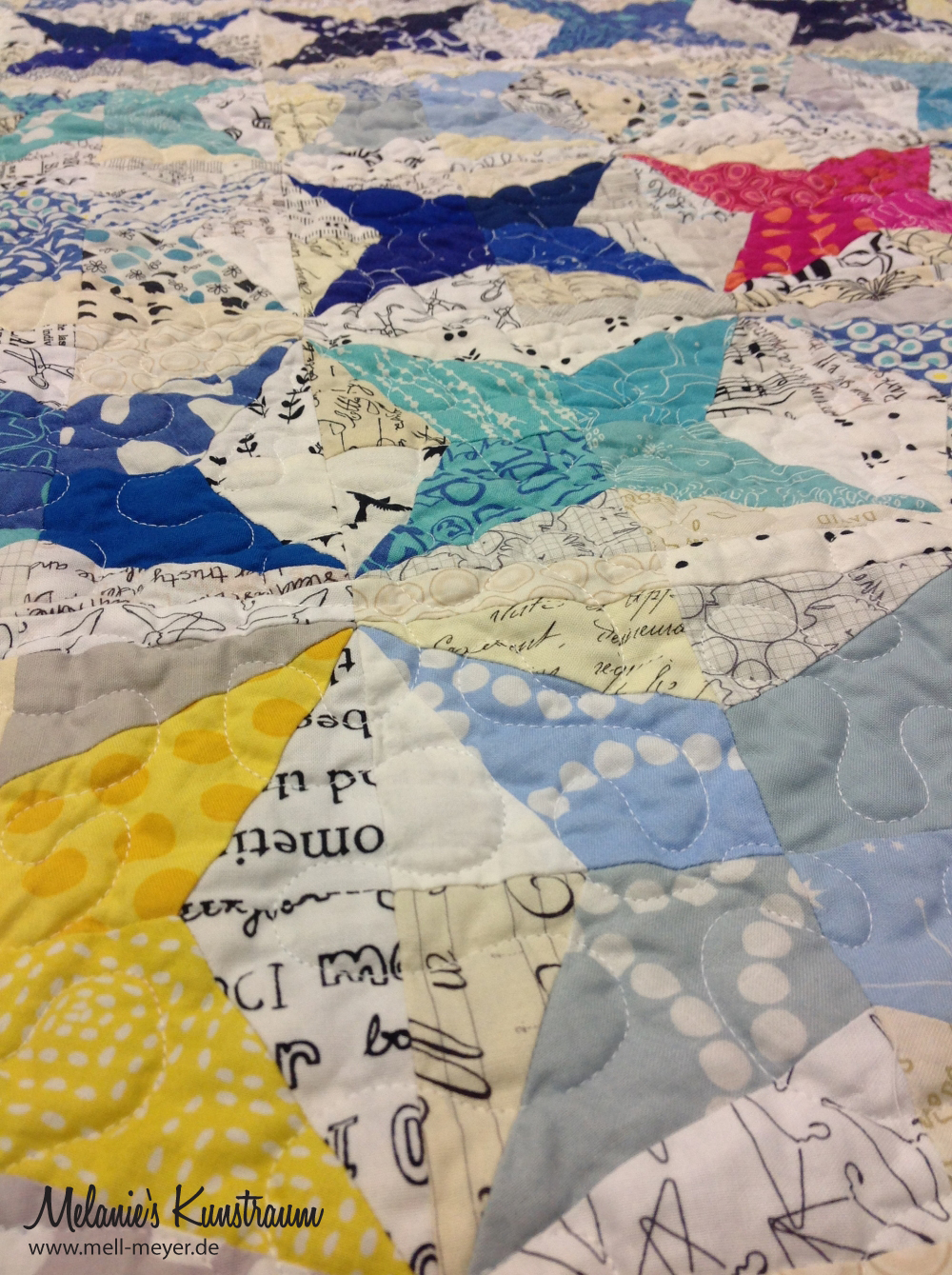 The scrappy yellow binding is of the same fabrics as the stars. And I really like the joyfull, sunny touch it gives the quilt.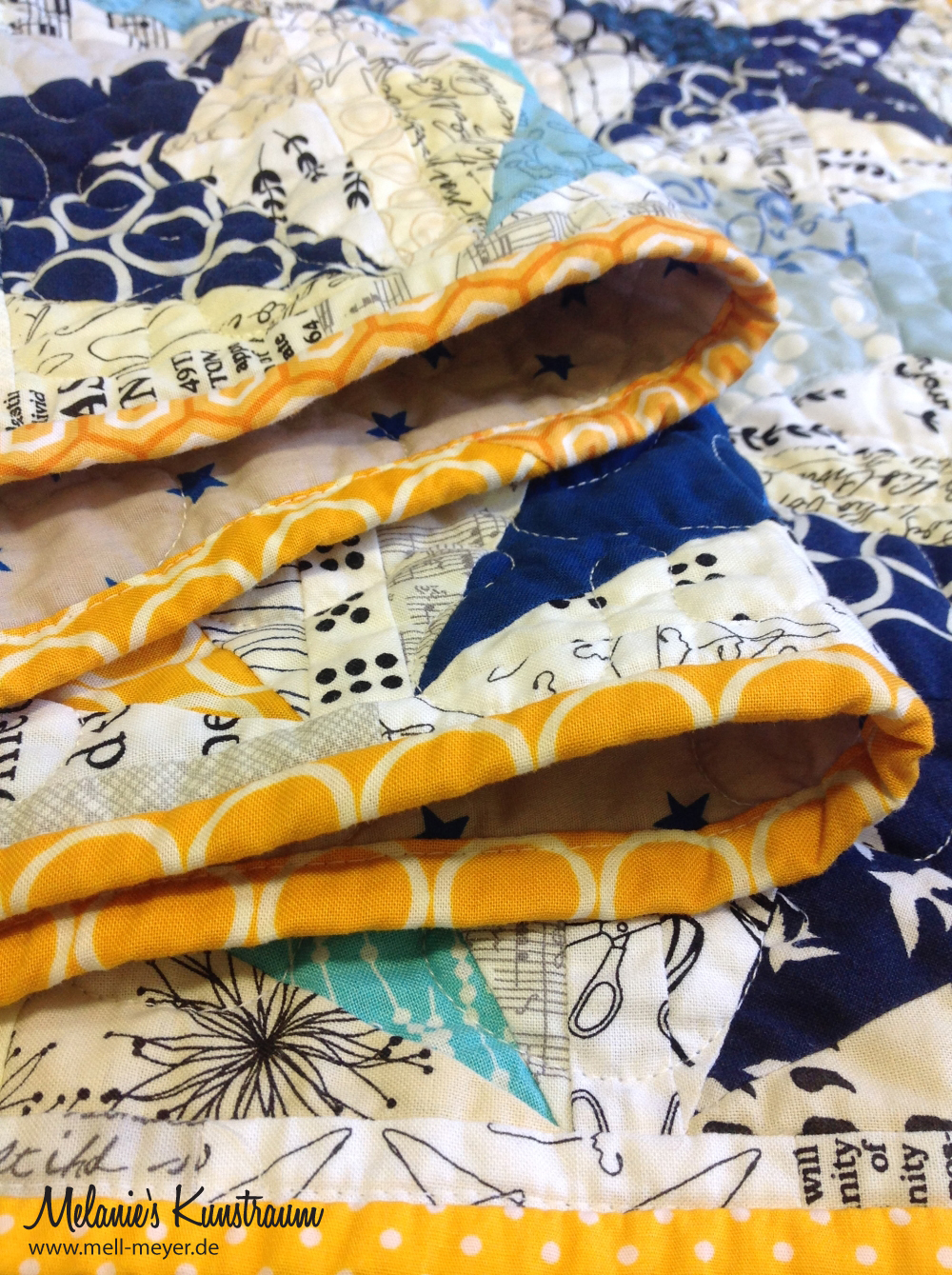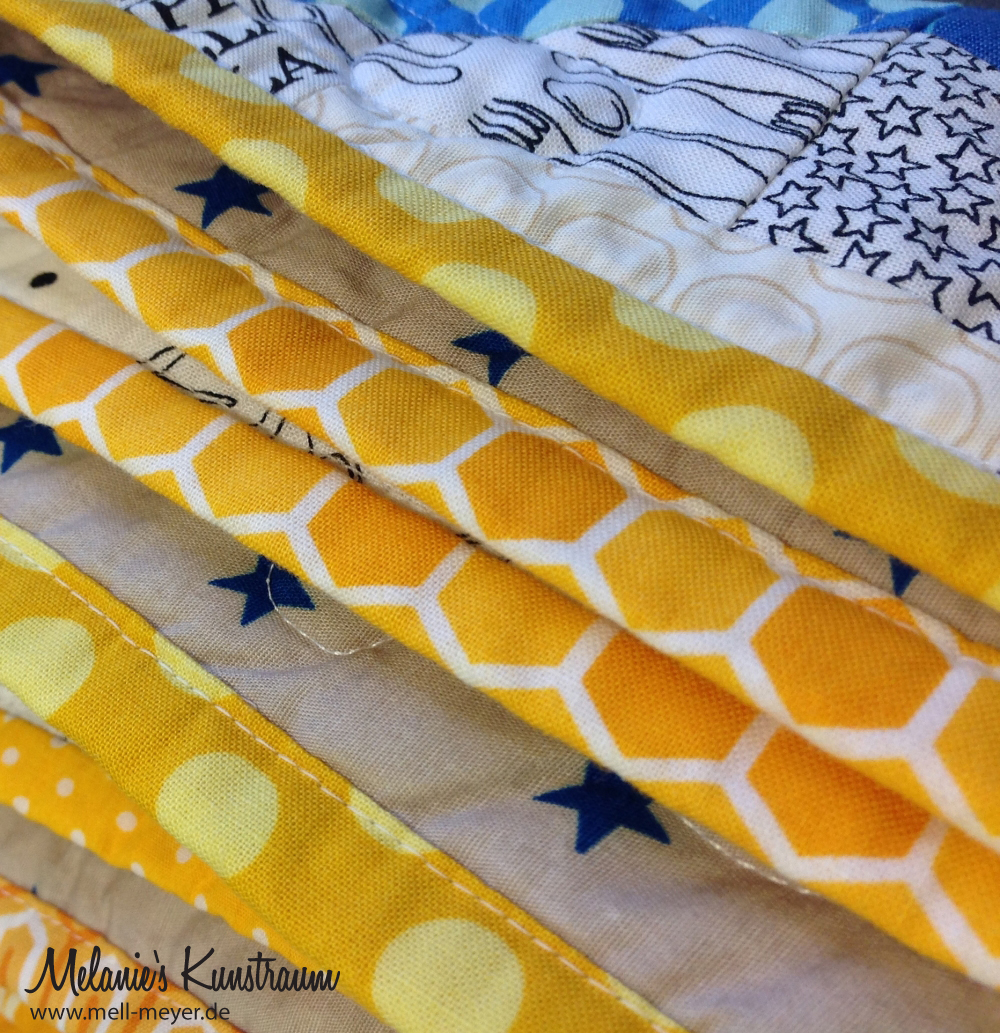 Here is the whole quilt: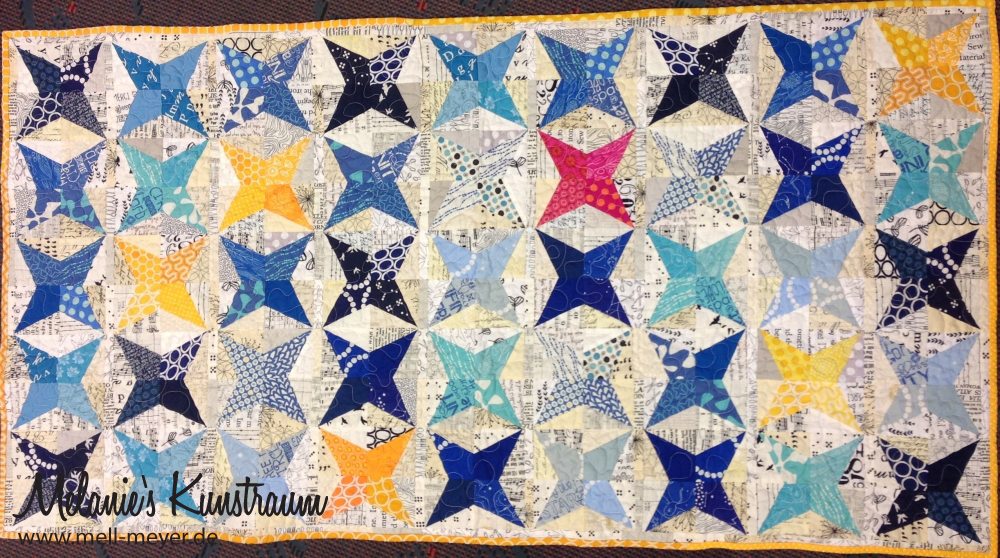 The only adjustment I made, is a small scrappy sashing between the rows.
After I had some problems sewing the blocks into rows. I couldn't figure out how I would ever manage to sew the rows together. The seam allowances were quite thick at the star points and although I knew that there should be a way with all those patterns and blocks out there with so many points in one place – like kaleidoscope – I am still clueless. As I was in a hurry to finish because of my booked longarm time, I decided that the sashing woult be a suitable solution. It triggered some more insane cutting (and maybe some cursing) but I was pleased with how the rows fit together afterwards. And because it is a really small sashing of just a .5" finished, I think it does not ruin the design. Untill I figure out that seam allowance problem, I would use the sashing again – and then of course in both directions – between rows and columns.
Maybe the problem was, because of the bloc loc ruler? I had to press all seams to the outside of the "kite in a square" to use the "locking" effect of the ruler. Maybe it would have been easier, if one pressed the seams open… But I really like the bloc loc system and cause in paperpiecing there are both seams in one direction as well…. yeah, I am still confused…
… and very happy with how the quilt looks!
Quilt Stats:
name: Wish Upon a Star
size: approx. 80*140 cm (32*55 inch)
stars: 45 (39 blue, 5 yellow, 1 pink)
block: 6" finished
pieces including sashing: approx. 680
fabrics: approx. 116 (39 blues, 4 pinks, 13 yellows and approx. 60 whites and creams)
I am linking up to WIP Wednesday at freshly pieced.