I started really motivated into this quarter and did more sewing than usual – then I fell of the wagon and am currently getting back on :)
Finished
Lina's Quilt "Pink Stars"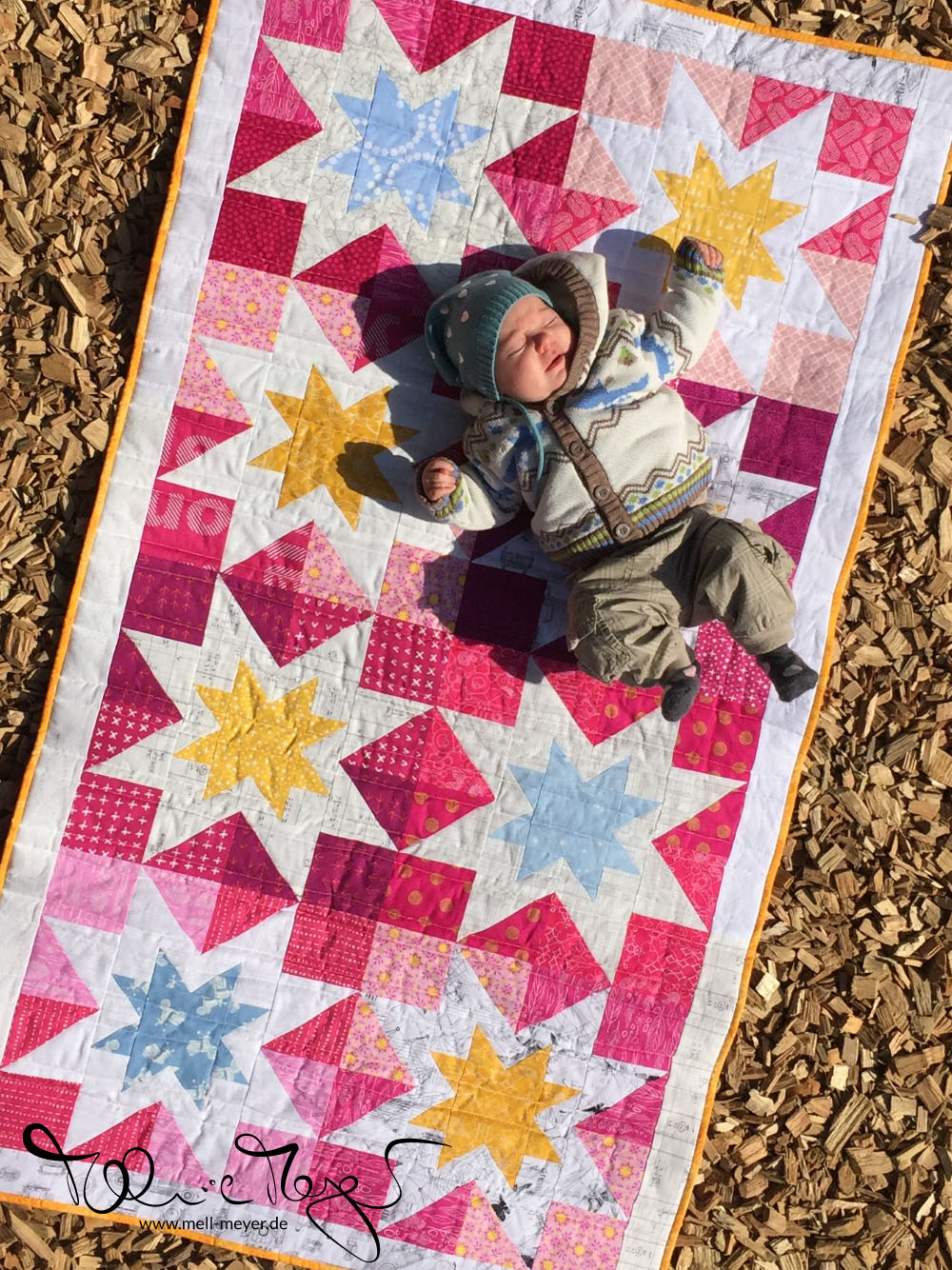 I did finish the almost finished quilt "Pink Stars". The post about it is here. This is my one and only finish, but I did make some progress on other projects …
Finished
Sew Together Bag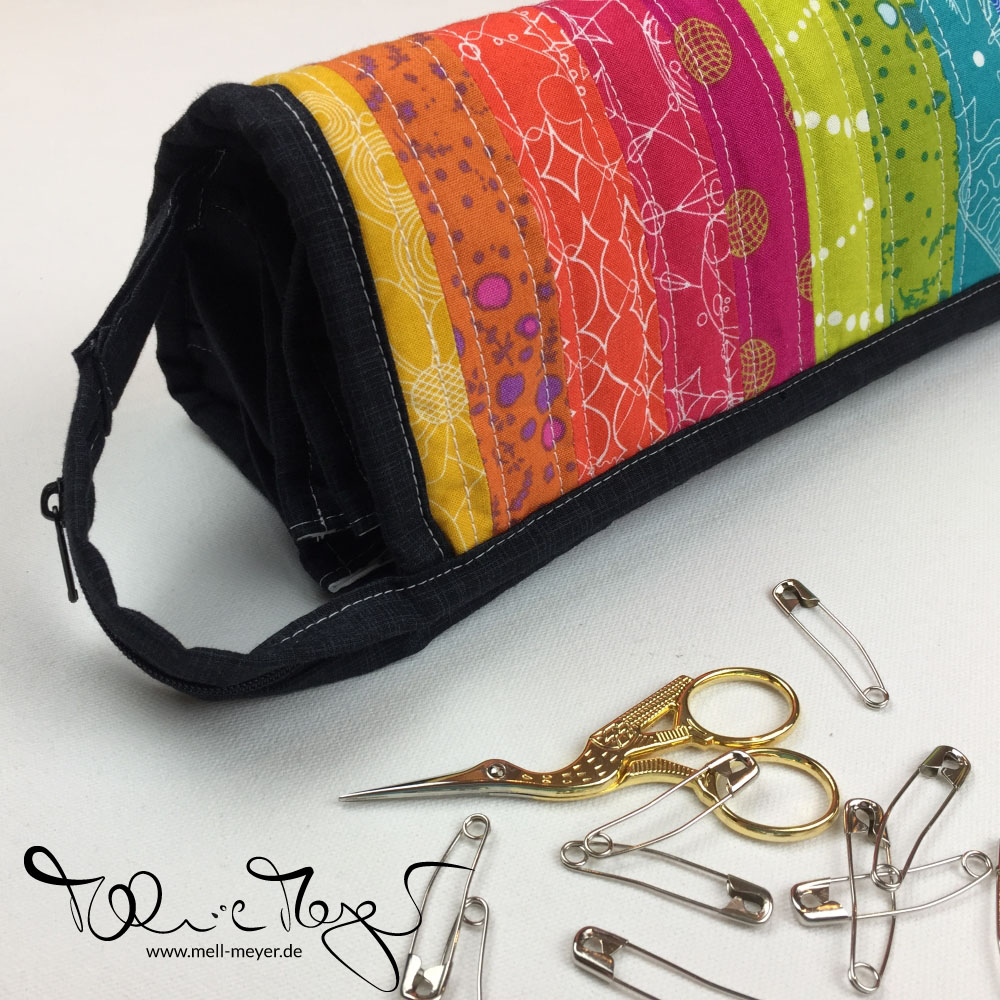 … including my first Sew Together Bag. Which I took with me on my US trip as a gift, you can read more about it here.
No. 1 – Technocolorgalaxy (Skill Builder BOM)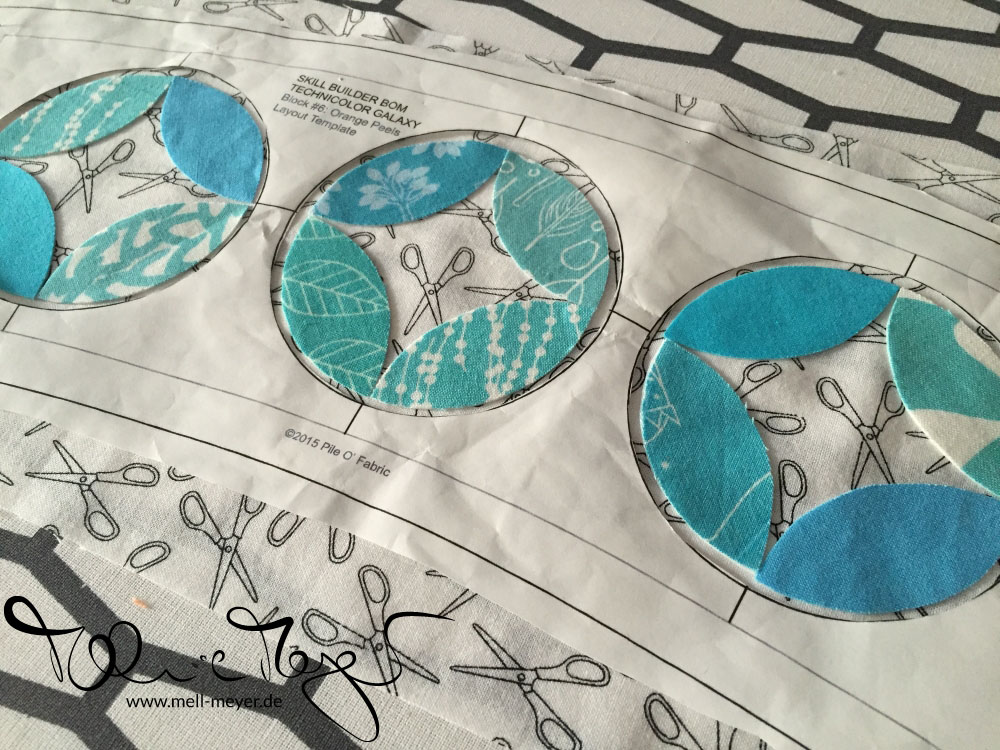 Since Q2 we do have all the tutorials, so I could finish it – ähh catch up. This project feels very daunting. Probably because I have not had it in my hands for a while. At least I have decided to finish it – as my Aviatrix quilt – with a frame to decorate my sewing room.
I want to get the fabrics associated with this projects back into my normal stash. I just can't remember what is in those boxes.
Progress
No. 2 – Alison Glass – Ocean Waves Quilt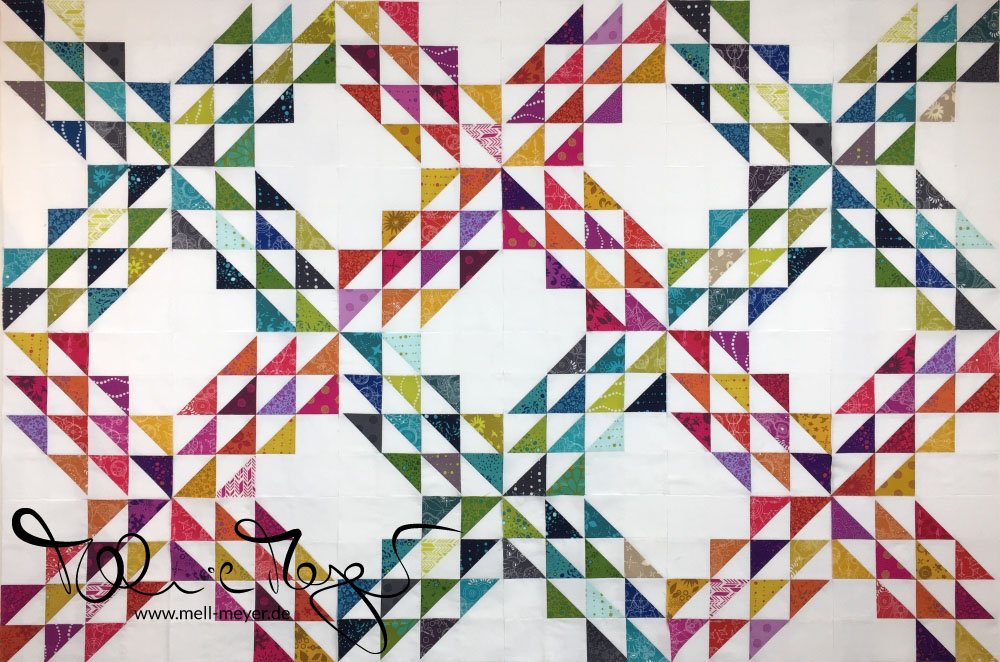 I started this quilt in Q2 2016. All the HSTs for both colorways are finished and trimmed, and I even mixed in some new HSTs in Q4. Currently refraining from adding more from my new AG fabrics. Where would it end? All background pieces are cut, everything is sorted and stacked.
I found a longarm quilter! castlequilts She is located in Berlin/ Brandenburg (Germany) and does a lot of quilting types, including the computerized all-over that I was looking for.
The above picture is new and shows half of the quilt. Actually I am currently down to 32 of 48 blocks.
I have also picked a background. It will, of course, be the blue new wideback by Alison Glass. As it will only ship in September, there is still a bit more time to wait… well and finish the quilt top. :)
No. 3 – Wanta Fanta Quilt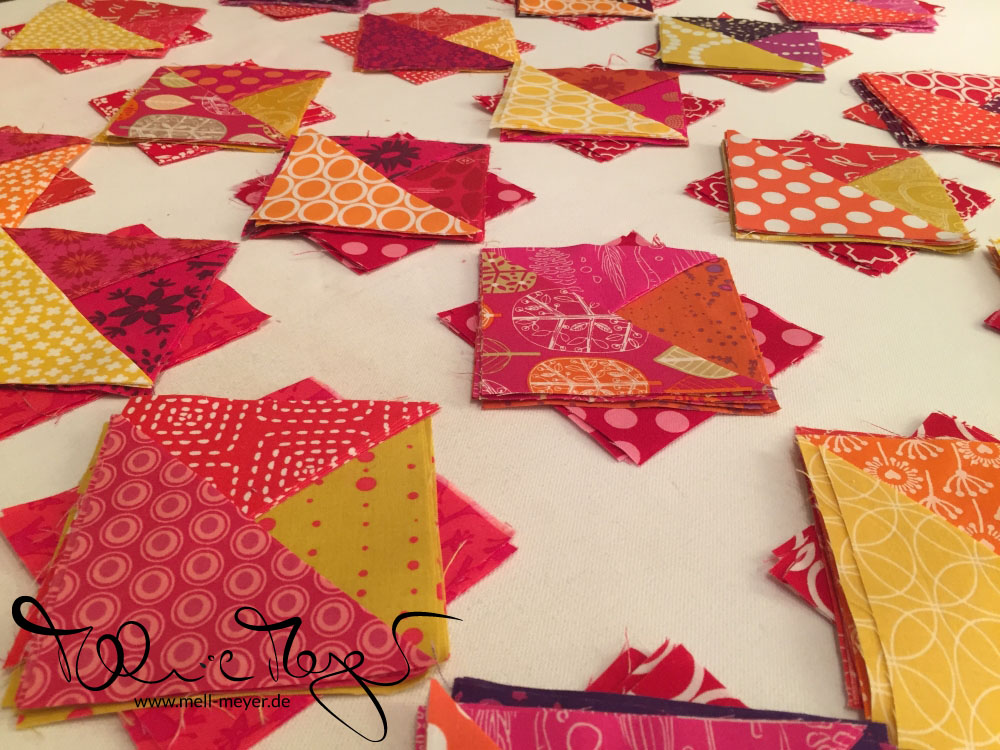 Originally I wanted to finish this quilt mainly through the bee blocks I received. I have now used most of my bee blocks for the raffle quilt so I will have to finish quite some more blocks to come even near a quilt top size :)
Q4 I cut the color pieces from new and old fabrics for the additional blocks. I still need to cut background pieces but then it is a pick it up and have some fun sewing minutes project as well.
No. 4 – Plusquilt
The layout inspiration is this. The color inspiration was this. I received a lot of lovely white with black fabrics through the second round of #getyourquiltywishesgranded2. Then I bought the background fabric – my first grunge from basic grey – and kept staring at it, somehow the choice did not feel right.
I have now found another background fabric – I will be switching to quilter's linen in charcoal by kaufman. Now off to order and then I could start cutting :)
No. 5 – Double Flying Geese
(aka Flying Dutchman, Dutchmans Puzzle)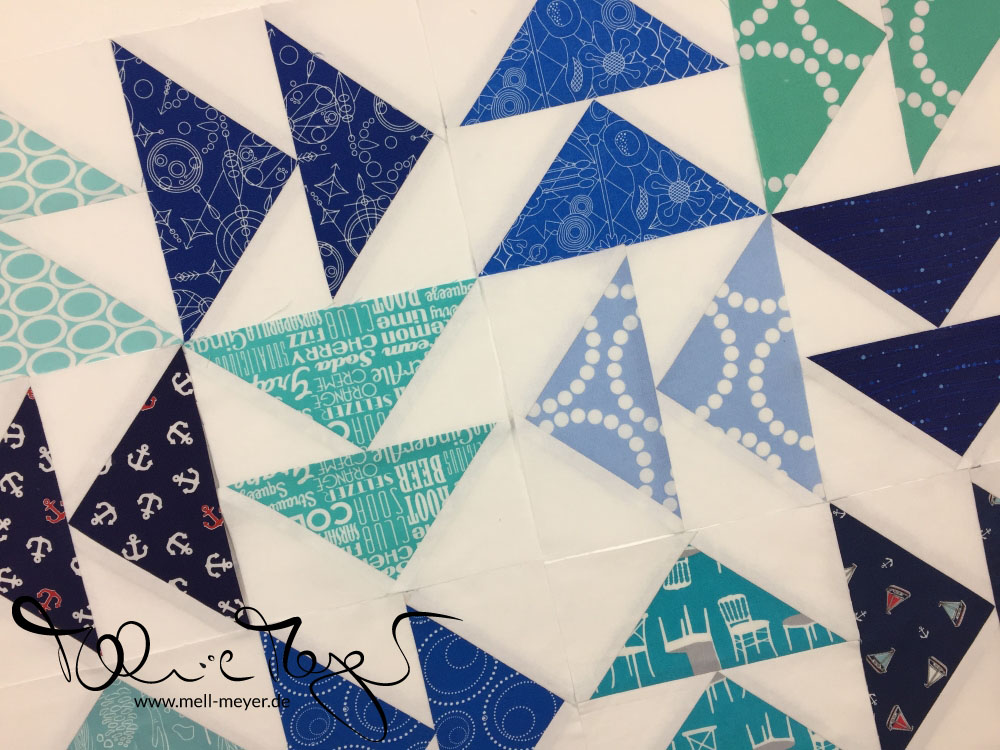 I am not on time anymore – baby came a tad early – so this project needs to become the highest priority.
This is the second baby quilt I promised. It is for my newborn nephew. Mom and baby are fine, so now I just need to baste, quilt and finish this quilt :)
My sister picked the design – one I really love and am glad to revisit – and most of the fabrics. We tried to fit as many blue "novelty" fabrics in there as possible. Unfortunately I had not that many so we bought some fabrics. Who would say no to more fabric? I also added some "secret" fabrics as a surprise. I hope it makes for some fun "I spy" moments.
I wrote a progress post which you can find here.
NEW
No. 6 – Whirly Girl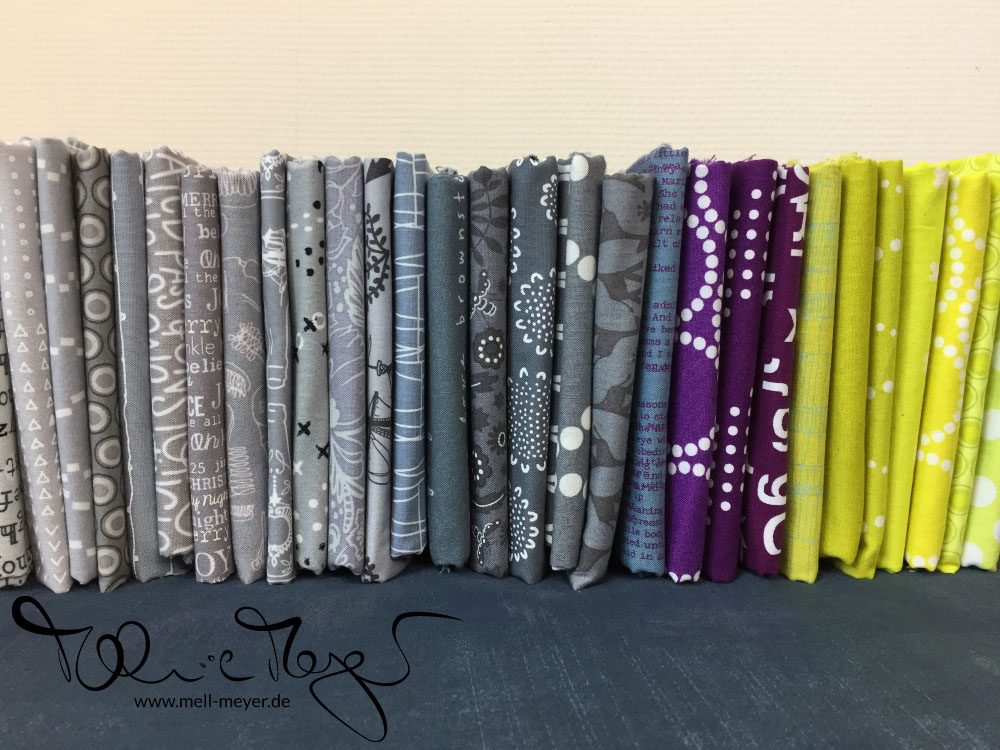 I will shortly be pattern testing again for Allison @ Campbell Soup Diary. I think she plans to start pattern testing after summer, so I thought this quilt needed to be on this list, too. The above is the color combination I am planning to use.
NEW
No. 7 – "Nonconformist"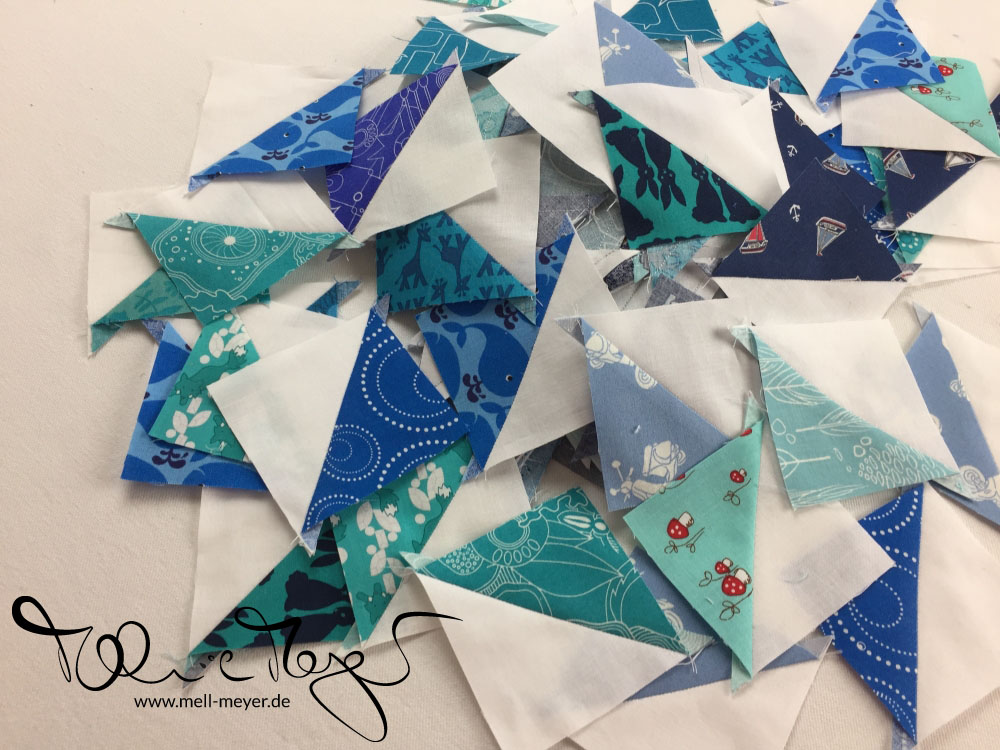 I saved the cut off HSTs from the Double Flying Geese quilt and want to use them up shortly. They are quite small so it will me a small quilt.
I have this quilt layout in mind.
No. 8+9 Sew Together Bags
The two sew together bags I already started parallel to my first one. The second one is a gift for Allison @ Campbell Soup Diary and the third one is for myself.
No. 10 – Grete – A Wallet
I had been considering sewing myself a new wallet for quite a while now. I have settled on the Grete pattern (German) by Machwerk. I really wanted a wallet with a zipper closure. So let's see how well that turns out.
I have ordered all zippers and have a fabric plan. Alison Glass fabric and rainbow of course :)
No. 11 – Some "Folksy Fish" Pillows
My Dad has decided, that he just doesn't want a quilt but would love some new pillows – but as I can't do those, that he doesn't need something. Well, of course I had to state that if I can sew quilts, I can finish some pillows, all though I have not done that yet.
As he likes to fish, I suggested the Folksy Fish pattern by @No Hats In The House.
I would love to gift those at his birthday end of July. But I guess that's way to unrealistic so I will put them on here so they might be finished in time for Christmas?
No. 12 – "Good Wishes" Bee Quilt
As I was queen bee in both my bees in the last quarter, I will be receiving lots of blocks and those need to be finished into a quilt, too. You can see some of the blocks with the Instagram hashtag #improvbee, they are the black and white words and symbols.
Bee Blocks
For motivational purposes I am keeping my bee blocks on this list, although they do not qualify for an official "Finish!" later :)
#improvbee
I am way behind. I need to finish three blocks from the second quarter: One birch themed one and two human body themed ones.
And then I have four new blocks for new themes for the third quarter: Miami and Plant Hangers.
quilty circle of bees
I am already half way through my blocks for July/August #yeah. So this at least shouldn't be a problem.
Wow, my list grew far too long. I desperately need some motivation and kicks to get regular sewing time in. Any specific project you want to "kick" me for?
Best wishes
xo Melanie
Linking up at Finish Along Q3 2017 @ She Can Quilt and
Let's Bee Social #184 @ Sew Fresh Quilts