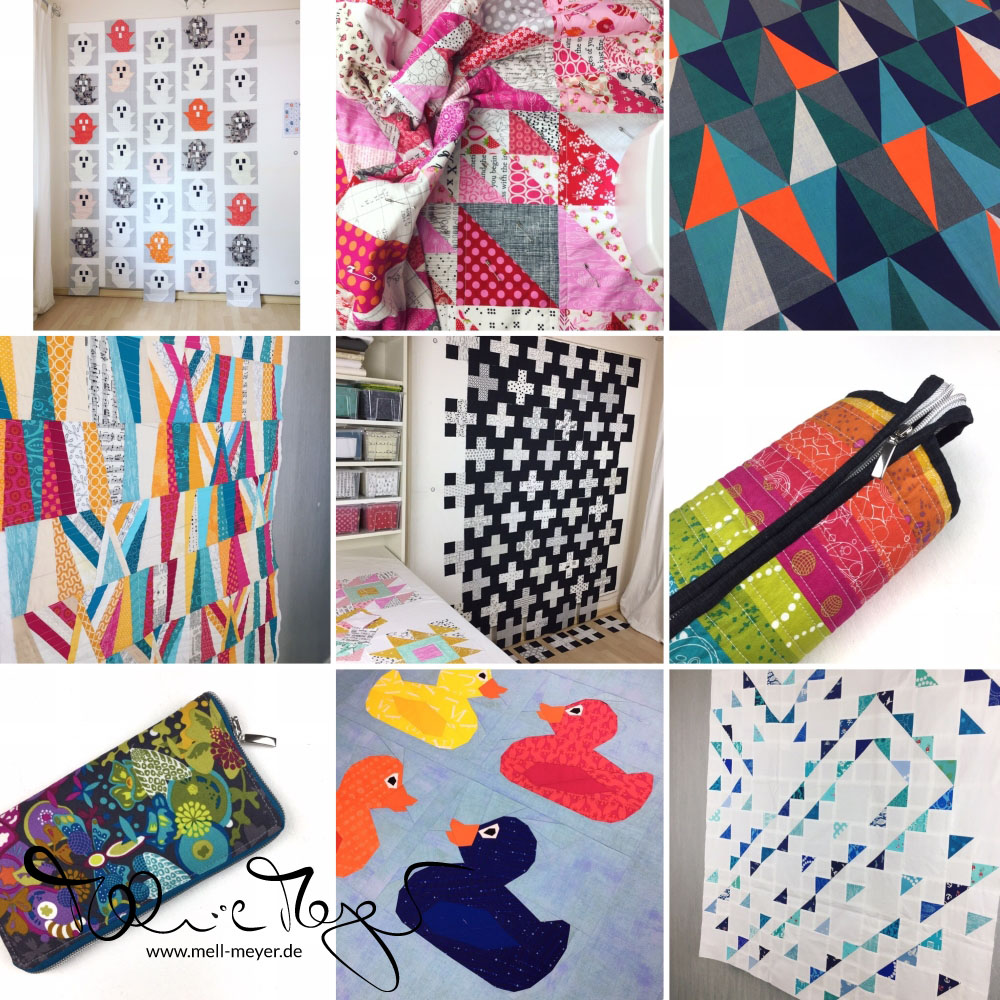 It appears everyone is looking back at 2018 and/ or planning for 2019. Though I have not participated last year and therefore have no results to compare, it seemed fun to review the last year and start making plans.
At first, I wanted to wait and see how many more projects I could finish in 2018. But I am trying to learn that there is always change on ones to-do list. It is ever growing, mostly not getting smaller and nonetheless items get ticked off. So even if I do finish a few more quilts in 2018?!
2018
Review
This is how 2018 was so far. When you are on Instagram, you cannot "escape" all the #bestnine collages. So I decided to start there, too. My first collage had multiple duplicated on it, so I used a trick I found here on IG in the comments to "delete" those.
These nine projects (!) are the ones you – my readers/followers – liked the most. Five of those have their own blog post and that fits the Best of 2018 concept :)
I also want to add the one project I love so much, which has somehow not made the cut…
… and the much liked picture of my Christmas market booth.
17,608 likes on 136 posts
(2017: 5,865 likes on 79 posts)
I want to say, I am so grateful and happy for all my lovely followers. Thank you for all your likes and comments; for your support and the sometimes needed kicks :)
2018 was great sewing year. I finished eight projects already! #wow And I am so happy about my more regular Instagram posting thanks to the #30minssewingdaily challenge. I love the feedback and support on IG, the general positive attitude and vibe.
I have almost tripled my likes #what?! and gained a "few" new followers to the number of over 1,000 IG friends! Yes, the giveaway is long overdue – let's put that in the 2019 goals, ok?
2019
Goal Setting
Don't get me wrong, I am excited to make goals for the new year. But I also know, that you can change on any day of the year, month or week. So I rather see it as a yearlong endeavor to make new habits and change things you dislike. I am trying to remind myself that one slip up – on the 3rd of Jan? – is not a failure but rather life.
My sewing goals for 2019
Do the 1,000+ follower aka Instagram friends giveaway.
Continue the #30minssewingdaily challenge and maybe restart the giveaways at the end of the months.
Further reduce the number of WIPs. I would love to reduce the count to something between 3-6.
The more crazy goals for 2019
Ask to participate in the "What Shade Are You" blog hop.
Write a (small) tutorial or pattern.
Learn designing repeat patterns to draw a fabric collection – just for fun.
The personal growth goals for 2019
Find more balance in life. I tend to be either super productive like 150% but then crash and stay at 15% for days. Let's reduce those fluctuations.
Continue my #debtfreejourney. If you want to follow and cheer me on, I use a separate IG account for that called mellmeyer_debtfree
Raffle or sell one or more quilt(s) to help with the goal above.
Reading more once again. I read way more as a juvenile or jung adult. Fiction or non-fiction, both fine with me – just more than just my favorite author and repeats :)
And I would love to lose some (≈20kg) weight.
Excited to see what 2019 brings. Hope you all have a wonderful New Year! If you want to be a motivational buddy, please leave the hint in the comments :)
Best wishes
xo Melanie
Linking up at
Best of 2018 @ Meadow Mist Designs
2019 Planning Party @ Quilting Jetgirl