Today is my stop on the Blog Hop for Whirly Girl – the new pattern by Allison @campbellsoupdiary. You can find the pattern in her payhip store. And there is this amazing 20% off everything in the store. Just use the SALE CODE: Whirly.
But back to my part… which I have been mulling over for a few days. I thought I could show you the finished quilt but life got in the way. In this case with what felt like the double hours at work – which of course is not totally true :)
But I have the top finished…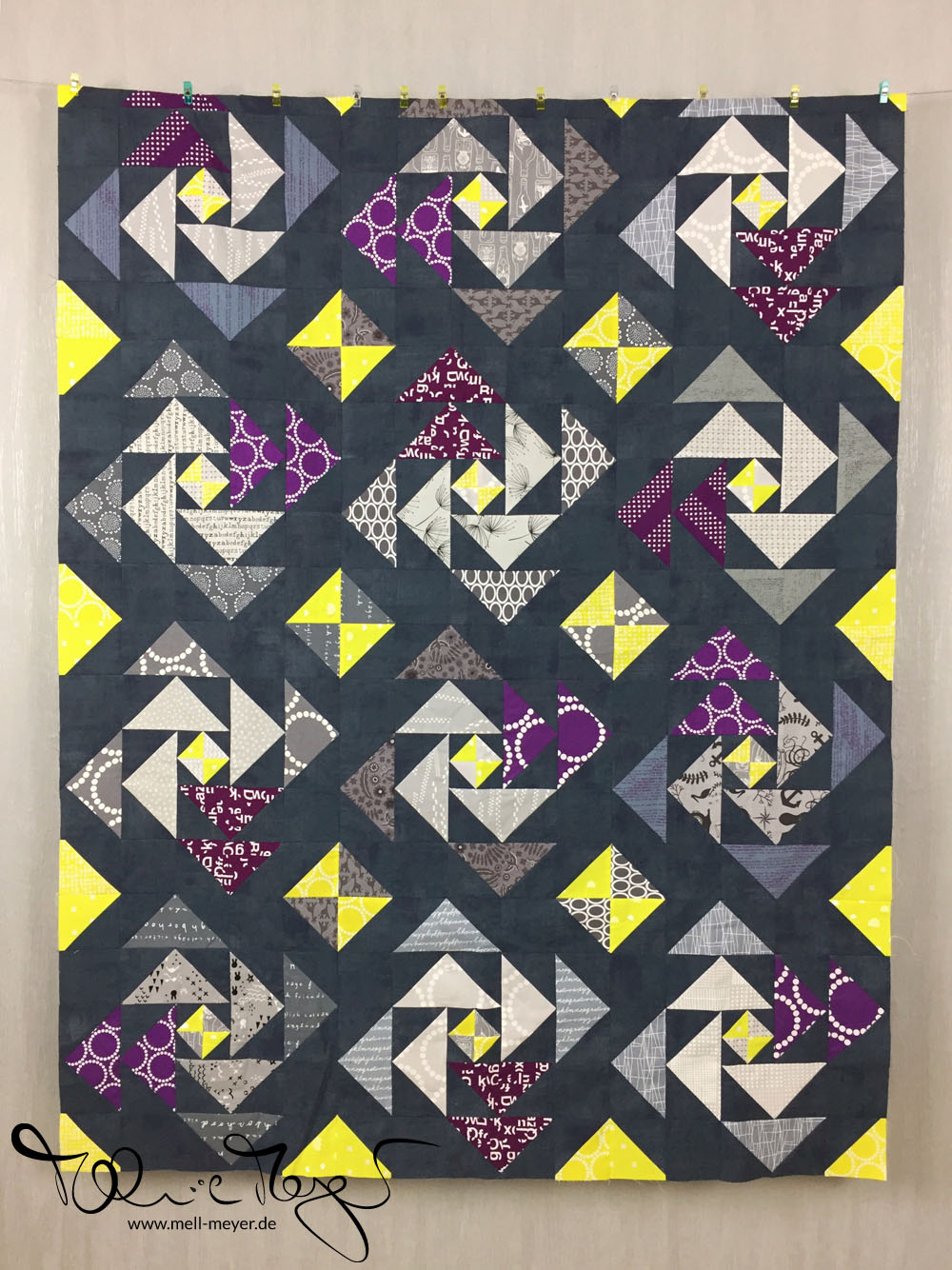 click on the image to see the slideshow (also great if you don't see the full version without scrolling)
… and the backing which I will show you in a bit.
So I thought, I'd write about how I often approach a new quilt project: With a lot of planning! I am of the fraction that loves to plan beforehand, to cut all at once… And as this quilt shows, I am not really good at just winging it. And what is so great about that? I know what works best for myself and I am also very happy that in quilting we can all do whatever works best for yourself. So after we have decided that there is no "quilt police", let's get back to Whirly Girl.
With a lot of insider information, I started pulling fabrics more than a year before the official testing period. This is my initial fabric pull: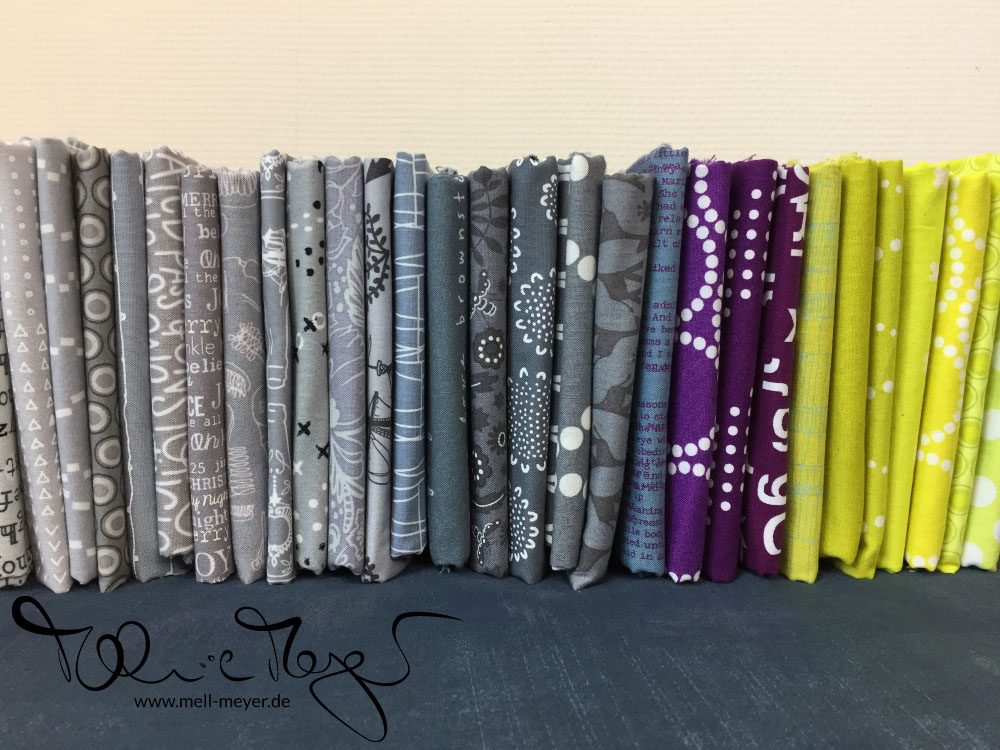 Then I was in need of some simple sewing and without having the whole thing planned through, I started to cut for the flying geese for all those fabrics. Why that did not help? In hindsight the fabrics did not totally fit together. Some had a strange tinge and looked out of place. So a few of them did not make the final cut. And I had planned to use the yellow and purple in the geese. Which also did not happen. But it meant, that I had already used up a lot of the background fabric. So the initial plan of a throw quilt with a 4×5 design turned into a 3×4 baby quilt plan.
That is why I love to try color placements on the computer. It helps me figure out a lot and had I done it, until I reached the final version before sewing… spoiler, less geese would have made for a boring back :)
Here are a few versions that I went through:
So many options! Some things you settle really fast on: Like the yellow "border" cornerstones. But also so much craziness in between. Some truly harlequin versions with way too much color and business. I love to see how the design evolves. How many iterations it takes to get to that final pleasing version.
But at least it gave me a few more flying geese to incorporate in my back: The geese from the rejected grey fabrics, all yellow ones and every fourth grey geese found their place in the backing. I also used up a few leftover cornerstones. Now the backing itself might be a quilt design :)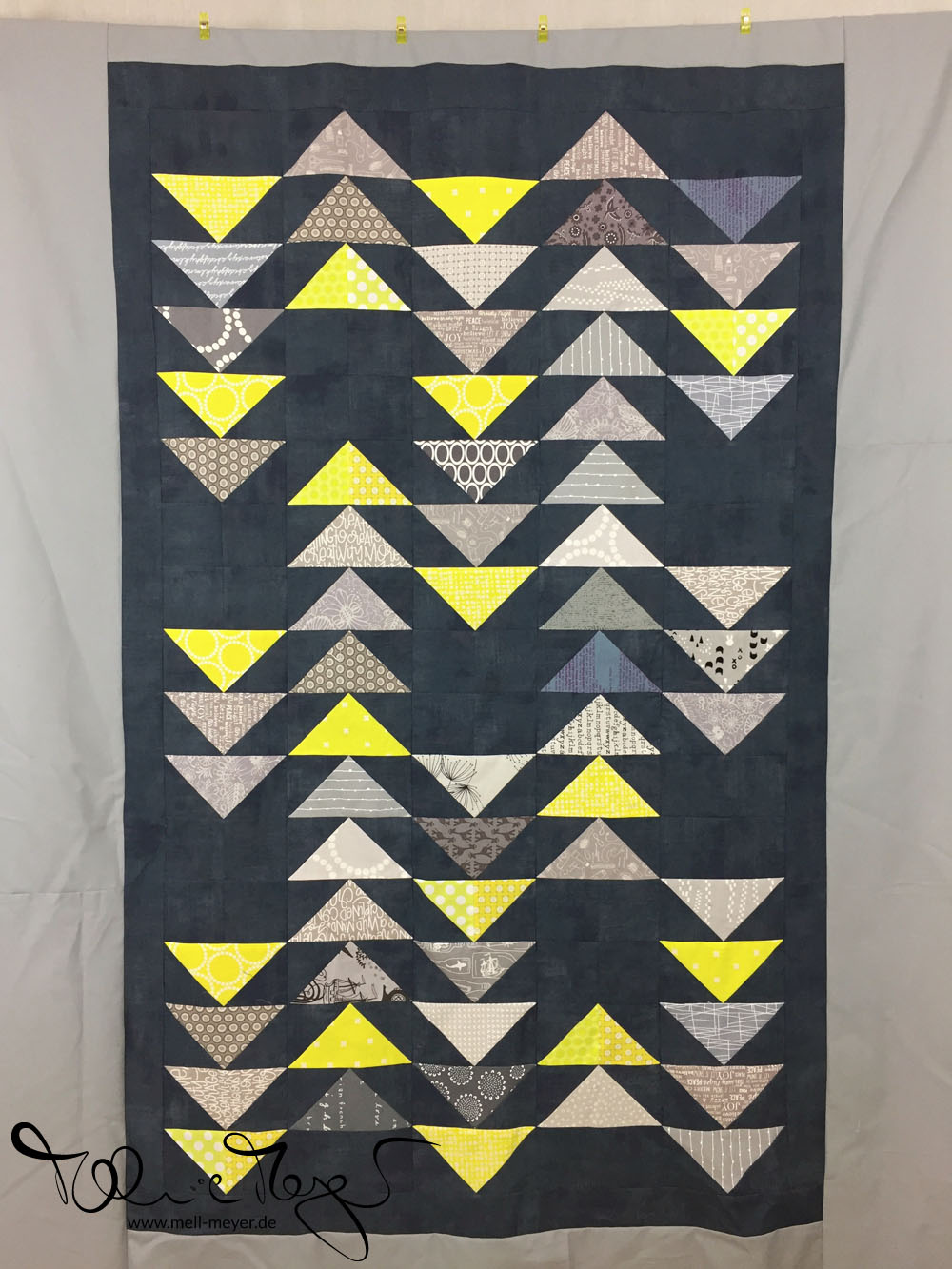 Short pattern review: What I am really delighted about is, that you can make this pattern (design wise) totally your own but you can also stick with the original plan and change "only" the colors and even with that there are a million different options to express yourself. Look through the #whirlygirlquilt to see just a few or/and visit this blog post with a few color options.
More highlights/feedback from the other pattern testers also in that blog post!
So now I am off to basting Whirly Girl and figure out the quilting. I have already bought a beautiful purple thread – which is No. 2545 by Aurifil. My go-to brand did not have any vibrant purple so I will test out the 28wt Aurifil. Hope it works out! And then decide on quilting designs… I am considering a spiral but feel a bit frightened… So straight lines or a spiral it will be :)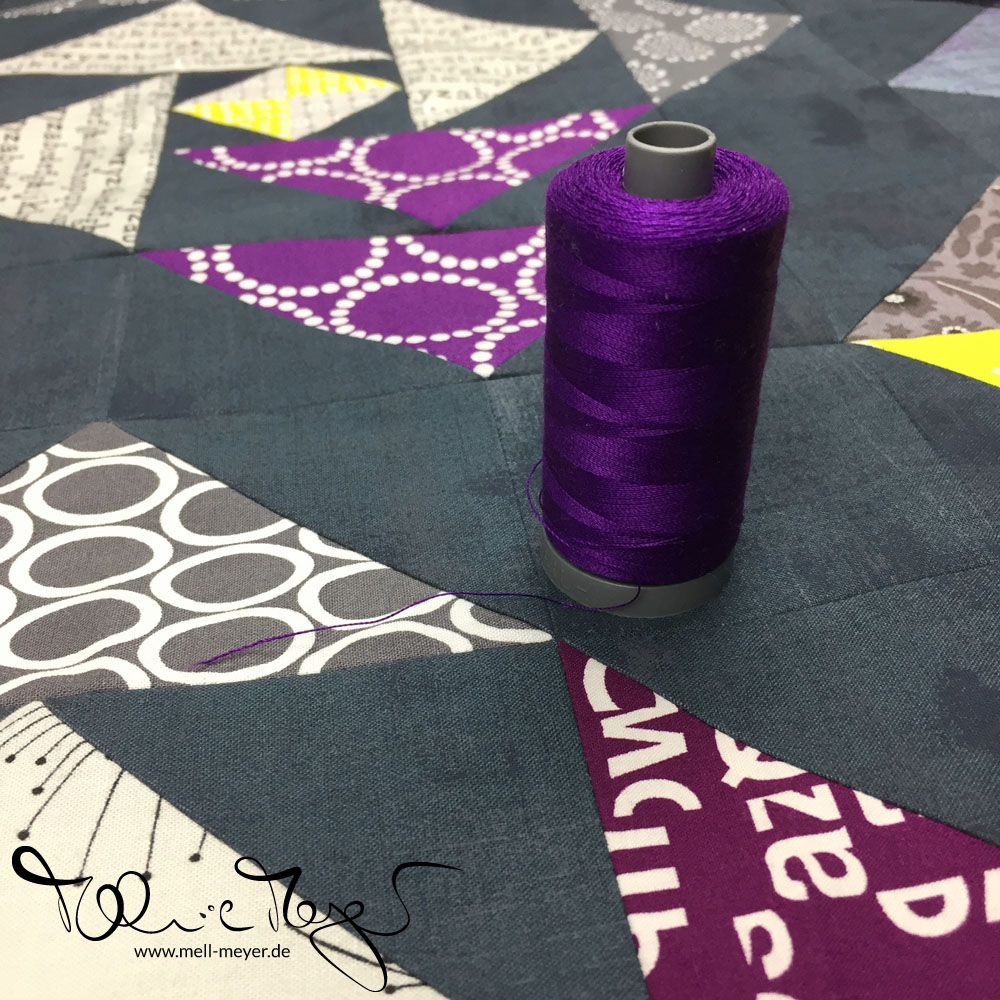 Hop over to the other participants of the Blog Hop!
Best wishes
xo Melanie
You can find the pattern in her payhip store . Also remember that there is this amazing 20% off everything in the store. Just use the SALE CODE: Whirly.
Here are all the stops on the Blog Hop:
Allison – March 14th – direct link to blog post
Melanie – March 15th – direct link to blog post
Sandra – March 16th – direct link to blog post
Alex – March 17th – direct link to blog post
Judith – March 18th – direct link to blog post
Sharni – March 19th – direct link to blog post