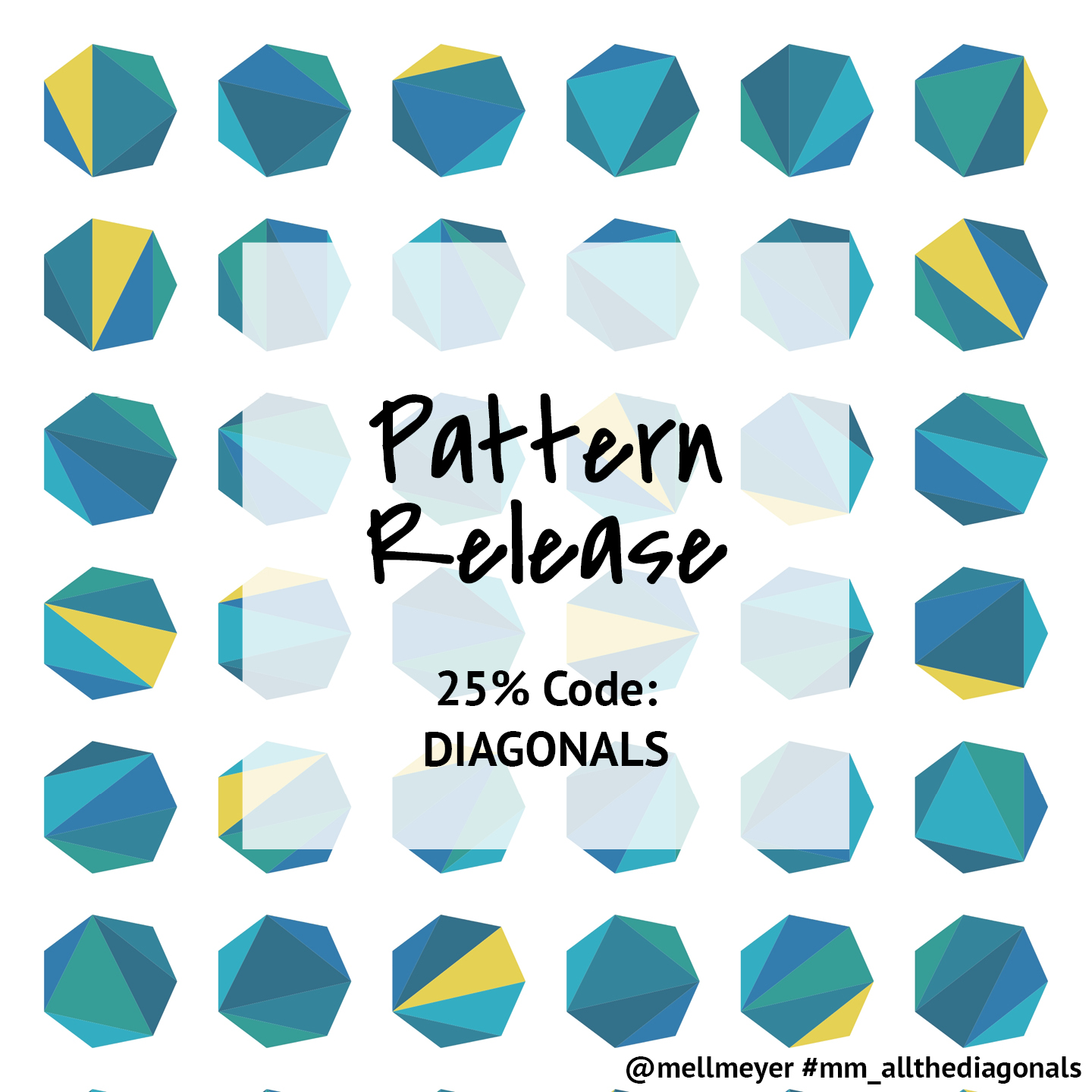 Pattern release day is finally here. But it is also very unreal while we are all in the midst of the novel corona situation and it being Easter Sunday, which I totally didn't realize when I picked the release date – because who looks into their calendar when they know there can't be any appointments in there.
Nonetheless I am doing a big happy dance today for sending my first pattern into the world. I hope you party with me and that you all love my baby :)
You can find the pattern here on my website and also directly on Payhip. With the code DIAGONALS you will receive a 25% discount until Apr 19th 2020.
Also, if you met me at QuiltCon – doesn't that seem ages ago? – I probably gave you a special QuiltCon code. Remember to use it :)
The pattern includes 42 templates in two different sizes, 5.0″ finished and 6.5″ finished. But instead of "just" giving you FPP (foundation paper piecing) templates, the pattern also includes 3 different layout ideas. This adds up to full quilt instructions – including fabric requirements and cutting tables – for 5 versions:
… and endless other options.
Can you imagine, that I totally forgot to take a picture of my own quilt top? As I am still quilting… here are the quilt tops my amazing testers put together.
Version: Baby
Both testers used the fabric placement from the pattern. Sophisticated blue in solids with a light print fabric accents and fresh aqua/turquoise with pink all in prints.
Version: Baby II
Once again fabric placement according to pattern. But what a difference fabric choices make… Number one with all kinds of prints and number two with fiery solids.
And a number three with free fabric placement in the new Tula Pink fabric collection!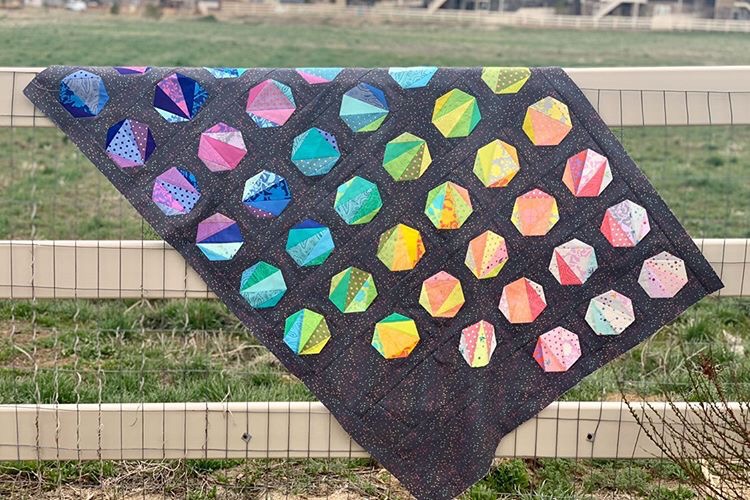 Version: Throw
The first one is in solids and with the pattern placement, elegant grey with a pop in pink. The second version a fun, creative creation in light and dark with the 'Speckled' fabric collection.
And two more with free fabric placement, this time in rainbow layouts. Two goals, two beautiful projects but still so different.
Version: Twin
First a quilt with pattern placement in solids and the accent with a print fabric. Colors make me think of jewels… And the second quilt with free fabric placement. All the colors of the rainbow in a 'random' layout.
Version: Big Twin
And the last two are also one with free fabric placement – ombre confetti color rows – and pattern placement – with solids but two accent choices.
Aren't these the most amazing quilts? Ok, I might be biased, but I loooove the color and fabric choices and creative ideas that my testers used for their quilts.
I can't thank you all enough! Especially since you all kept pattern testing although the virus turned our lives upside down and made the whole world such a crazy place.
Best wishes
xo Melanie