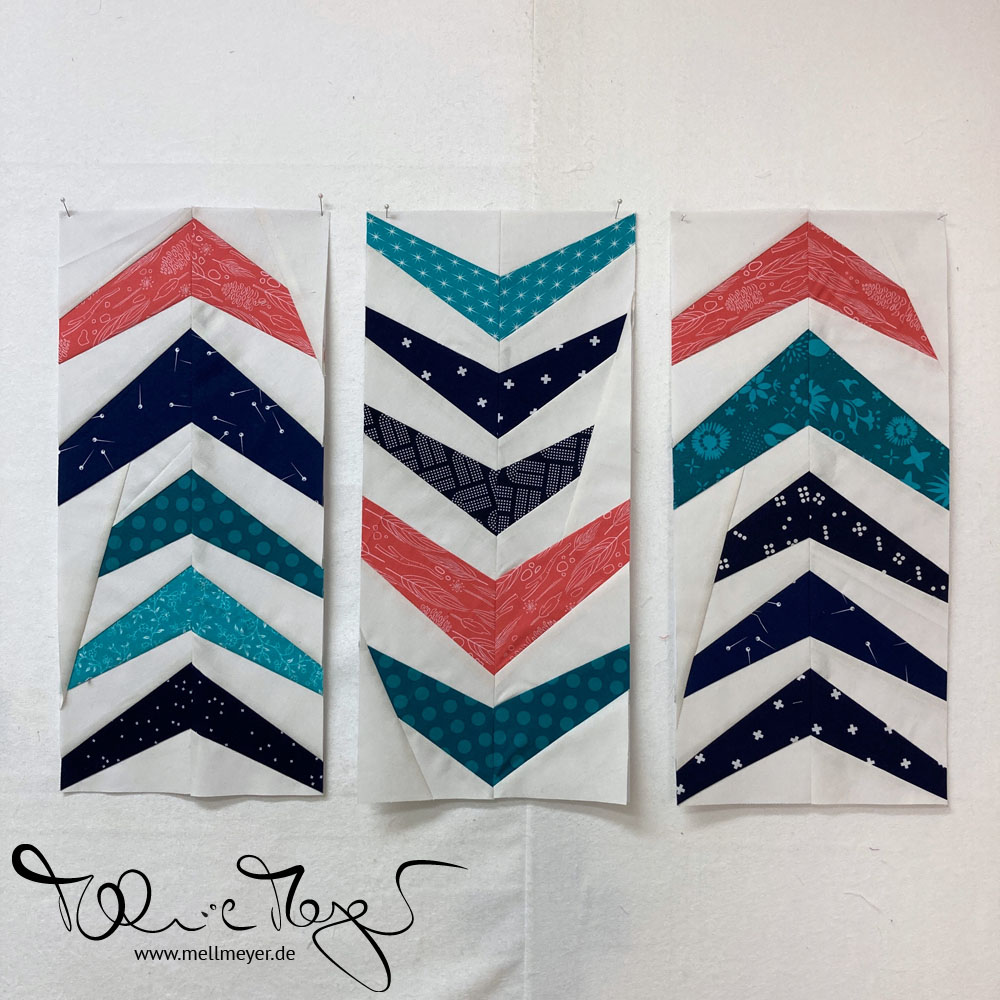 Come join me in my happy dance: My new quilt pattern just launched!
Pattern
Wonky Chevrons
Wonky Chevrons is a foundation paper pieced (FPP) pattern perfect for your bee quilt. The block area is identical to your average 12.0″ block but the 8″ × 18″ design gives your bee project a fun twist. And the best? It is free!
This pattern includes templates for 3 block designs: Symmetric Chevrons, Wonky Chevrons & Super Wonky Chevrons. There are also instructions included for 2 layout types.
In layout #1 the chevrons fly alternately up and down. This layout can be realized in a simple column based construction.
In layout #2 the chevrons fly all upwards. This layout needs alternate columns – one with full blocks, one with half drop blocks.
Here is the link to the pattern.
Why?
newbie BEE germany
I came up with the idea for this block when Christina @minerva_huhn asked me to contribute a design for newbie BEE germany. She publishes in general a new bee block once a month plus an additional designer block. Wonky Chevrons came to be because of this "blog hop".
At first I was stumped but thankfully Christina let be play a bit and so I designed a block with a twist. Besides the FPP templates you will find in the pattern how man blocks you will need for the usual quilt sizes: Baby, Throw, Twin, Queen & King.
Normally in a bee you will receive 11 blocks after making that first show block yourself. So the magic number is 12. But the only size fitting that number is the Baby. E.g. the twin sized quilt would be a 7 × 5 layout = 35 blocks.
You do not want to sew 23 more blocks yourself? You can, but you do not need to ;)
Here are a few ideas that I came up with. They are all twin size: 68 × 93 inches. I used the Super Wonky Chevrons for the graphics.
I have started to sew the Super Wonky Chevrons. I am in love with layout #1 – the up and down one. And I plan to sew a baby size. No negative space, full blocks.
Here is my fabric pull & the first block sneak peek:
I had hoped to have more blocks finished but unfortunately my right wrist is hurting – no idea why – and making it impossible to lift the iron or cut. Hoping I can show you more progress soon!
Don't want to miss any news like a future pattern? Sign up for my newsletter. Currently I publish very erratically and mostly for big news but my goal is to send it to you monthly. Containing of course the big news but also what I have been up to and some other things I found on Instagram or in the blog universe that you might also find interesting.
br>
I hope your like "Wonky Chevrons" and I am looking forward to seeing all your versions – with or without all kinds of customization. Please use #mm_wonkychevrons and tag me @mellmeyer.
I also would be very delighted to hear your ideas in the comments.
Stay well!
xo Melanie