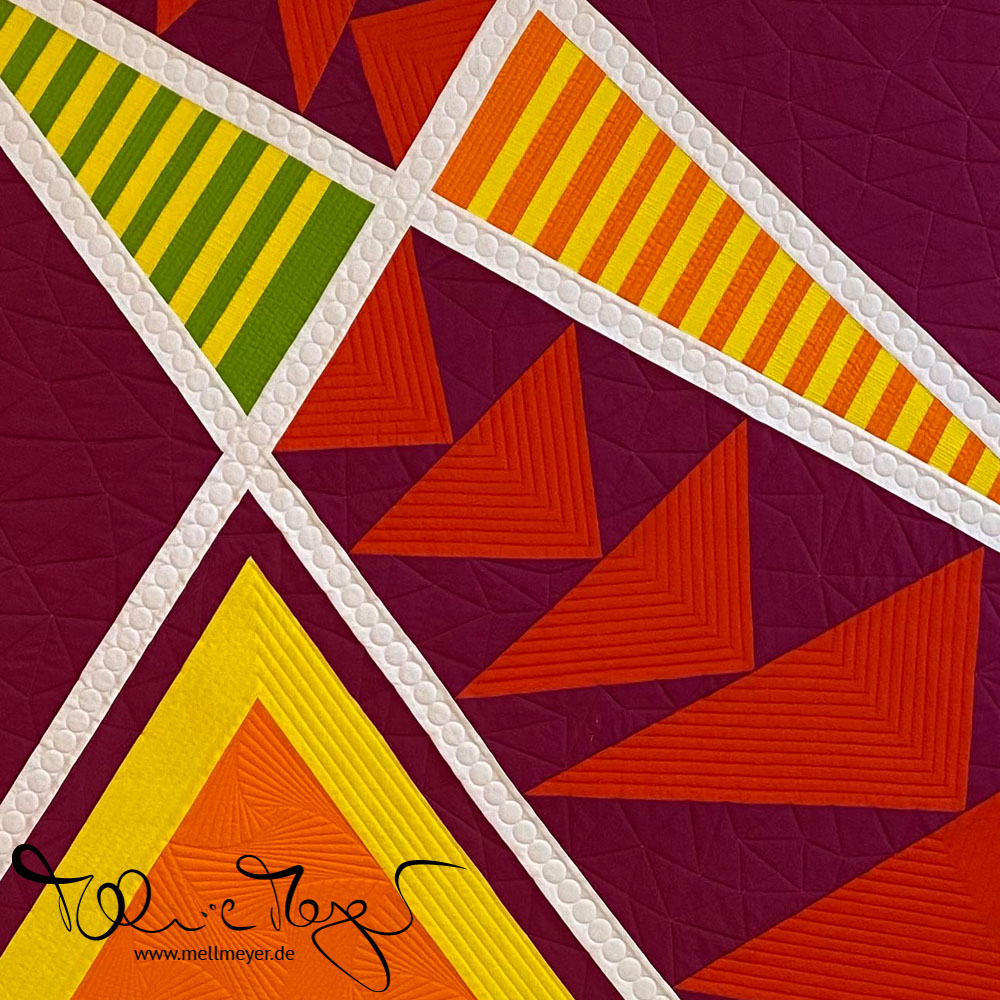 No. 7 of my Finish Along List for Q1 is finished!
If you know a bit about QuiltCon, you probably realized that they have a special exhibit of charity quilts, now called "Community Outreach Quilt" hanging in the show. These quilts are always group projects, follow a predetermined colors scheme and topic. This is our contribution.
It all started with this quilt for the Charity Challenge for QuiltCon 2020. That was my first year visiting the exhibition and so I organized our group and we sewed a project. Fast forward a few more month than normal, because QuiltCon 2021 was done virtually as QuiltCon Together because of covid, and we were planning to visit again in real life. So of course we needed a new group project, right?
Everyone was excited to start again and with the addition of a new member, our group of nine quilters embarked on a new quilt adventure. The topic this year is: Angles.
You can find all the information here on the official QuiltCon website. But in case they take it down here is the short version…
Angles come in all shapes and sizes, with varying degrees. While some are more pointed you can also find others that almost seem to flatten out. You'll find right angles in most quilts, so the challenge this year is to feature angles that are not 90º in your quilt. Acute or obtuse, let the angles be the focus of the quilt, instead of simply the place where blocks meet.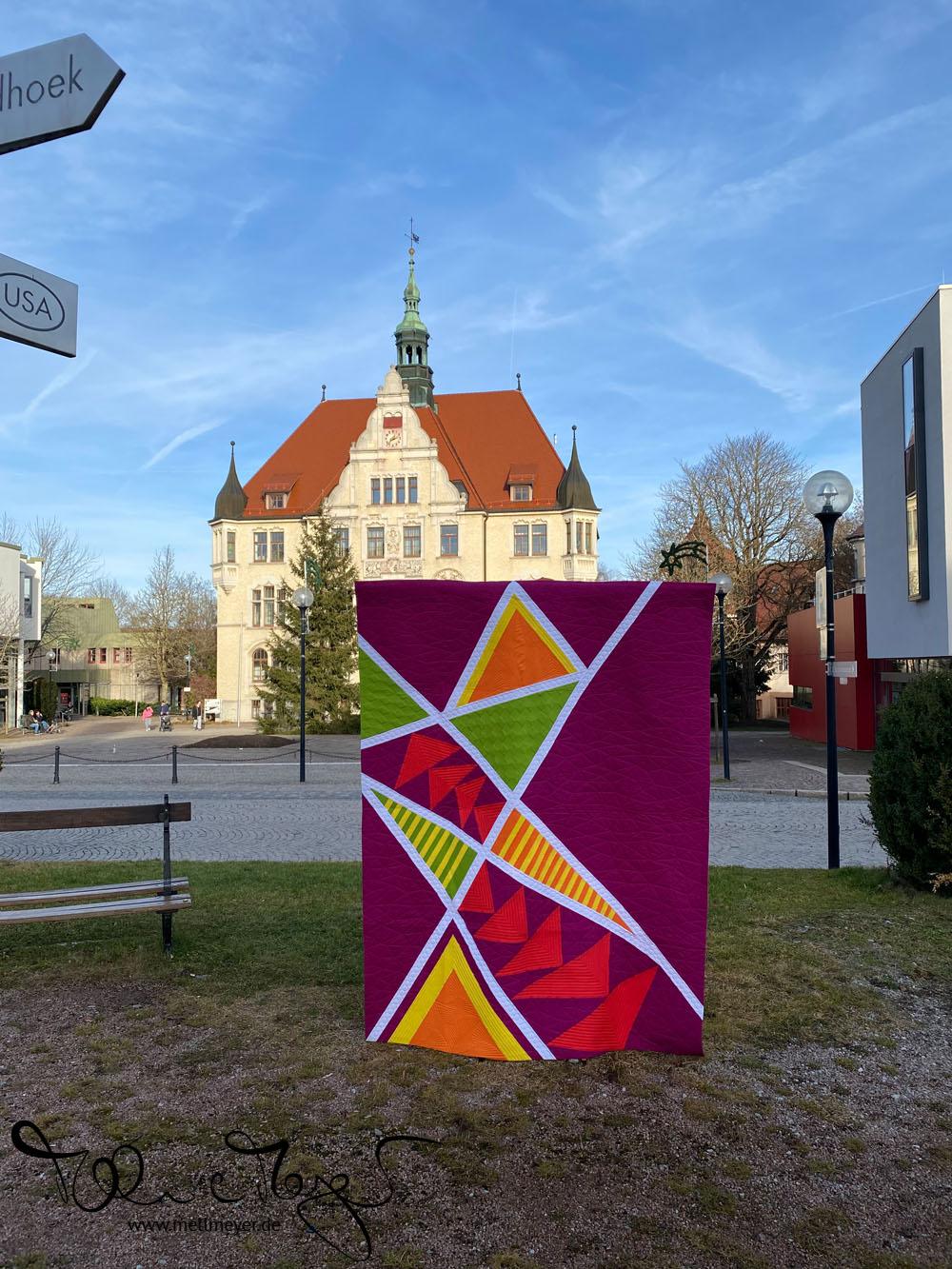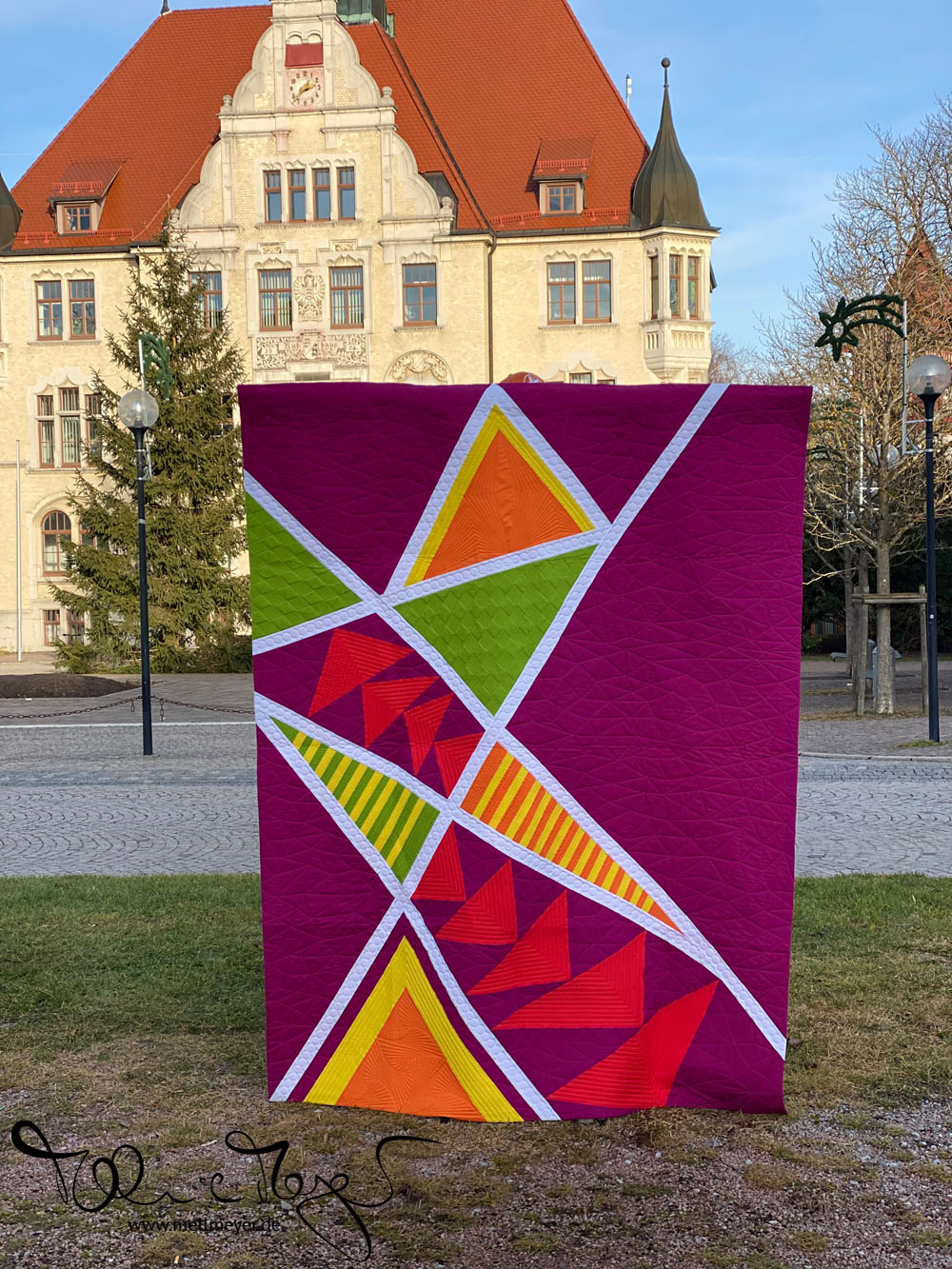 In the end we decided on the third design.
"To create all kinds of angles and a non-traditional layout, the design process started with dividing the quilt canvas by random lines to create triangle and polygon shaped sections. Some sections were filled by echoing those lines to further emphasize the unusual shape, the others were filled with classic patchwork stripes or flying geese. Though traditional in general the alignment and the wonkiness as well as big sections of negative space show an overall modern design."
Artist's Statement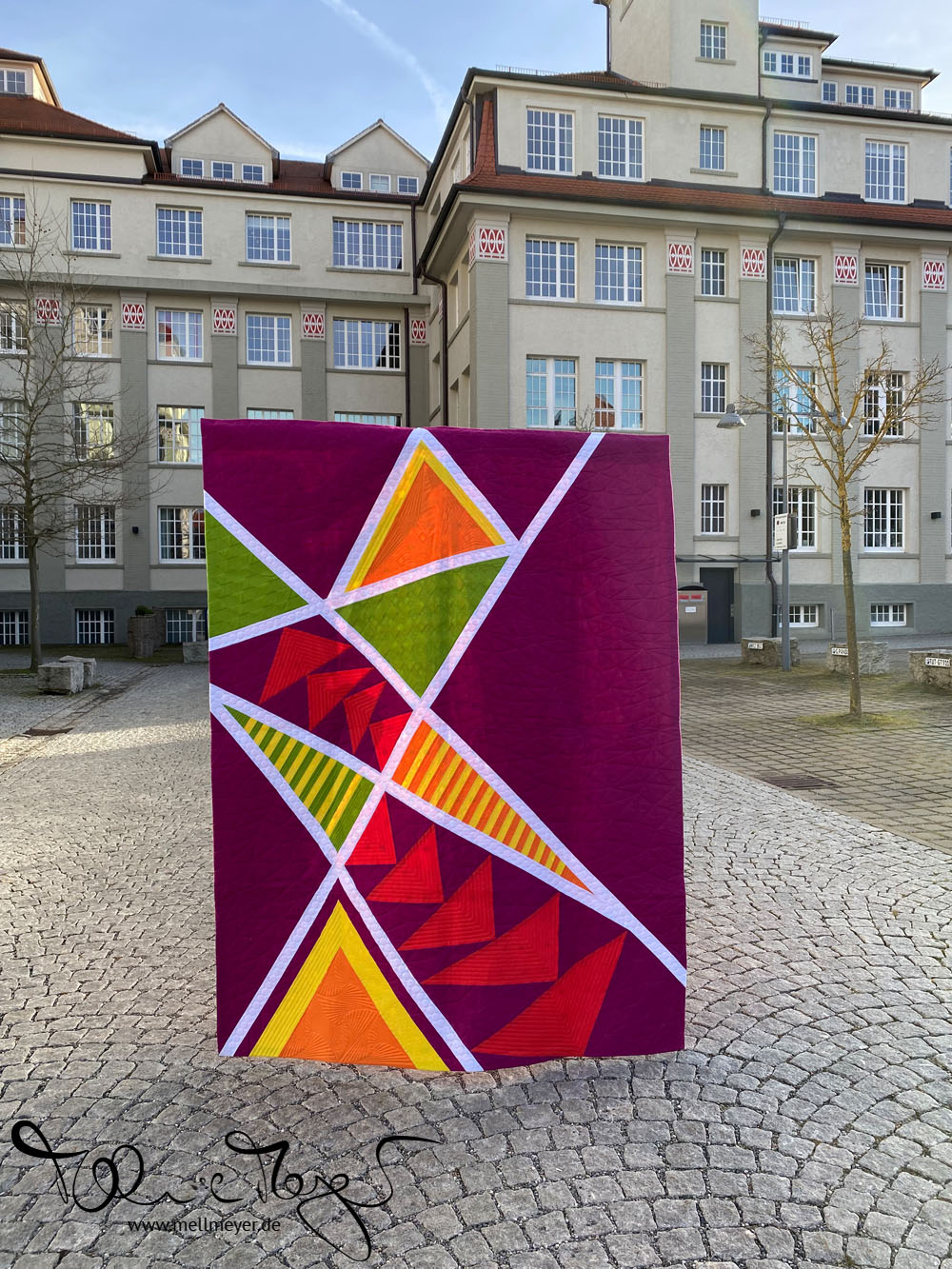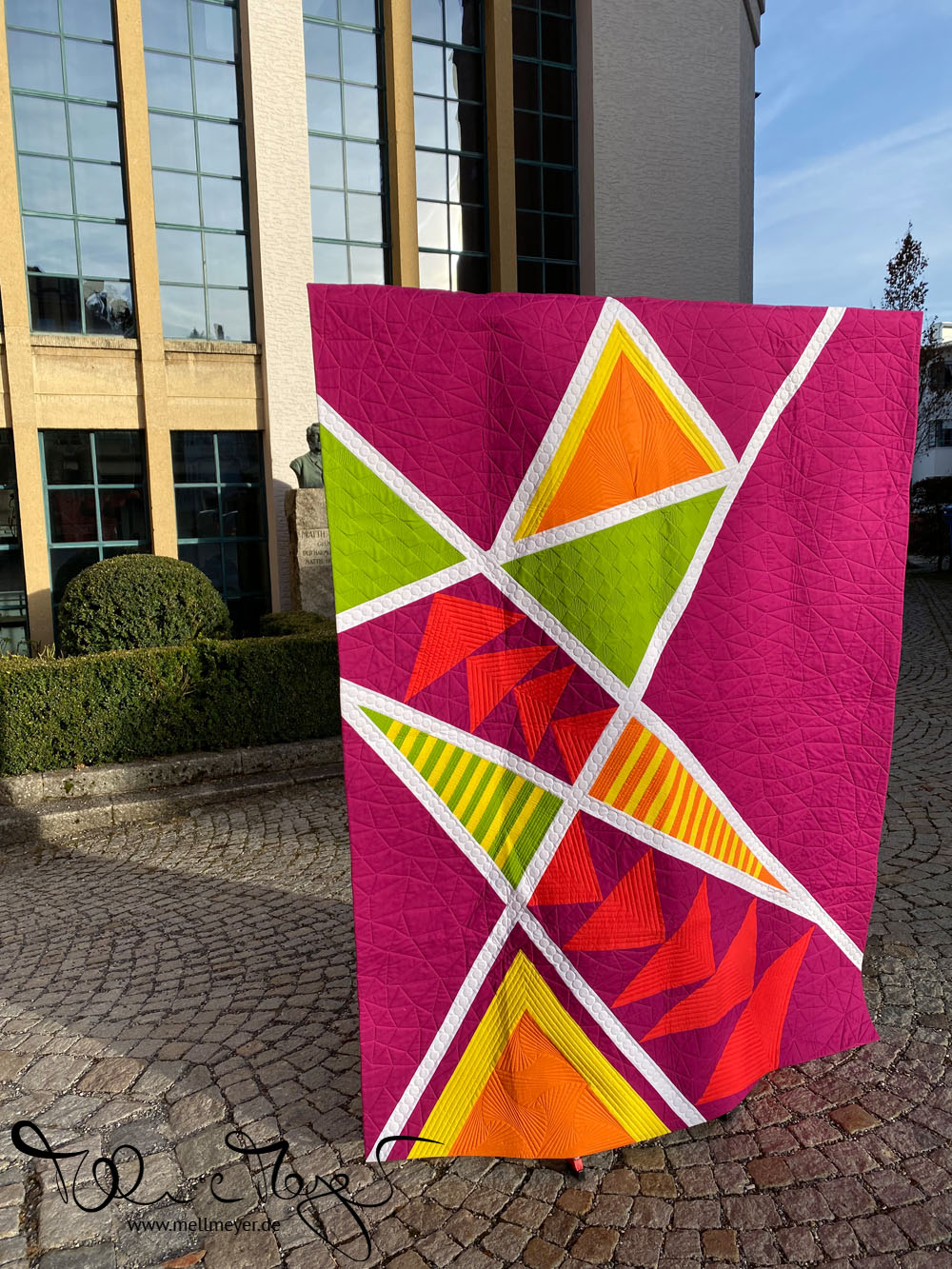 The quilting shows differently in the photos. My favorite is the one at the top of the post ;)
I am very much in love with all those circles in the sashing. The background is quilted with a broken glass design and the blocks are enhanced differently each. The amazing quilting was done by @mrs_schnuff. Top construction was done by @hohenbrunnerquilterin2.0 and @feinestoeffchen and everyone else pieced a block. I myself did the design and the organization. Thank you ladies! xo
And you "have to" see this fun #quiltdrop reel ;)
Unfortunately I will not be able to see it hanging in real life in the show. After lots of consideration, I decided on Friday to cancel my visit to QuiltCon. I am really sad. I had been looking forward to this trip for a long time and I will sure miss all the people I had planned to meet again, the information from the workshops, the atmosphere… annoying pandemic. Let's hope we will have better circumstances next year.
So if you will travel, send me a picture of the quilt, ok?
Best wishes
xo Melanie
So far this quarter …
Linking up at
Patchwork & Quilts #85
Beauties Pageant @ From Bolt To Beauty