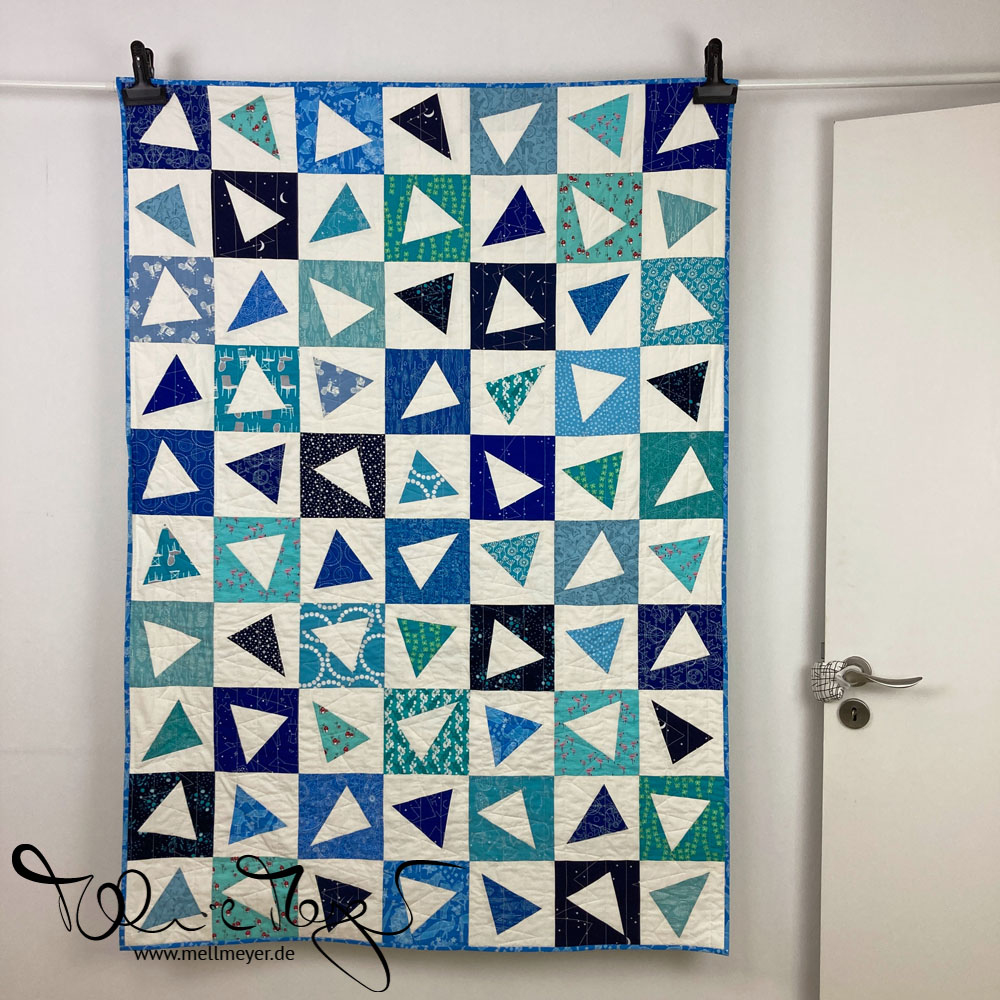 No. 11 of my Finish Along List for Q3 is finished!
Here finally comes the blog post for my first July finish. Of course, I waited till the last minute to take the pictures – the morning of delivering the quilt to my nephew. But, here they are, including some very cute baby-on-quilt ones that I am allowed to share as well as a "discussion" I had with chatGPT about quilt names :)
Unfortunately, I was not in the mood for pictures when I started this project. But I hope the cutie will make up for the missing progress pictures. It might even be the least photographed quilt? I do not even have a photo of the fabric pull…
My goal was to make a quilt similar to the one the big brother received. So triangles it was and when I saw the #katrinaquilt at Nancy's @graceandpeacequilting I immediately fell in love.
I pulled as many fabrics as I could find that were also used in the first one and then added accordingly. Trying to incorporate as many I-spy prints as possible. Though I do not own that many. But there are flamingos, butterflies, mushrooms, foxes, stars, and designs with multiple things like toys, animals in general, or "things" like strawberries in an Alison Glas one.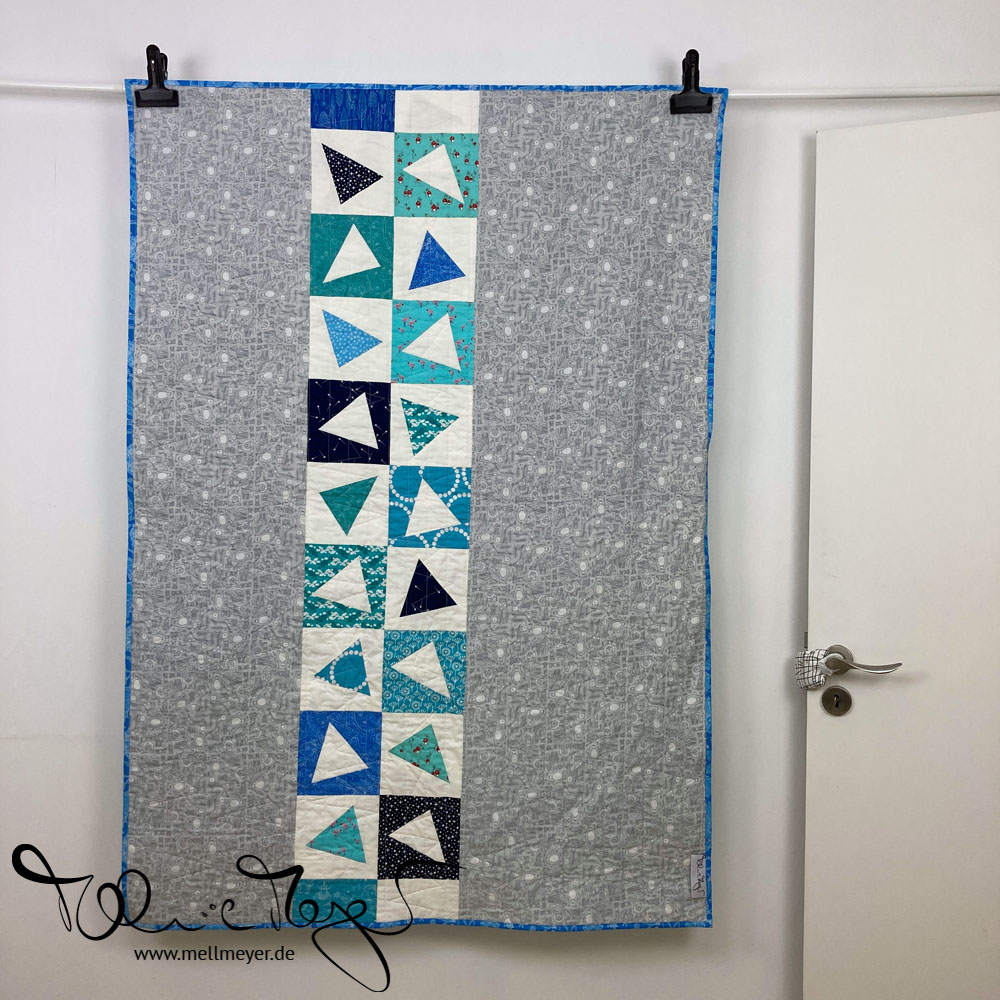 A strip of additional blocks made it to the back. The rest of the backing is a grey flannel print with little animals :)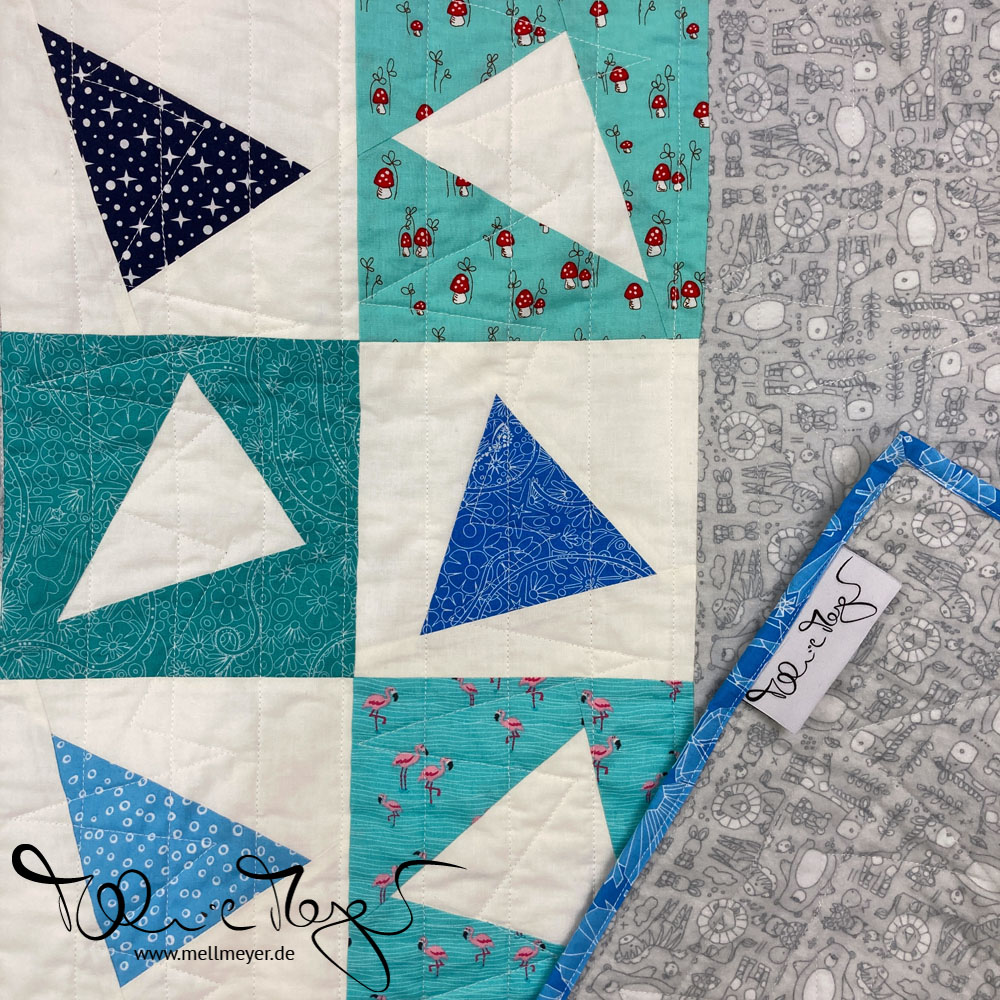 For the quilting I first did simple straight lines 1 ½ inch apart and then added a wonky zig zag afterwards. You can see that best on the dark fabrics …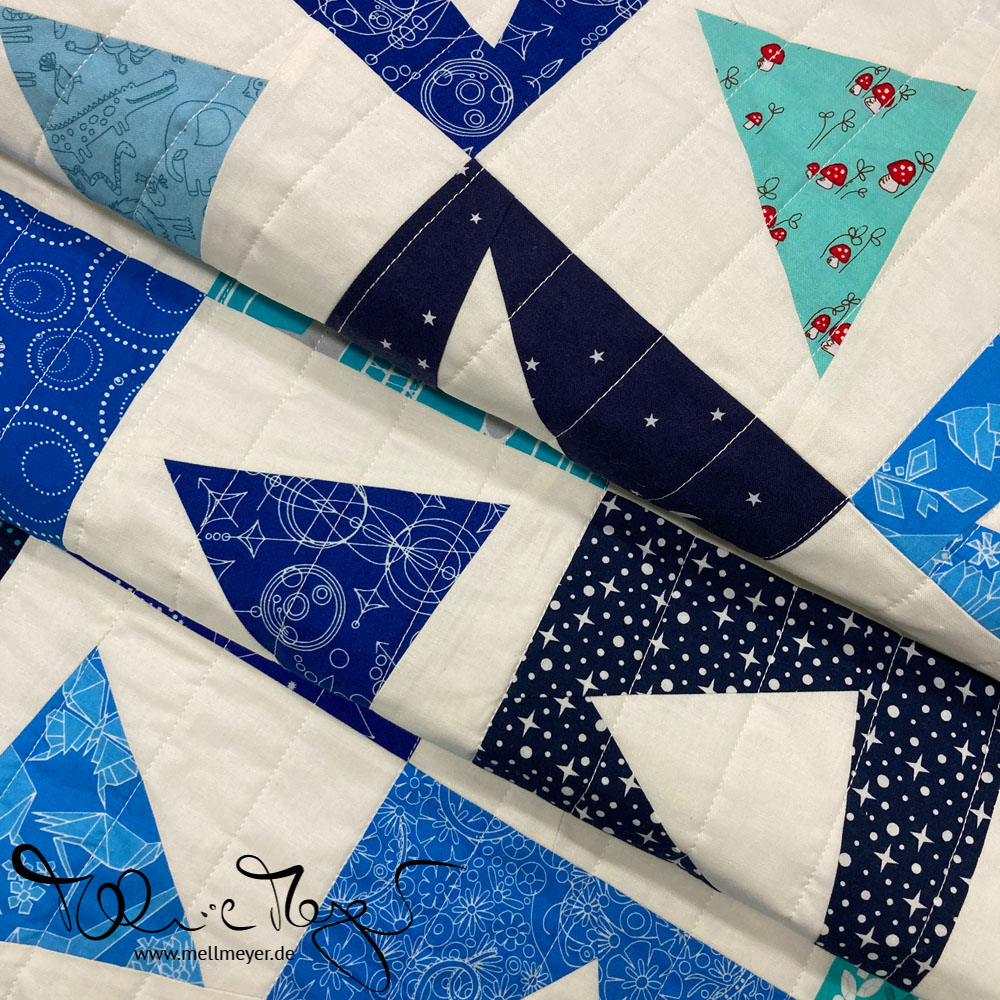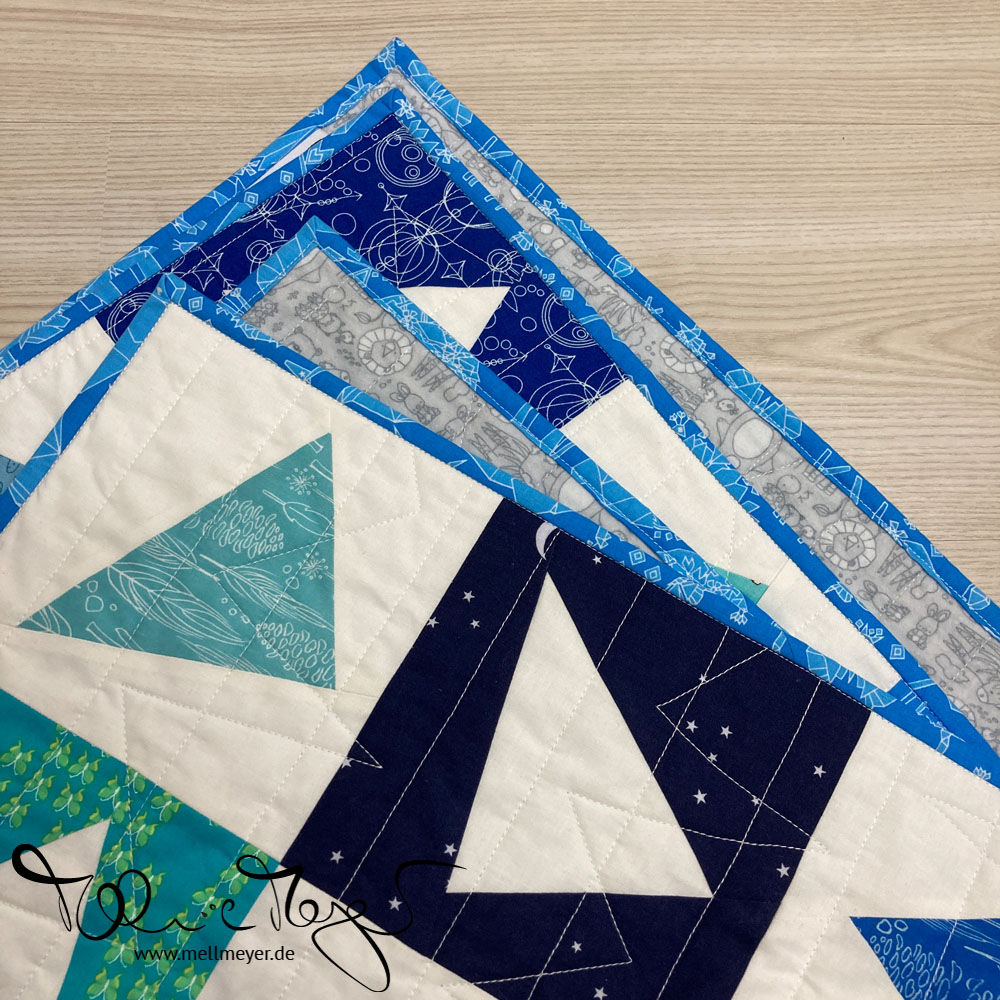 I also played around for the first time with chatGPT to figure out a name. Which is so not one of my strong suits. Most often my quilts remain with their working title – which in this case was Blue Triangles. Very creative, I know ;)
But I had seen an IG post about it and that person asked for an alliteration title. I tried a few combinations but none felt the perfect fit.

Triangular Treasures for Tiny Tots
Quirky Quilted Triangles for Little Ones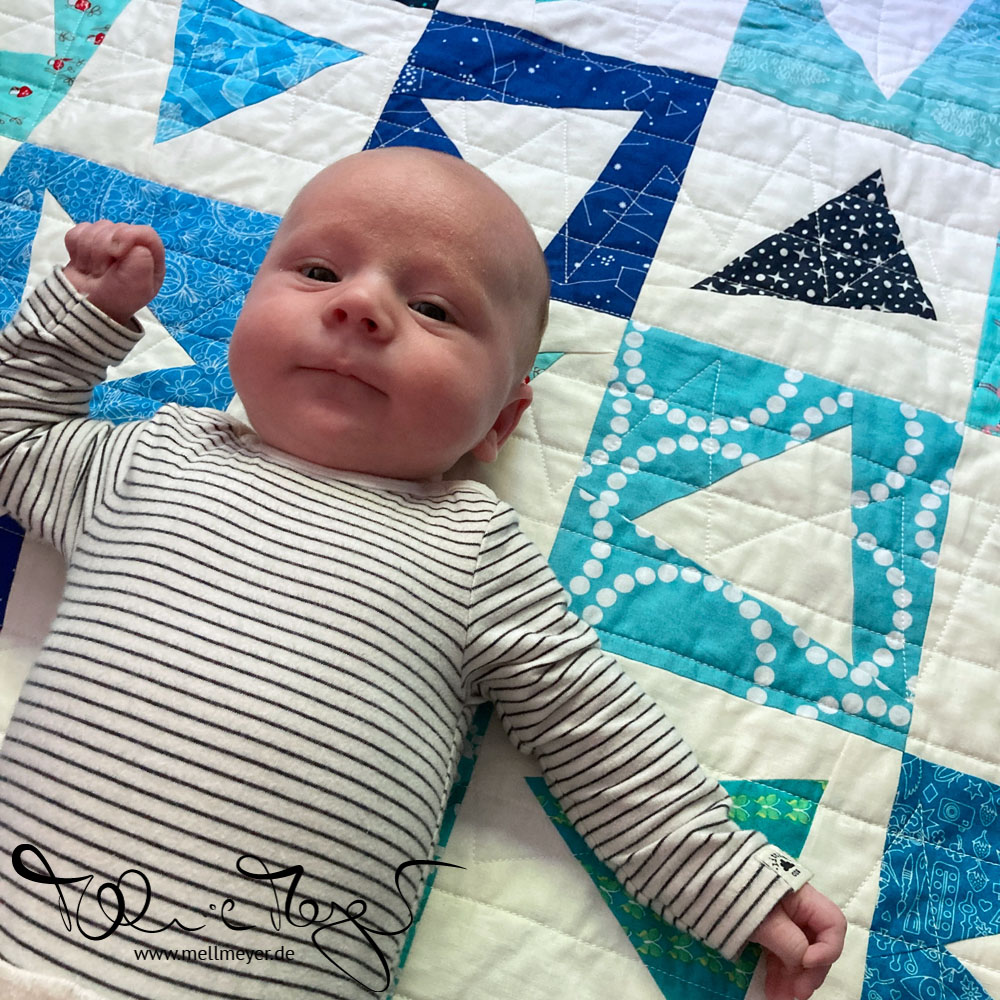 I decided to go a different direction and asked: What would wonky triangles remind you off?
When I think of wonky triangles, it reminds me of something unconventional or irregular. It could bring to mind abstract art, playful designs, or even a sense of whimsy. Wonky triangles might also evoke a feeling of uniqueness or unpredictability. Overall, they can be a fun and creative twist on the traditional shape.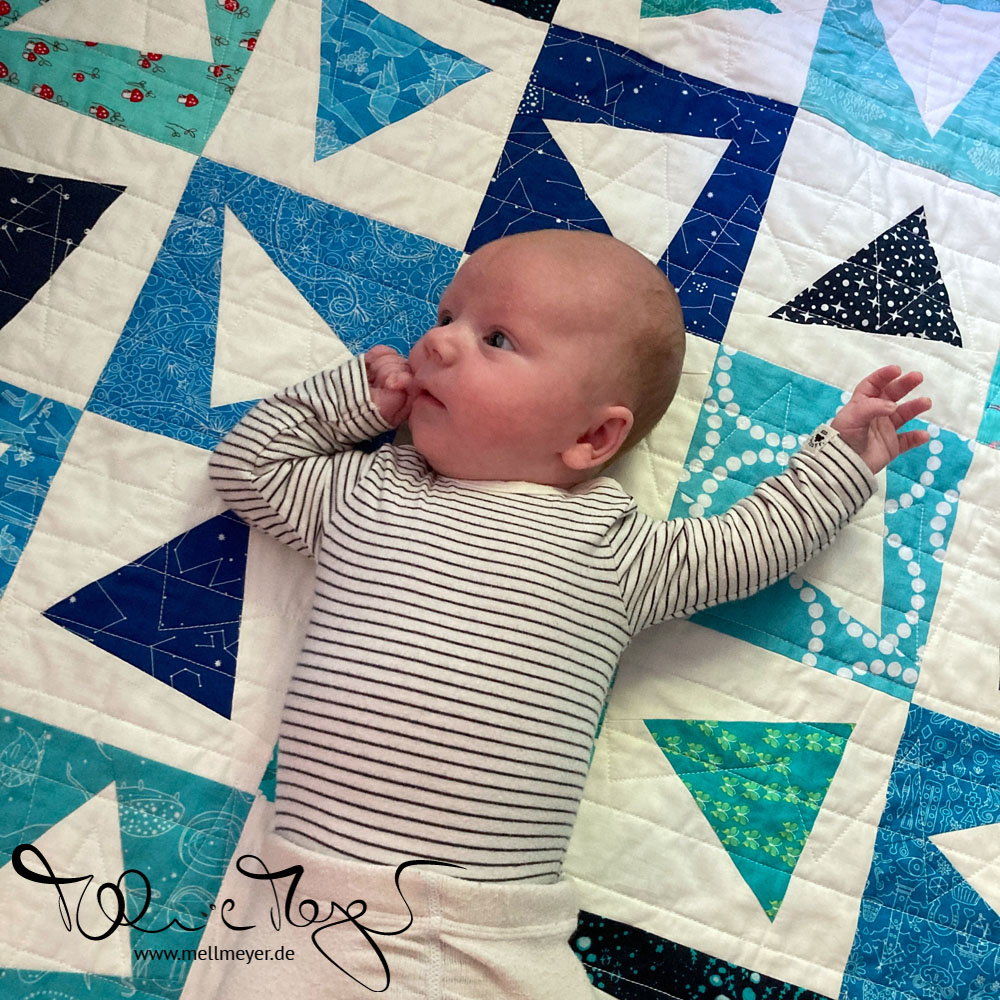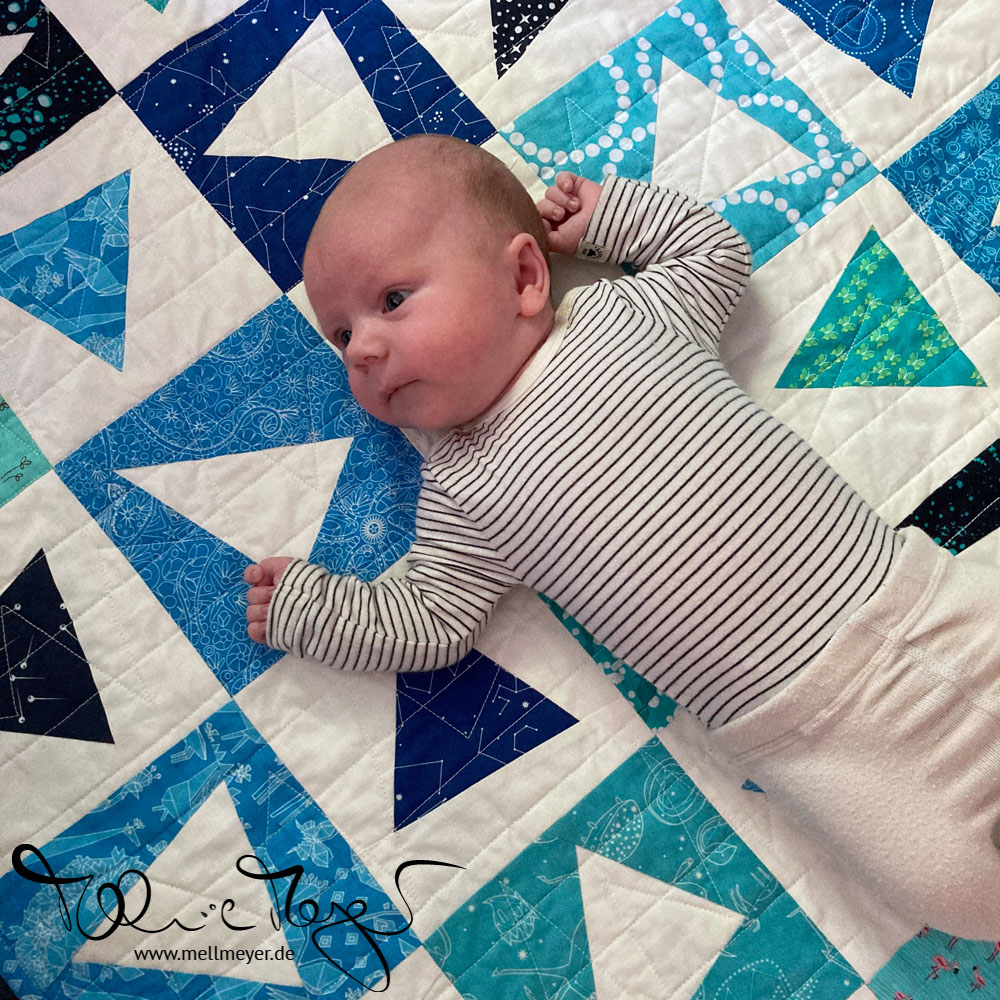 As a one word title chatGPT then suggested "Whimsy" followed by
"Jubilance" – This word captures the exuberant and joyful nature of your quilt design.
"Jubilant Joyride" – This title evokes a sense of excitement and happiness, capturing the lively spirit of your quilt.
"Gioia" – Italian for "joy," this word encapsulates the cheerful and fun-filled essence of your quilt.
"Gioia's Gleeful Geometry" – This title highlights the cheerful and geometric aspects of your quilt design.
Gioia felt fun but not self-explanatory. Though I did like the explanations the AI added.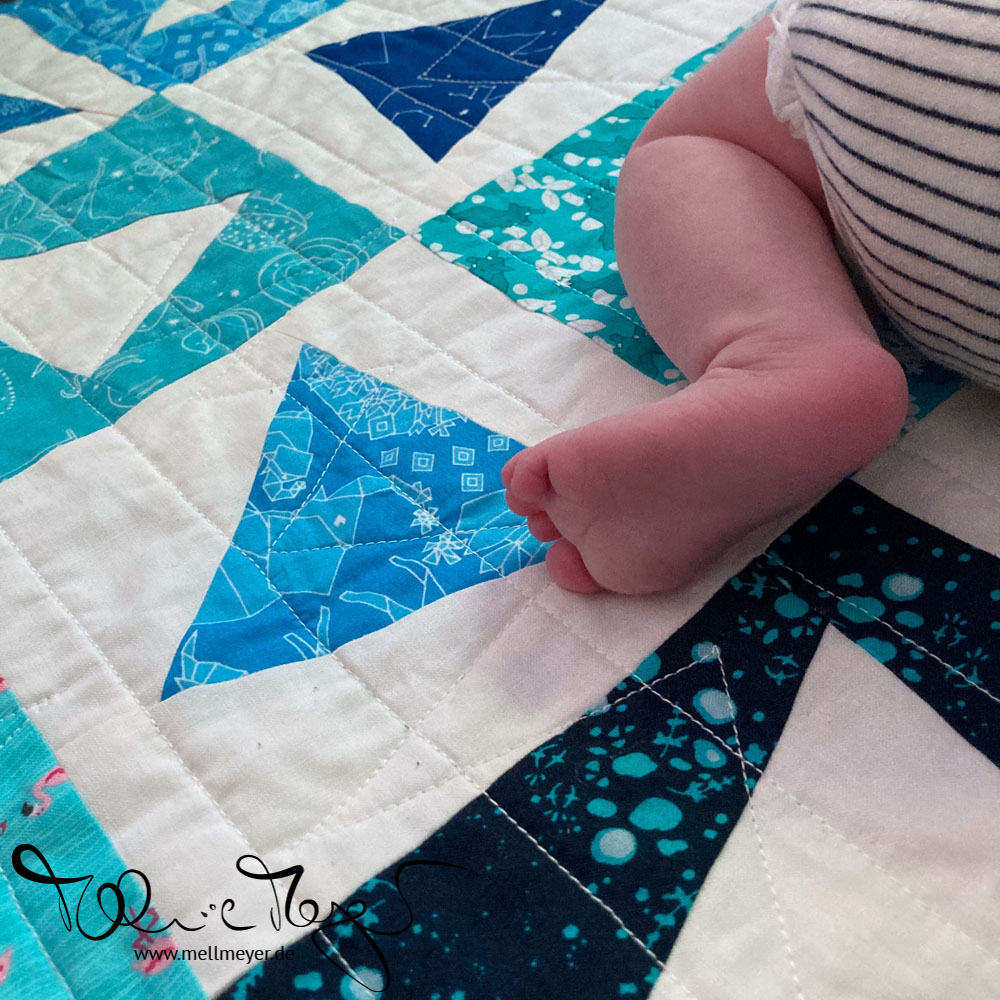 In the end, I picked the name myself. He sure is a big treasure and I hope he will find lots of fun little ones while playing on this quilt.
Want to know what chatGPT had to say about that?
"Treasure Triangles" is a captivating and intriguing title for your quilt! It evokes a sense of mystery and excitement, as if the triangles hold hidden treasures within their patterns. The alliteration adds a pleasing and memorable quality to the title. Overall, "Treasure Triangles" is a great choice that sparks curiosity and invites people to explore the beauty and charm of your quilt. Well done!
The AI sure knows how to praise ;)
As usual for all the (progress) pictures and all the information including details of the quilt cost & fabric calculations see the post in the gallery.
Maybe one day I can take a picture of the two boys with their two quilts? Until then we will all treasure them and hope they will always feel wrapped in love.
Best wishes
xo Melanie
So far this quarter …