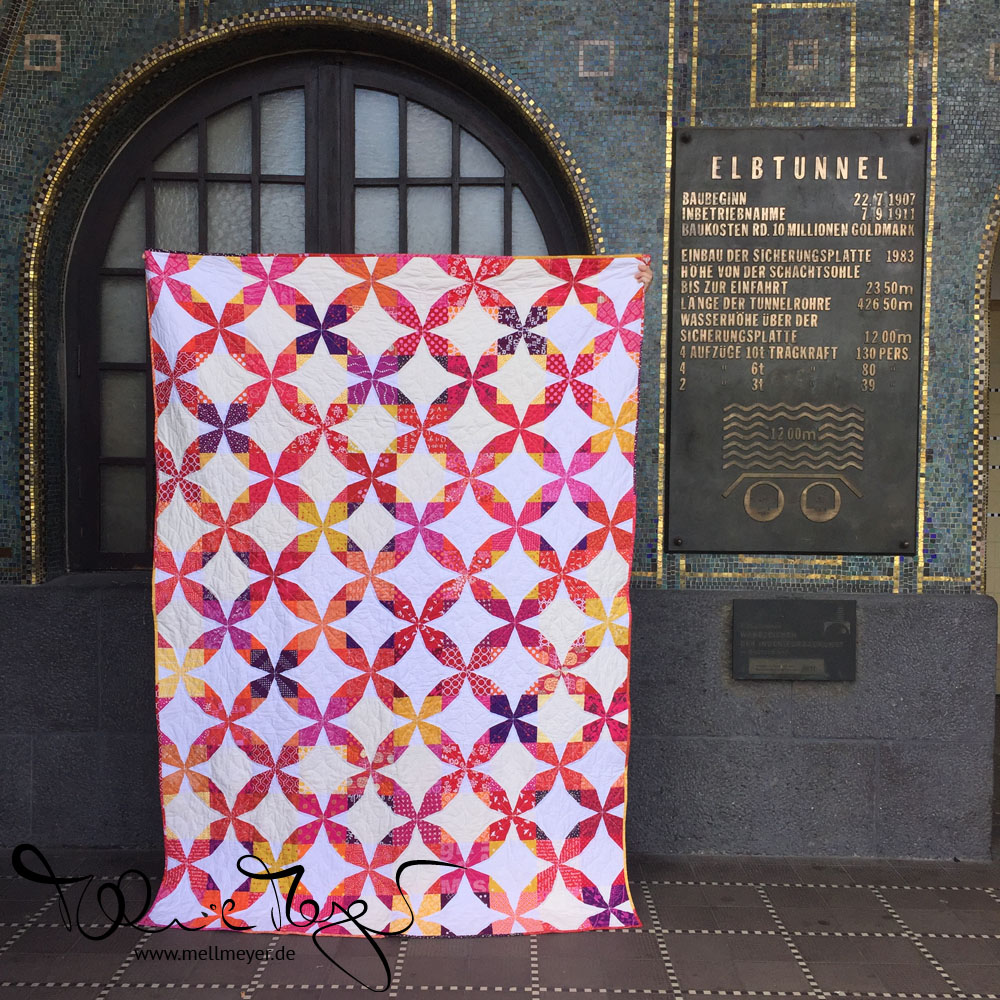 Click on any image to see all pictures in full as a slideshow.
Name: Wanta Fanta
Working Title: Wanta Fanta
Mostly by me. But the theme was started for my first ever bee block in round I of the Quilty Circle of Bees. Most of the blocks were used for a raffle/charity quilt but a tiny few made it into this quilt.
Started: 26th of April 2016
Completed: 5th of October 2019
Pattern: "Wanta Fanta" by Blossom Heart Quilts; PDF file
Technique: FPP (foundation paper piecing
Fabrics:
various yellow, orange, red, pink and purple prints from various designers/collections plus a few (off)whites solids for the background
Quilting Design: Quilting design idea from pinterst. Longarm pantograph but done with pre-drawing and a walking foot.
Binding: by machine
Size: approx. 60×84 inches (152×213 cm)
Block Size: 12.0″ finished
Different Block Designs: 1 with two different units
Blocks: 5×7 (35)
Units per Block: 34
Pieces: 1,190

Assignment: See my instructions post.
Link to the post of my finished bee project #rafflequilt #opportunityquilt #charityquilt
Link to the post about the quilt, that I kept for myself: Wanta Fanta. It contains only three and 2× quarter bee blocks, the rest are my own, but I will still remember it fondly as my first ever bee quilt :)
You can find out more about my progress and process in these.
Costs are calculated via my Quilt Price Calculator: Factors are the size & pieces as mentioned above and the presets for a twin quilt. It is a FPP pattern, but some pieces can be cut fairly off-cut friendly. So I calculated with only an 30% off-cut. Also did I not calculate the backing with the actual gazillion pieces, because they would have been scraps otherwise. I used the fictual number of 4 for the backing pieces.