I still can't quite believe it myself: My Aviatrix Medallion is finally finished! #YEAH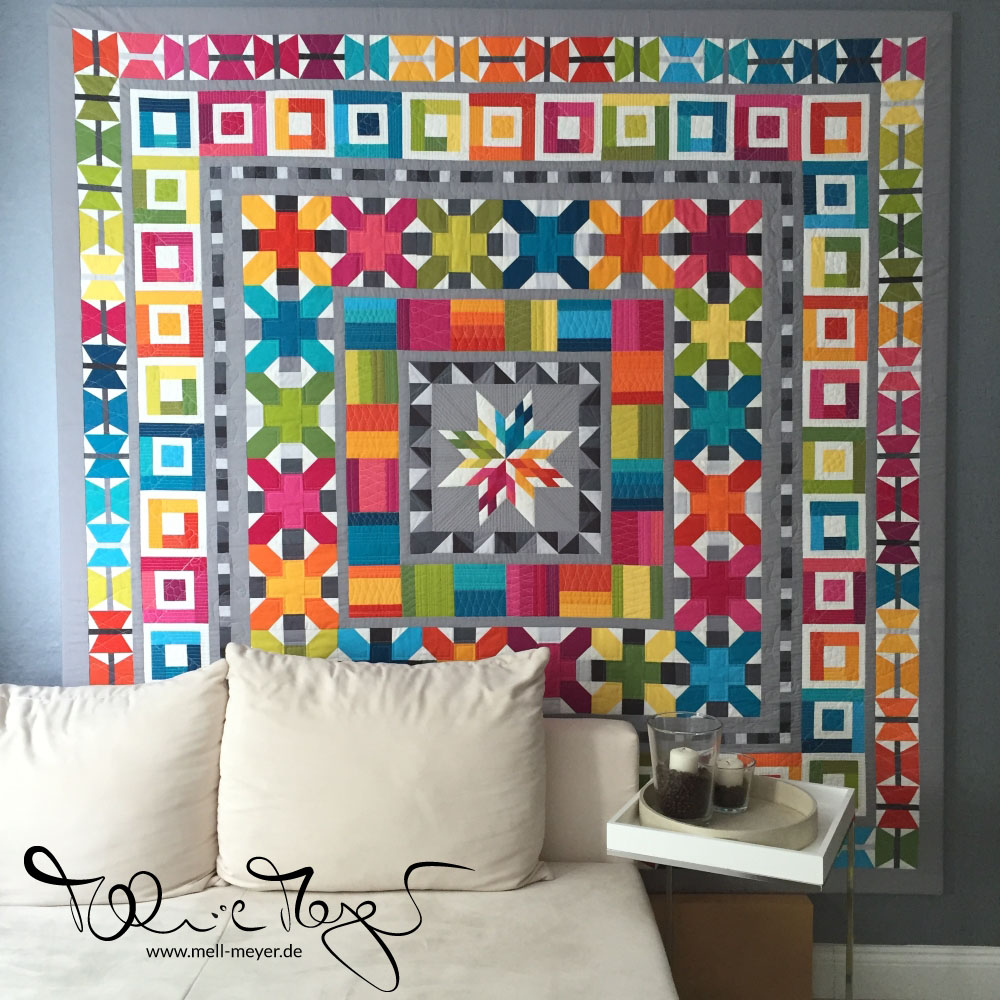 I took only 2 years, 2 month and 25 days or shall I say 817 days but who is counting :)
I wanted it to look like wall art and had this crazy idea of using a wooden frame, wall papered so it would be "invisible" on the wall and the quilt attached with Velcro on it. I know totally crazy, but it was the only way I could come up with, as I wanted it "stretched and stiff" and not "floppy" as with a normal sleeve. After some discussion on our last Patchwork Treffen, the girls came up with another solution to hang my quilt. Actually I did now "frame" it like a canvas painting.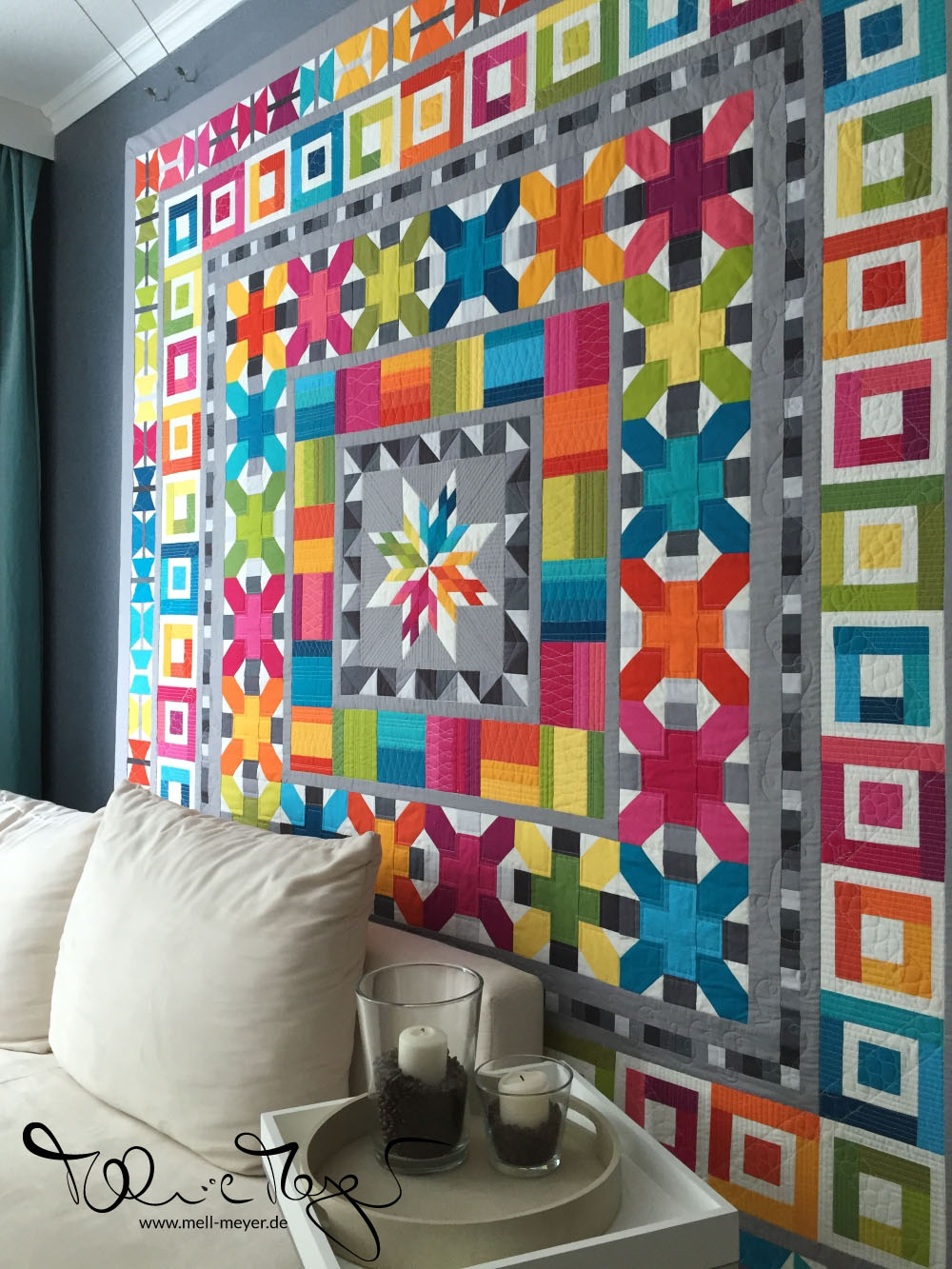 With that twist and with seeing that after burying all the threads the chalk had finally rubbed off, the working time on this went down considerably. I still needed a wooden frame, which a good friend helped me built – or should I say – built for me. We built the frame to the size of the (slightly stretched) quilt. And after that was done, I just placed the quilt face down on my living room floor and stapled the border around the frame onto the backside of the wooden beams. As on a canvas painting :)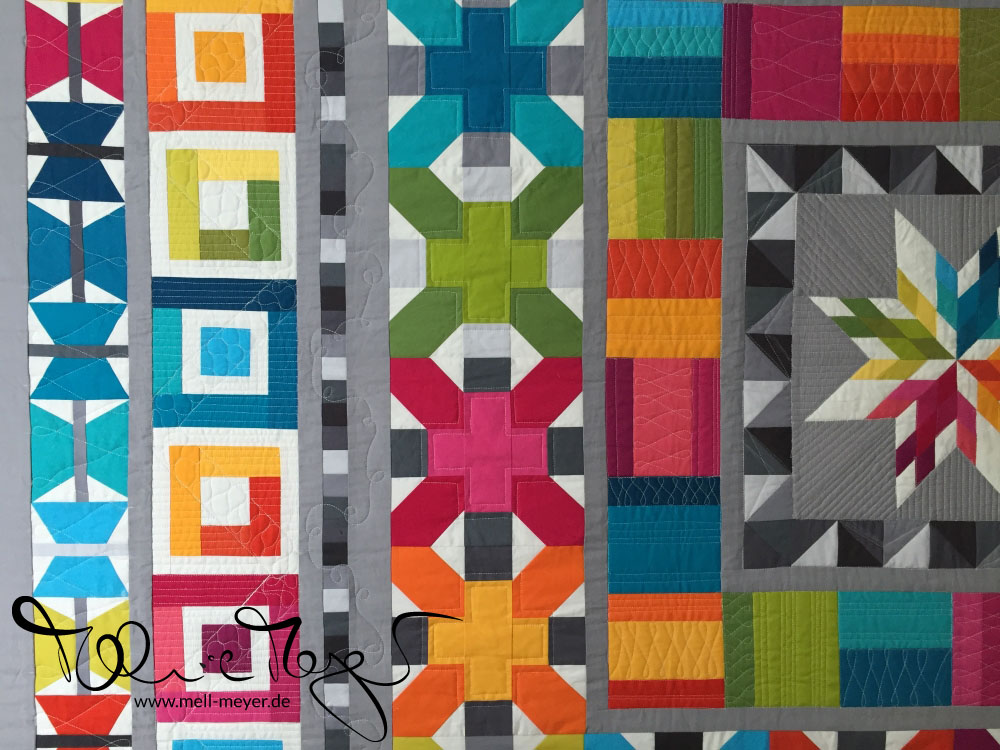 If you want to replicate the process. I found it worked best to draw a chalk line on the border that indicated how far we had to pull the quilt around. The distance will depend on where you measured your main quilt design to be on the border and how thick your wooden beams of the frame are. Then you just pull the quilt so far around that the chalk lines up with the backside edge of the beams. This way the border didn't distort and did neither look wobbly or like a messed up diamond :)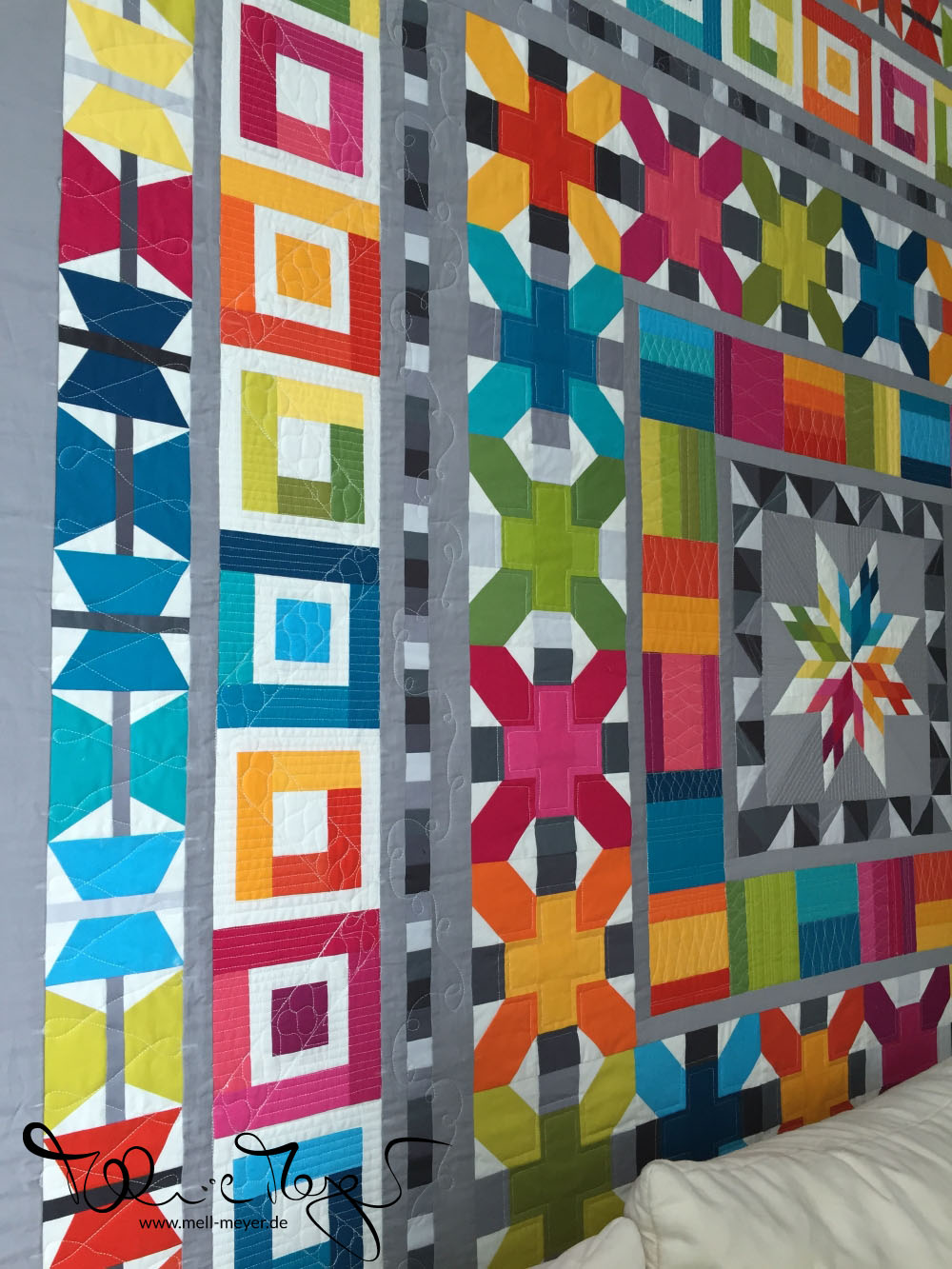 This solution might sound a little destructive with all the stapling. But because I knew, I would longarm it, the quilt had a really wide last border. This border is now stapled to the back of the frame. If I ever tire of the quilt as wall art, I can take it off the frame, resize the border to the intended size, bind it and it's a normal quilt again.
What would we do without all the input, inspiration and help of those on- and offline quilty friends!
Stats
This is a finish of my Q3 Finish Along 2016 List.
Linking up at
Finish It Up Friday @ Crazy Mom Quilts and TGIFF (Thank Goodness It's Finished Friday) and Whoop Whoop Friday @ Confessions Of A Fabric Addict.
FAQ
I'm thinking you didn't use a kit and chose your own fabrics?
Thanks for the reminder! I forgot to link to my original post about the fabric choosing right at the start of the QAL.
I finally managed to look up the colors I used :)
And the result was quite unexpected to me, I would have guessed that I had used more of the pattern colors.
Violet(ish): Punch – Brt. Pink – Valentine – Pomegranate – Cerise
Orange(ish): Sunny – Papaya – Torch – Tangerine – Flame
Green(ish): Canary – Wasabi – Peapod – Bonsai – Grass
Blue(ish): Peacock – Breakers – Cyan – Oasis – Celestial
Gray: Shadow – Med. Grey – Graphite – Coal – Charcoal