I have done quite some sewing in the last months but no finish, yet. I am really close to finishing my No. 1 "Pink Stars"! And I started the second promised quilt – that was not on the list yet but will be added now.
This was also the first quarter where I had to sew blocks for two bees and I have to say that was time intensive. I finished my blocks "only" two days late and am happy to have come that close.
Progress
No. 1 – Promised Baby Quilt – Pink Stars
This baby quilt was official due on the 25th of January, though that has been expedited. The girl was born on the 5th of January. As expected I could not make either deadline but I will be finished soon.
I blogged already here about some of my progress.
Here are some new sneak peeks – more in depth post up soon :)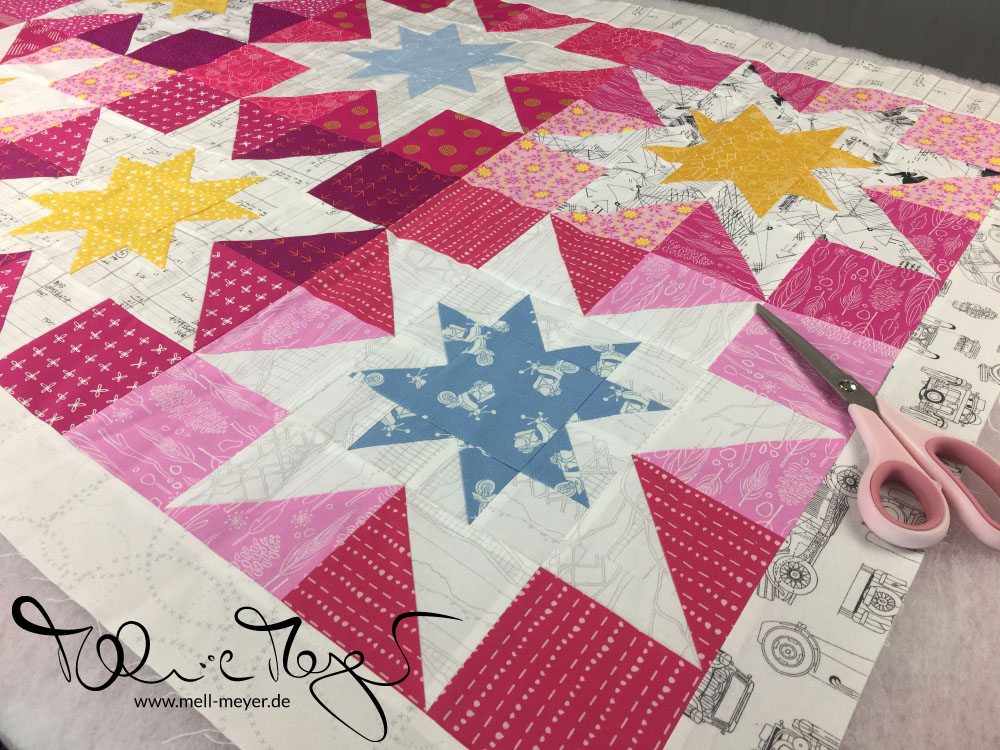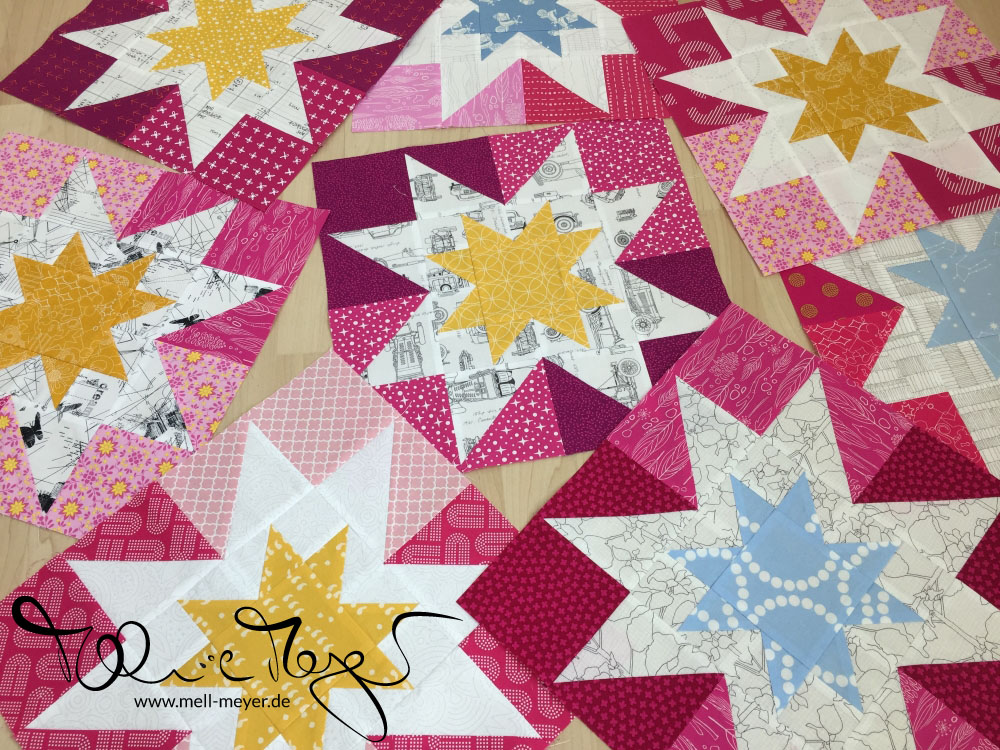 No. 2 – Technocolorgalaxy (Skill Builder BOM)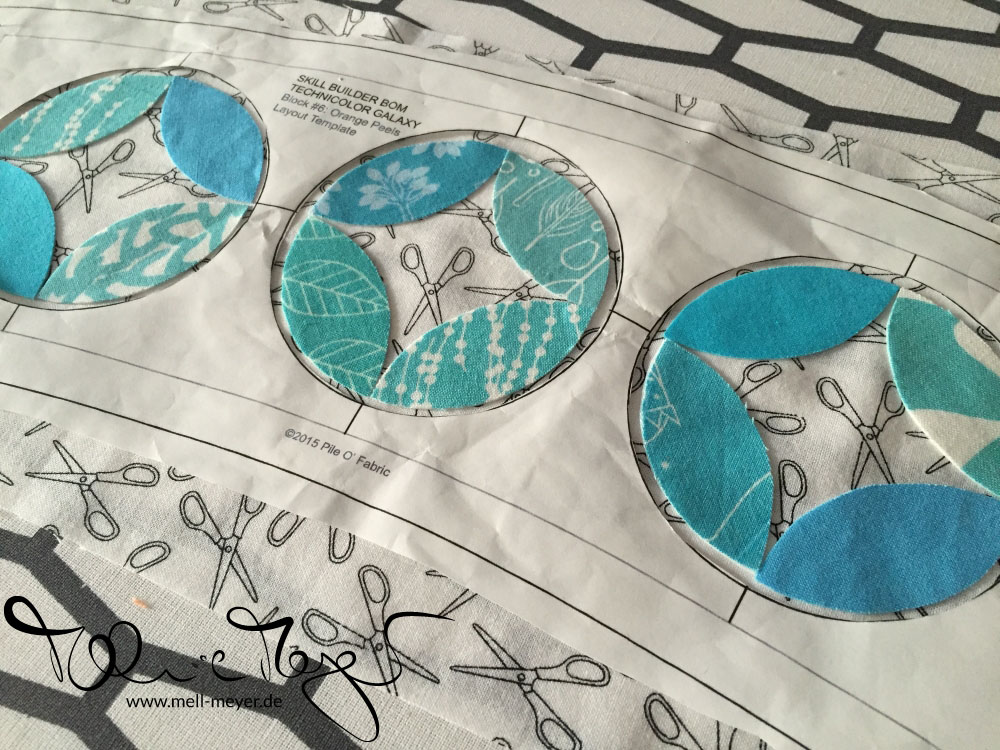 Since Q2 we do have all the tutorials, so I could finish it – ähh catch up. This project feels very daunting. Probably because I have not had it in my hands for a while. At least I have decided to finish it – as my Aviatrix quilt – with a frame to decorate my sewing room.
I want to get the fabrics associated with this projects back into my normal stash. I just can't remember what is in those boxes.
No. 3 – Alison Glass – Ocean Waves Quilt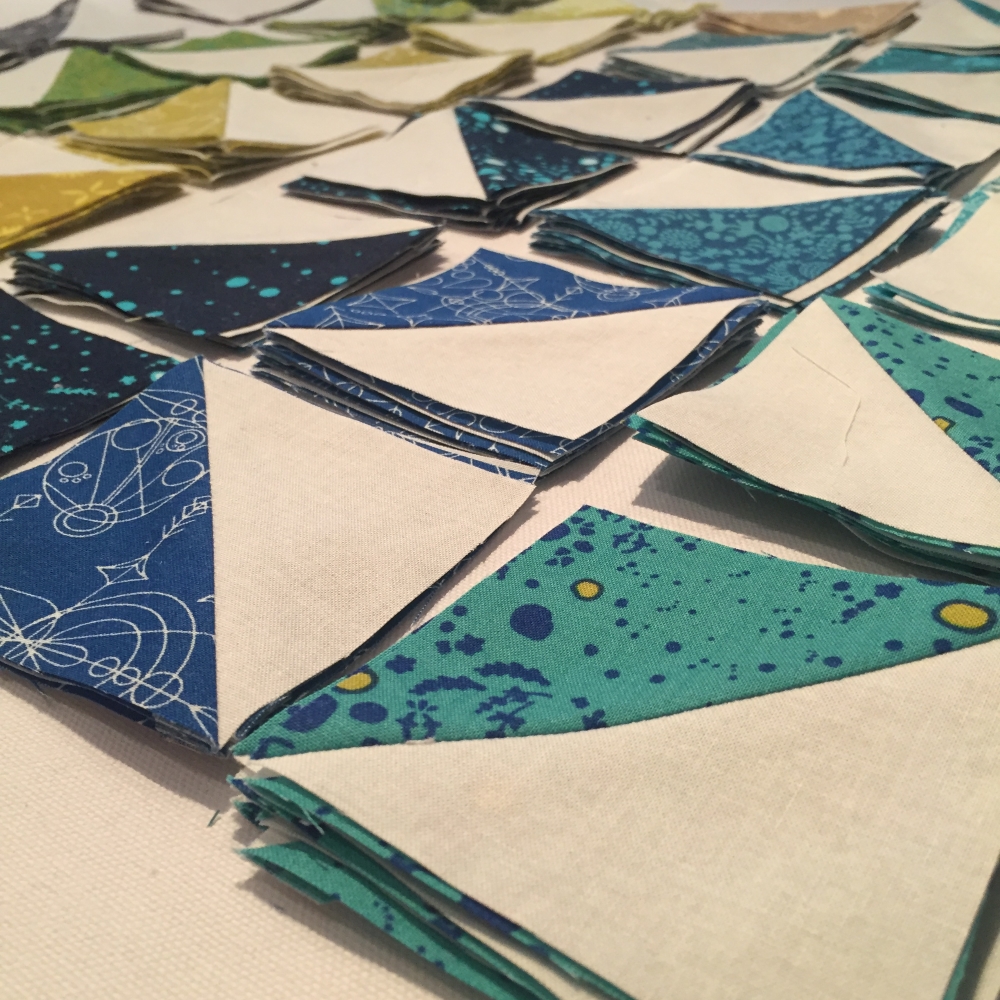 I started this quilt in Q2 2016. 17 of the 48 blocks are finished so far. All the HSTs for both colorways are finished and trimmed, and I even mixed in some new HSTs in Q4. Currently refraining from adding more from my new AG fabrics. Where would it end? All background pieces are cut, everything is sorted and stacked. So ready for when the mood hits.
I am considering having it longarm quilted with a computerized pantograph. I really love the work crinklelove does but shipping to and back from the US sounds daunting. I am still looking for a longarmer spezializing in computerized pantographs here in the EU. Anyone now someone?
No. 4 – Wanta Fanta Quilt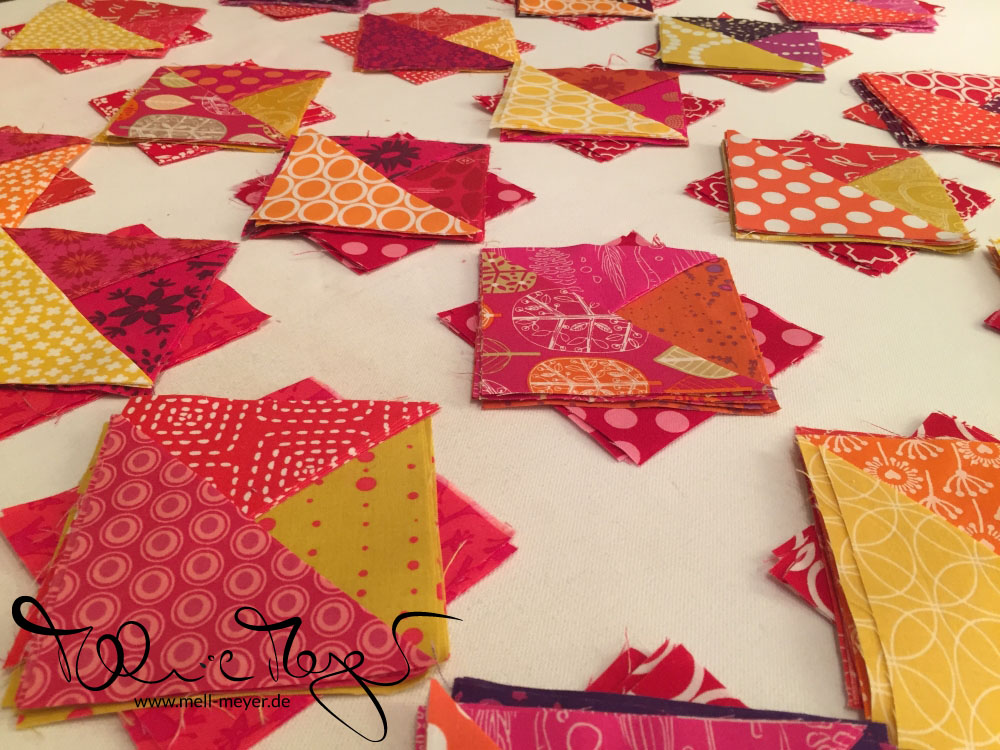 Originally I wanted to finish this quilt mainly through the bee blocks I received. I have now used most of my bee blocks for the raffle quilt so I will have to finish quite some more blocks to come even near a quilt top size :)
Q4 I cut the color pieces from new and old fabrics for the additional blocks. I still need to cut background pieces but then it is a pick it up and have some fun sewing minutes project as well.
No. 5 – Plusquilt
The layout inspiration is this. The color inspiration was this. And I have already bought the background fabric – my first grunge from basic grey – and received a lot of lovely white with black fabrics through the second round of #getyourquiltywishesgranded2.
I have started doing some math and might start cutting. Depending on mood :)
NEW
No. 6 – Double Flying Geese
(aka Flying Dutchman, Dutchmans Puzzle)
This baby quilt is for my to be born nephew and due early July. So at the moment still on track timewise :) It is the second promised quilt I mentions in my 2017 goal setting. I was already in the mood to work on this, so I started and did quite some sewing. Maybe this will be the one where I am not again last minute?
My sister picked the design – one I really love and am glad to revisit – and most of the fabrics. We tried to fit as many blue "novelty" fabrics in there as possible. Unfortunately I had not that many so we bought some fabrics. Who would say no to more fabric? I also added some "secret" fabrics as a surprise. I hope it makes for some fun "I spy" moments.
Here is a sneak peek – more in depth post up soon :)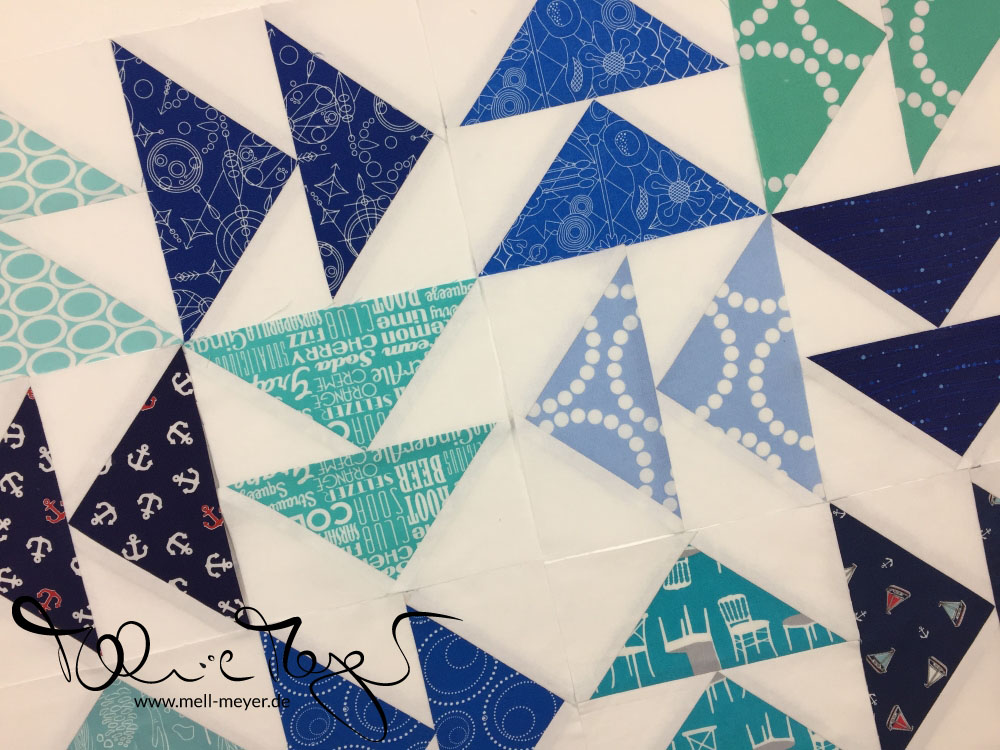 Progress
Bee Blocks
For motivational purposes I am keeping my bee blocks on this list, although they do not qualify for an official "Finish!" later :)
#improvbee
I finished all three asignments for the #improvbee.
Blog post up for the #improvbee Block No. 1 – Minimalistic Architecture
beeblock page (entry) for #improvbee Q1/2017 – Tide and The Beach
beeblock page (entry) for #improvbee Q1/2017 – Op Art
As it's a new quarter the new instructions came in. I will have two new assignments and am queen bee myself.
quilty circle of bees
I finished my January/ February assignment, posted: Improv Quarter Log Cabin Blocks
I am waiting for supporting fabric for my March/ April Blocks as it included colors I just don't have.
BTW did you see the bee page I put up as promised?
Other Projects
I have a lot of other ideas for projects I would love to sew in 2017. Most prominent on my mind are at the moment a new wallet and a new ipad sleeve – both preferably before my US trip. Maybe a passport cover?
Do you have a favorite pattern for one of those small sewing projects?
Best wishes
xo Melanie
Linking up at Finish Along 2017 @ She Can Quilt and
Let's Bee Social #171 @ Sew Fresh Quilts