With my decision to join One Monthly Goal comes also the necessity to check my progress more regularly.
Finished
One Monthly Goal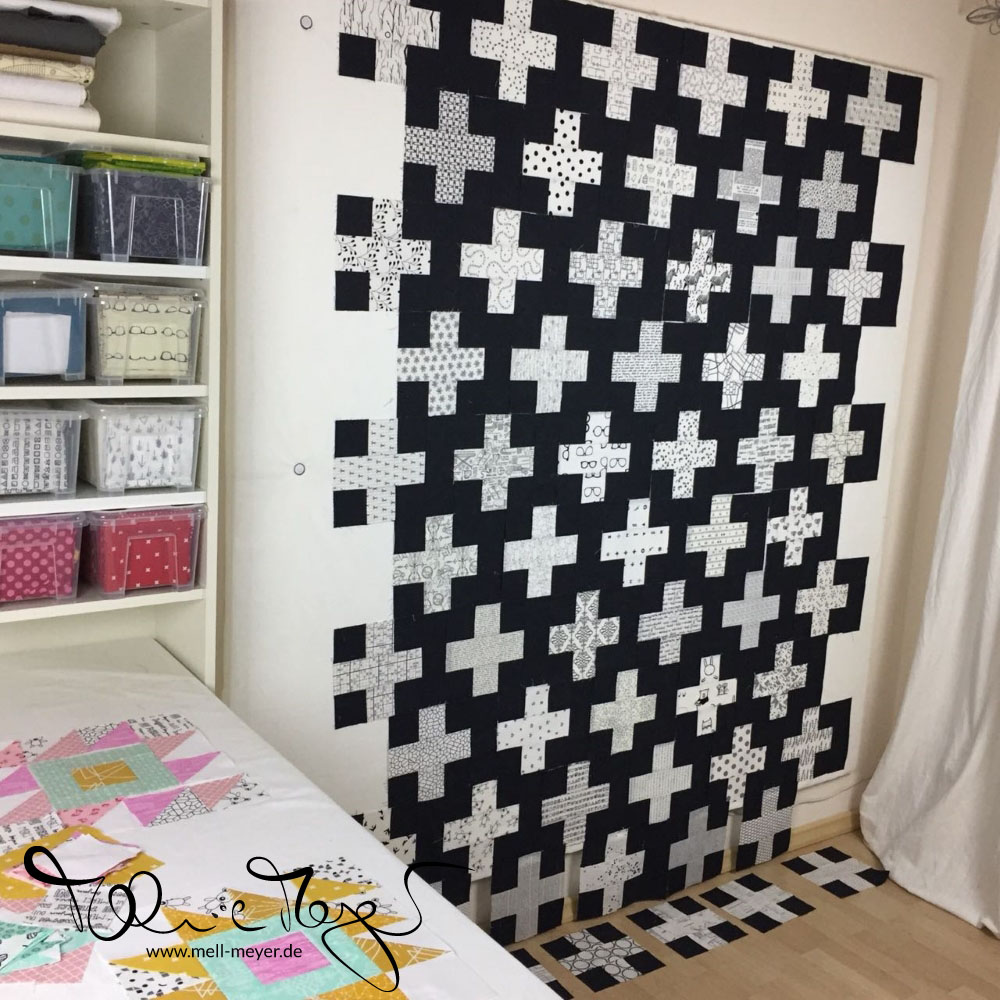 The goal was to finish all plus blocks for No. 4 on my FAL list. And they are all done! Most of them even have their sashing. And all the blocks for the backing are also done.
Do I need to tweak the layout a lot? Hopefully as the fabrics are so diverse, they can stay mostly as they are. With a recent fabric order some black on white snuck into my cart. I will wait for this fabric to arrive and might add some "unnecessary" blocks that can work as jokers. Also means more blocks for the backing.
For February I will make it my One Monthly Goal to sew the additional pillows for my Dad – No. 11 on my FAL list.
While doing that, I will also ponder the layout and try to decide on a quilting design.
Any ideas? Something for walking foot without much twisting… Either with a thread color that works on both so opposite fabrics or a design with two thread colors…
Progress
Sewing for my FAL list
Again thanks to the #30minssewingdaily challenge I am happy with my sewing time. I think I could not have done better.
I finished the last of my Ocean Waves blocks and sewed a tiny bit on my Sew Together Bag. I also finished my Bee Blocks for January, started on an overdue one for Katie and am super early on my February ones for Daniela :)
I also made a lot of progress on Whirly Girl – No. 5 on my FAL list.
Over all I have worked on four different projects and the bee blocks. But I am still not crossing off items/WIPs of my list. Hence I am stuck on the realization, that it will not take me a quarter to finish most of my old WIPs but rather a whole year?!
I am not really counting Technocolor Galaxy at the moment. So I have 10 projects plus bee blocks on my plate. To finish all in a quarter would mean to finish about three projects each month… That's why a bit of frustration realism might be crawling in at the moment. I will further ponder motivational ideas and cheating options or just simply new goals aka additions like "for every three I start, I can start something new".
Of course I will keep going with the #30minssewingdaily challenge, it is helping a lot & is totally fun. I hope you join us too!
I sincerely hope you managed your January goals and are not already doubting your year plan :)
Best wishes
xo Melanie
Linking up at
One Monthly Goal – January FINISHES @ Elm Street Quilts and later on the
One Monthly Goal – February GOAL SETTING @ Elm Street Quilts