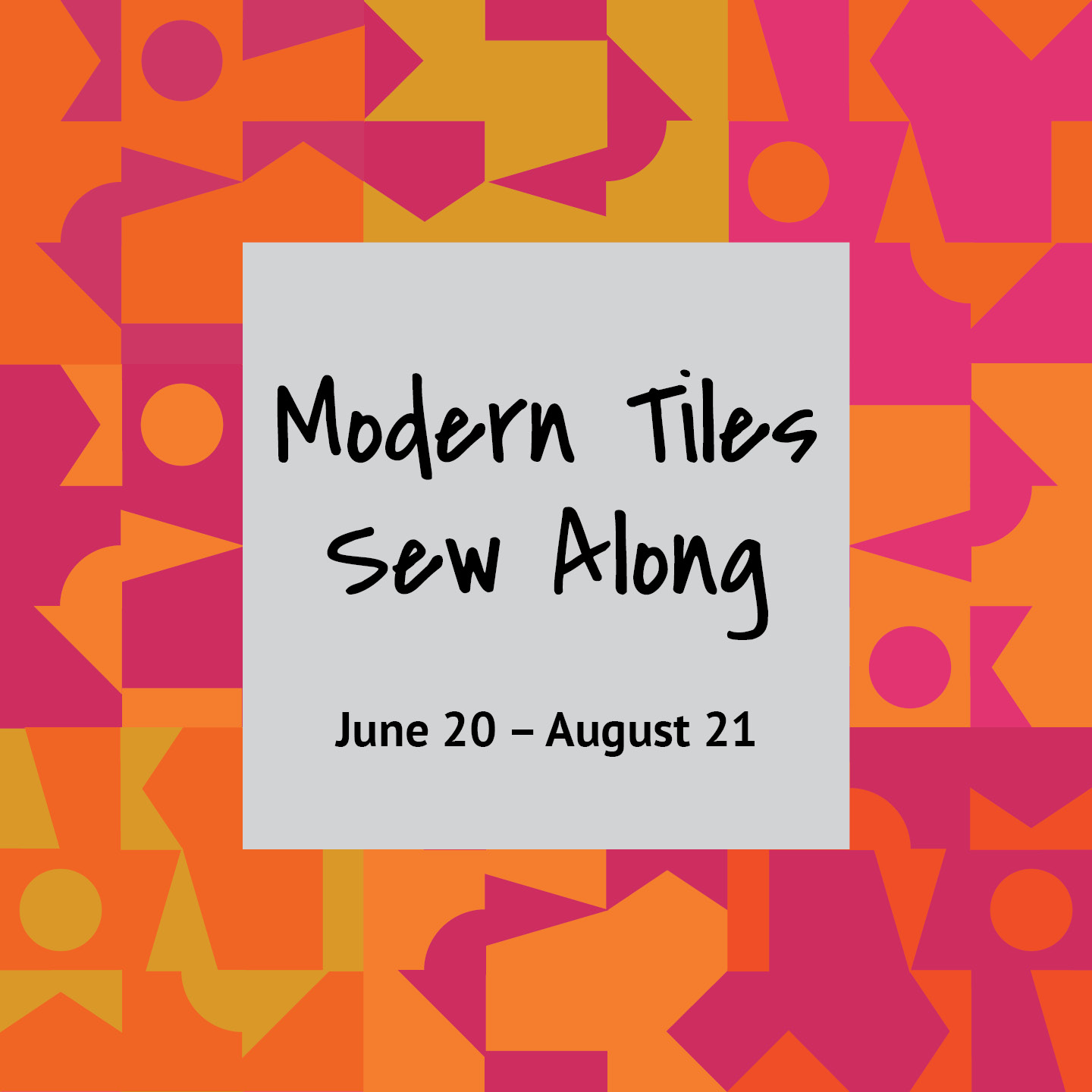 I am excited to host my second sew along. Modern Tiles is being released this Sun – June 13th – and a few of you asked for a community event and here we have it :)
As we are starting the summer months were often vacation time, good weather and such reduce sewing time, we will follow a very leisure schedule. Though you can also sew faster if that is your jam. All the details below.
There will be prizes, so read to the end :)
The Pattern
Modern Tiles was inspired by two and three colored geometric tiles. But instead of laying out your whole "floor" on your own, with this pattern, you will receive a tile grouping in a nine-patch format that allows you to focus on block building while still keeping many color and layout options.
The units finish at 6″, making this a fast quilt with big 18″ blocks.
You will need the Modern Tiles pattern from my shop that will release hopefully June 13th.
Price will be 12$ but there will be a special discount code on Instagram for the pattern release. The best code however is always sent to my newsletter subscribers.
The Basics
The Modern Tiles Sew Along will be eight weeks long. You will find a weekly post here on my blog and also in the newsletter. I will send a newsletter reminder & recap so you can't miss anything! Yet another reason to sign up ;)
If you are posting on Instagram please use the #ModernTilesSewAlong.
More Details
Are you a planning nerd like me? Or just want a bit more information? I have got you covered:
Schedule
Week 0 – June 20
Prep-Week: Coloring Ideas, Adjusting Quilt Size & Fabric Selection
Week 1 – June 27
Cutting
Week 2 – July 4
Week 3 – July 11
Week 4 – July 18
Week 5 – July 25
Sew ¼ of the blocks
Week 6 – August 1
Catch-Up
Week 7 – August 8
Finish Top*
Week 8 – August 15
Extra Catch-Up Week
*I promised leisurely – so in case you decided on a bigger quilt size, you can also "finish" with ≥ 12 blocks :)
Prizes
Who doesn't love the chance to win something?
I you finished a top of at least the baby quilt size or ≥ 12 blocks during the Sew Along you are eligible to win a prize! Just use the #ModernTilesSewAlongFinish hashtag. And then we all put on some happy music, get our streamers ready and dance around through all the great accomplishments to leave party gifts aka joyous comments.
Every #ModernTilesSewAlongFinish – in case you are were so busy that you finished more than one project – equals one ticket for the following amazing prizes.
A Huge Thank You To The Sponsors!
I hope every bit of information that you need, is here. Otherwise don't hesitate to leave me a comment. I am already very excited and hope we will have lots of fun!
And did you remeber to sign up for the newsletter?
br>
Best wishes
xo Melanie