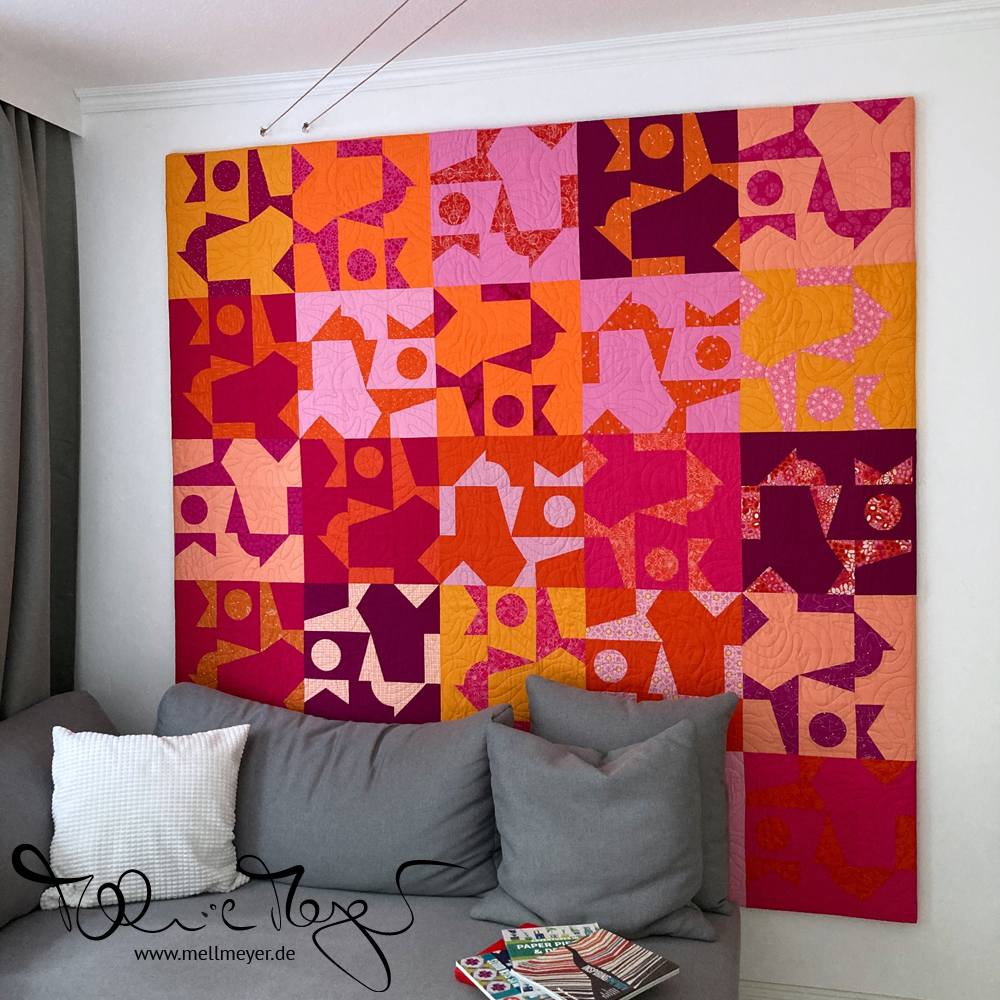 Click on any image to see all pictures in full | as a slideshow.
And we did a fun video for Instagram.
Name: Modern Tiles
Started: 20th of February 2020
Completed: 13th of June 2021
Modern Tiles was inspired by two and three colored geometric tiles. But instead of laying out your whole "floor" on your own, with this pattern, you will receive a tile grouping in a nine-patch format that allows you to focus on block building while still keeping many color and layout options.
Pattern: my own called Modern Tiles
Technique: reverse (starch) applique and fpp (foundation paper piecing)
Color Inspiration: Pin
Fabrics:
(9) pink and orange solids for the background (KonaCotton Carnation, Candy Pink, Honeysuckle, Cerise, Pomegranate, Creamsickle, Tangerine, Torch and School Bus)
(25) different pink and orange prints for the accents
Fabric Designers: Alison Glass, Lizzy House, Elizabeth Hartman and Violet Craft (among others)
Quilting Design: The pantograph is called Banana Swirls. Longarm quilting done by Rachel @stitchedincolor.
Size: approx. 79 inches (200cm) square plus border to wrap arround wooden frame
Block Size: approx. 15.75″ finished
Different Block Designs: 1
Blocks: 25
Units per Block: 23
Pieces: 575
Final post about this quilt: Modern Tiles
You can find out more about my progress and process there.
some of the pictures are progress posts from Instagram
Costs are calculated via my Quilt Price Calculator: Factors are the size & pieces as mentioned above, the presets for a queen quilt – excluding batting.
I would also have to add the costs for the longarming service which was 240 Euro – including the batting.
In my opinion the normal theory of factor 2 and factor 3 sales prices does not apply here, because I "subcontracted" the quilting part. That theory accounts for the piecing AND quilting work. So I would normally use the sum from factor 2 and add the additional longarm cost: 404.74 + 240.00 = 644.74.