On the 16th of July I organized time on a longarm quilting machine for the 14th + 15th of December 2015. By that time I had about finished the blocks for the second and third border but not yet attached even one of those. Psst! Don't mention the border 4 to 6. But that was 151 days ahead of time. Almost half a year. I should be able to finish the quilt easily till then, right?
Let me tell you a bit about what booking longarm time 151 days ahead means in my world – well, and show you the quilting pictures of course.
Here's your teaser picture, the rest coming at the end of the post: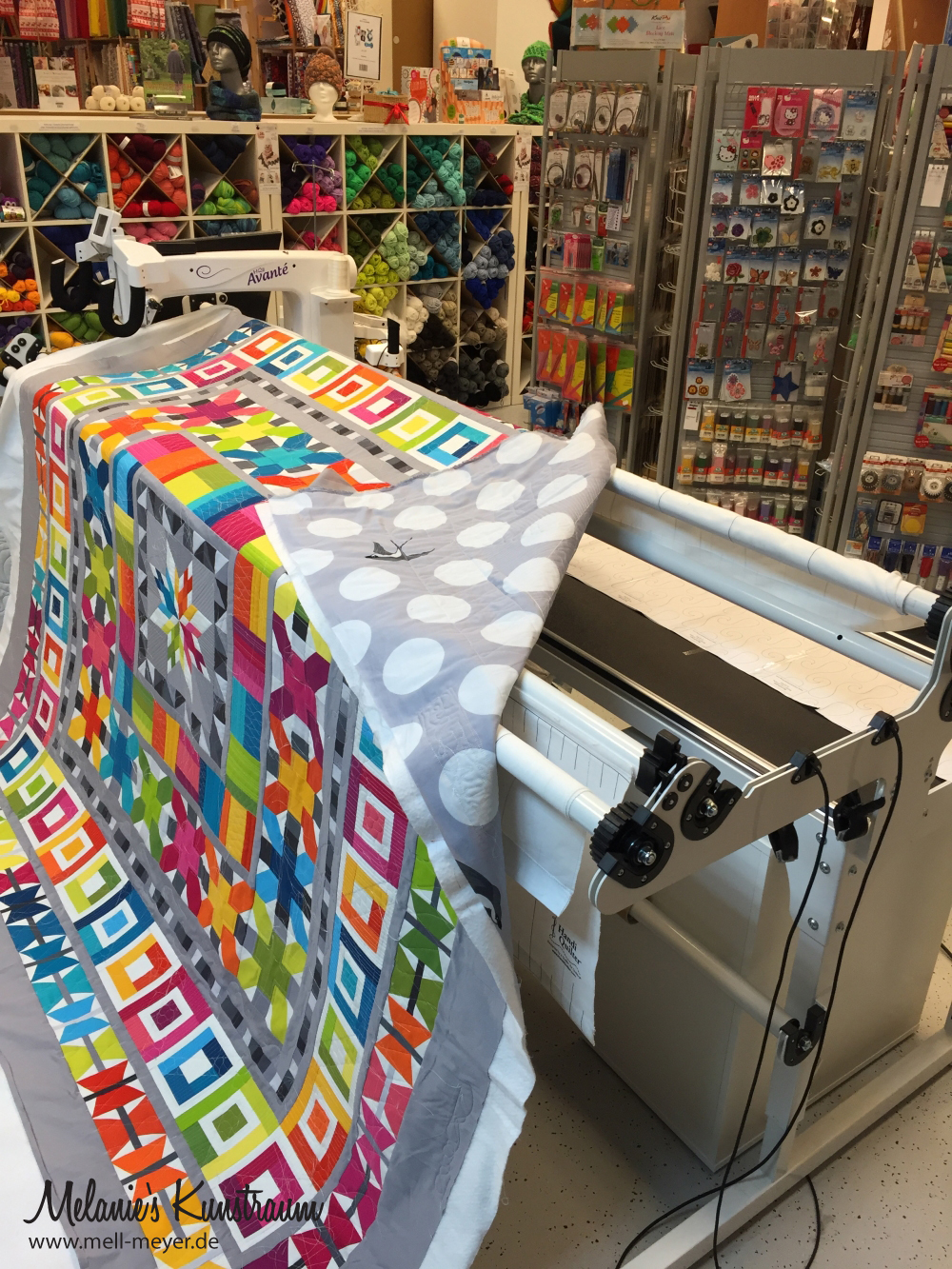 My No. 1 reason why I should have been able to finish it in time? Besides the obvious half year? Well, a whole week of vacation days in November. I can easily finish it in that week, right?
This is what happened: I didn't work on it. Not again until September. It's not that I didn't sew… I just preferred to work on other stuff although this was the only one with a deadline. But the voice on my shoulder told me: That deadline is far, far away. I guess that is the time when my new sewing friend Allison @ Campell Soup Diary started to get nervous. I on the other hand was still quite relaxed.
Early November I started on the logcabin blocks. Then the vacation days came and with it a lot of other stuff I wanted or had to do as well. I sewed a bit and on the Friday we had a blast at our "Patchwork Treffen". I started on the butterflies for the last border. I actually finished about half of them. By the way this is a great idea to help with that.
If I had kept sewing regularly for a bit every other day… Well, you probably guessed that didn't happen. In the end I started finishing the quilt top on the Wednesday before. I stumbled upon an problem – the tops size was way off. But my top was just three borders big. The rest was only single blocks. I was panicking my then. And maybe annoyed with myself. I knew I had to get it fixed but how… my head was spinning. A calming & encouraging phone call later and with the aid of talking notes, I made it work by adding a bigger sashing between the third and fourth border.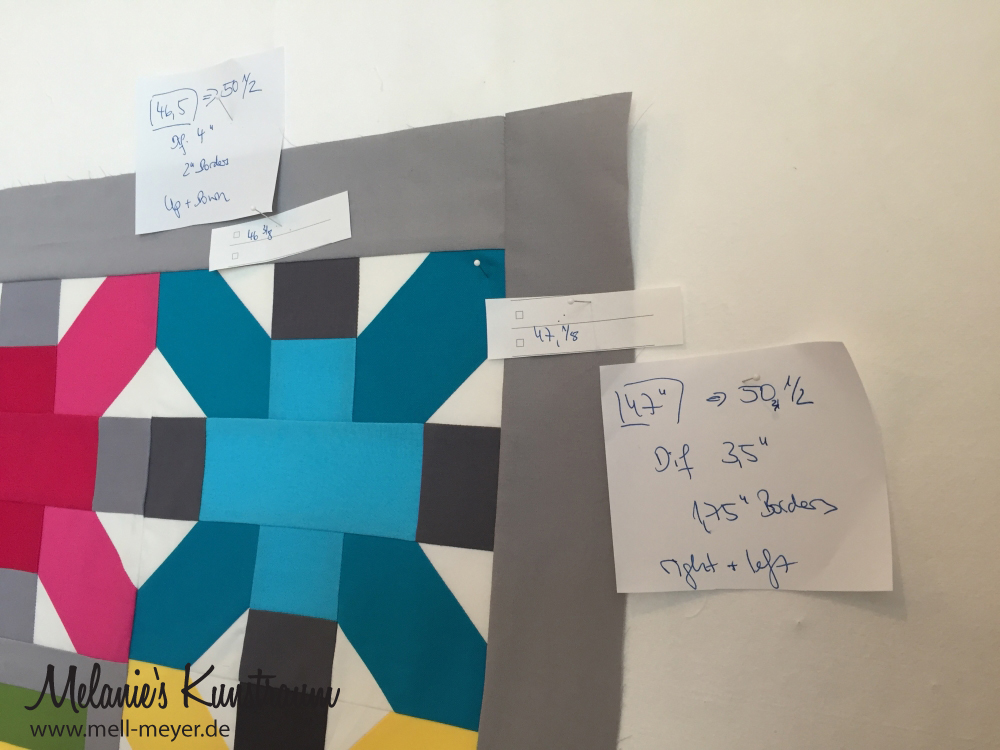 With working full time and only sewing "a bit" on Thursday, I knew Friday would be a late night. Night? I was so far away from finishing the top that I talked myself into believing that driving later – not after breakfast but maybe midday – was not that bad. After all check-in time at the hotel was till ten o'clock. So I called it a day around midnight and sleept for some more or less restful hours. Starting again early in the morning to get it finished – in two or three hours.
Do you want to guess the time I was finished? I finished the quilt top five in the afternoon! I still hadn't packed or eaten. Both rather overrated when having a sewing meltdown. I packed my stuff in five (!) minutes, grabbed the car keys and off I went.
In the car I realized I had forgotten the two most important things for a road trip: The cord to play music and the toothbrush! Fortunately I did have the quilt top, batting and backing with me, so the important things for the longarm machine were in the car :)
The trip went smooth, the quilt shop owner and employes of Quiltzauberei were very kind and the sewing went almost bump free. And the missing stuff? Well, I bought replacements at a rest stop along the way.
Sooo, finally the quilting pictures #drumroll
Loading it on the longarm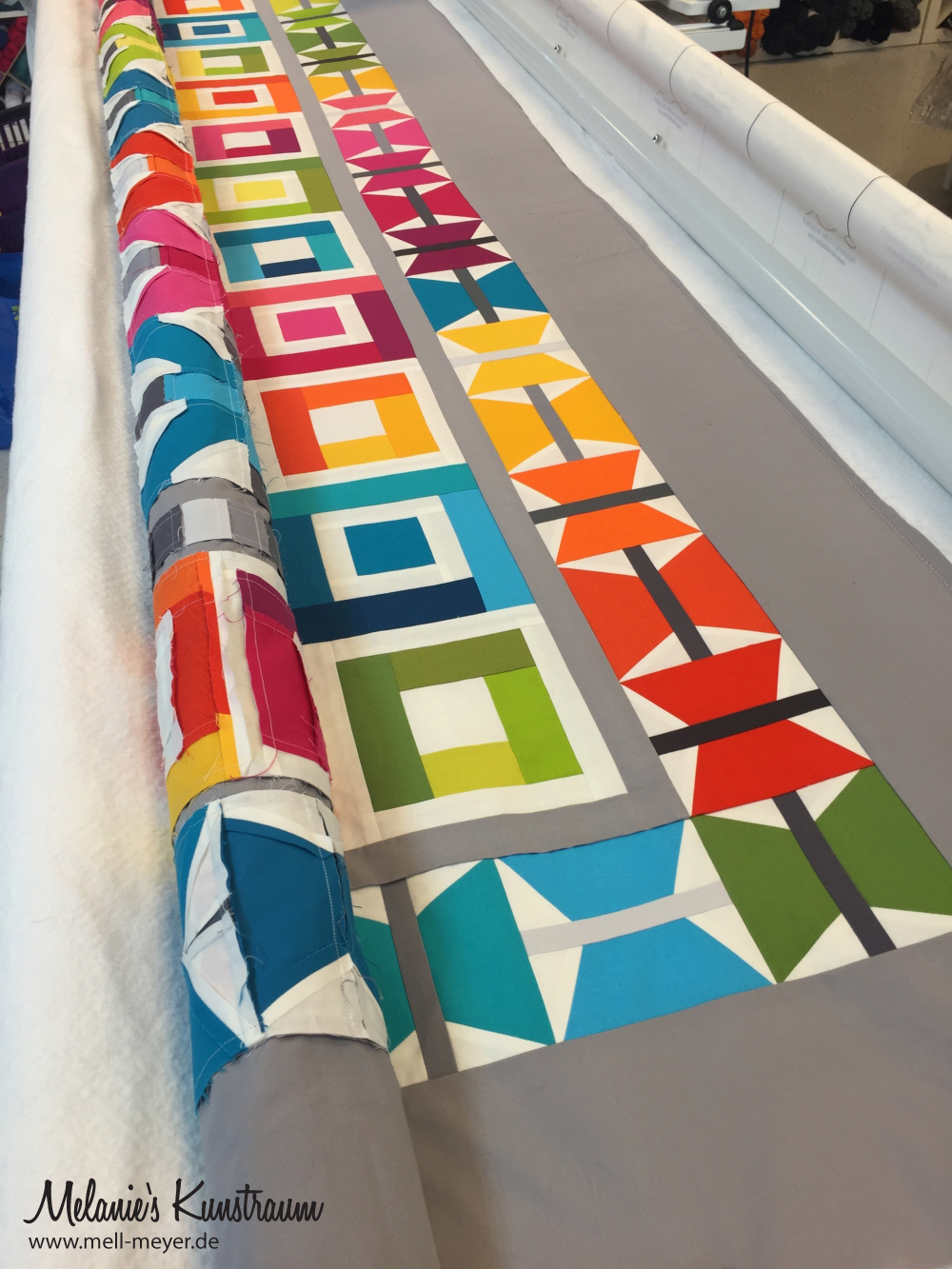 Starting with wishbones in the outer border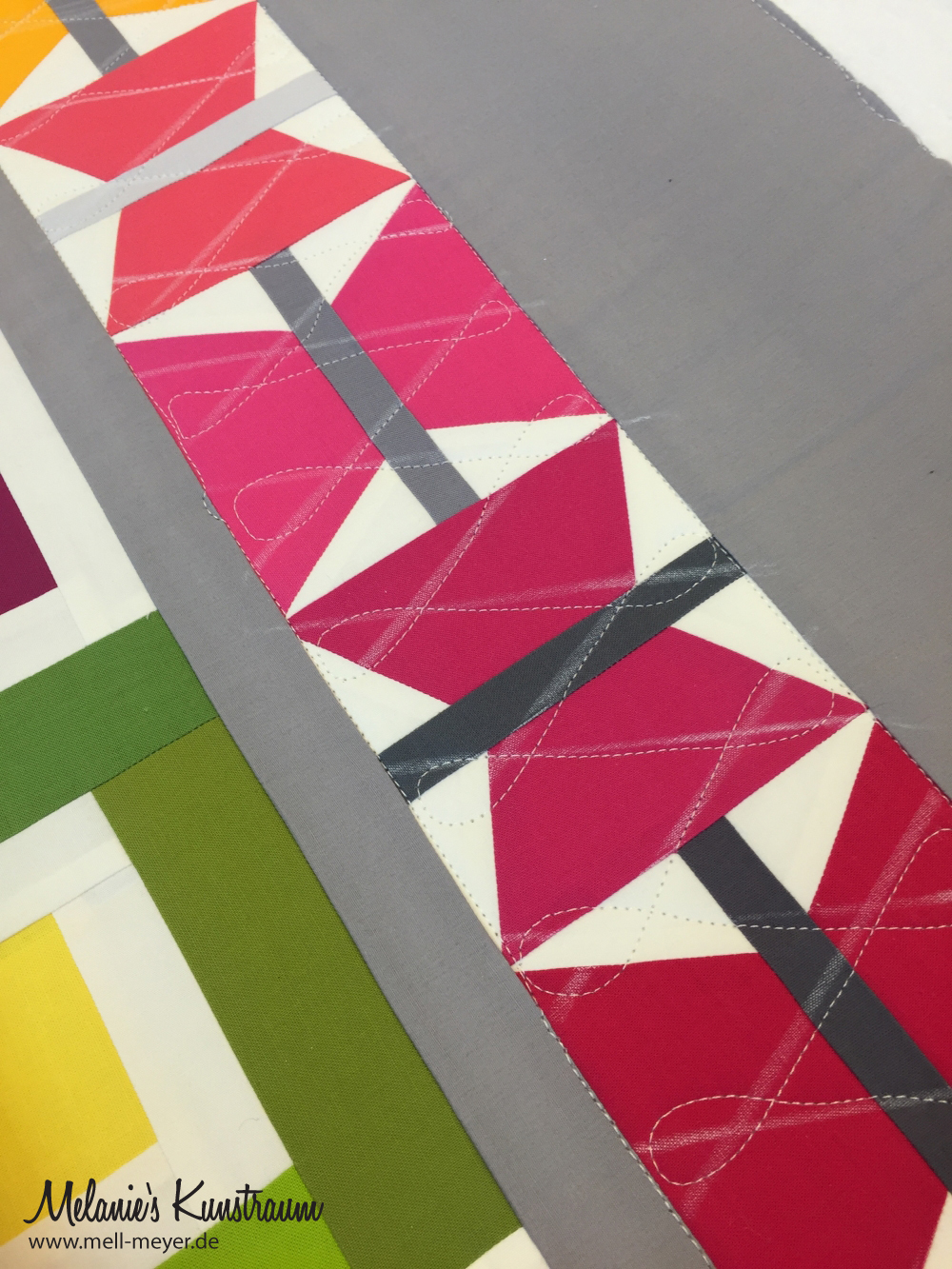 Adding a triangular design of figure 8's to and some straight line quilting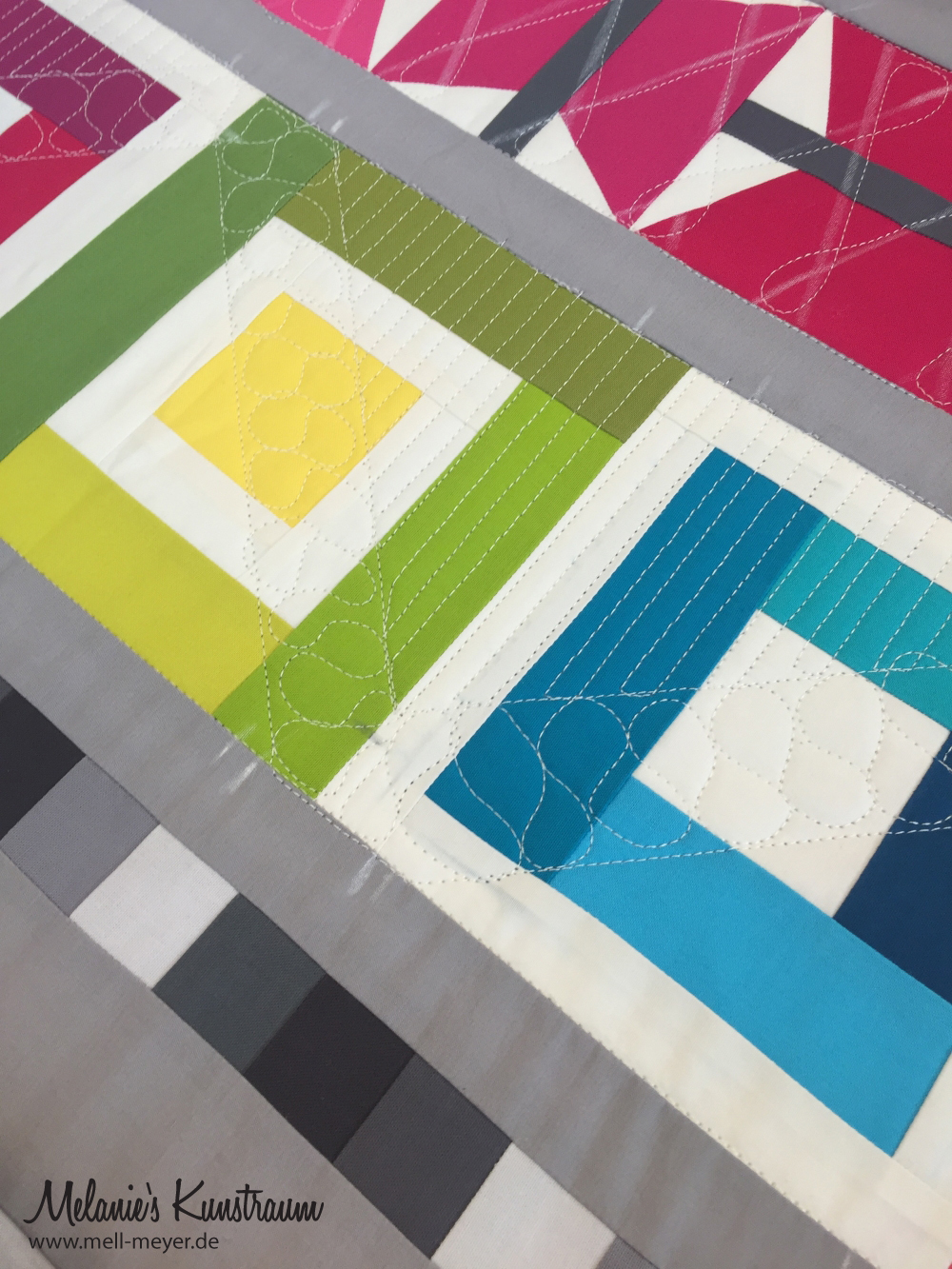 and loopy-loops to the next border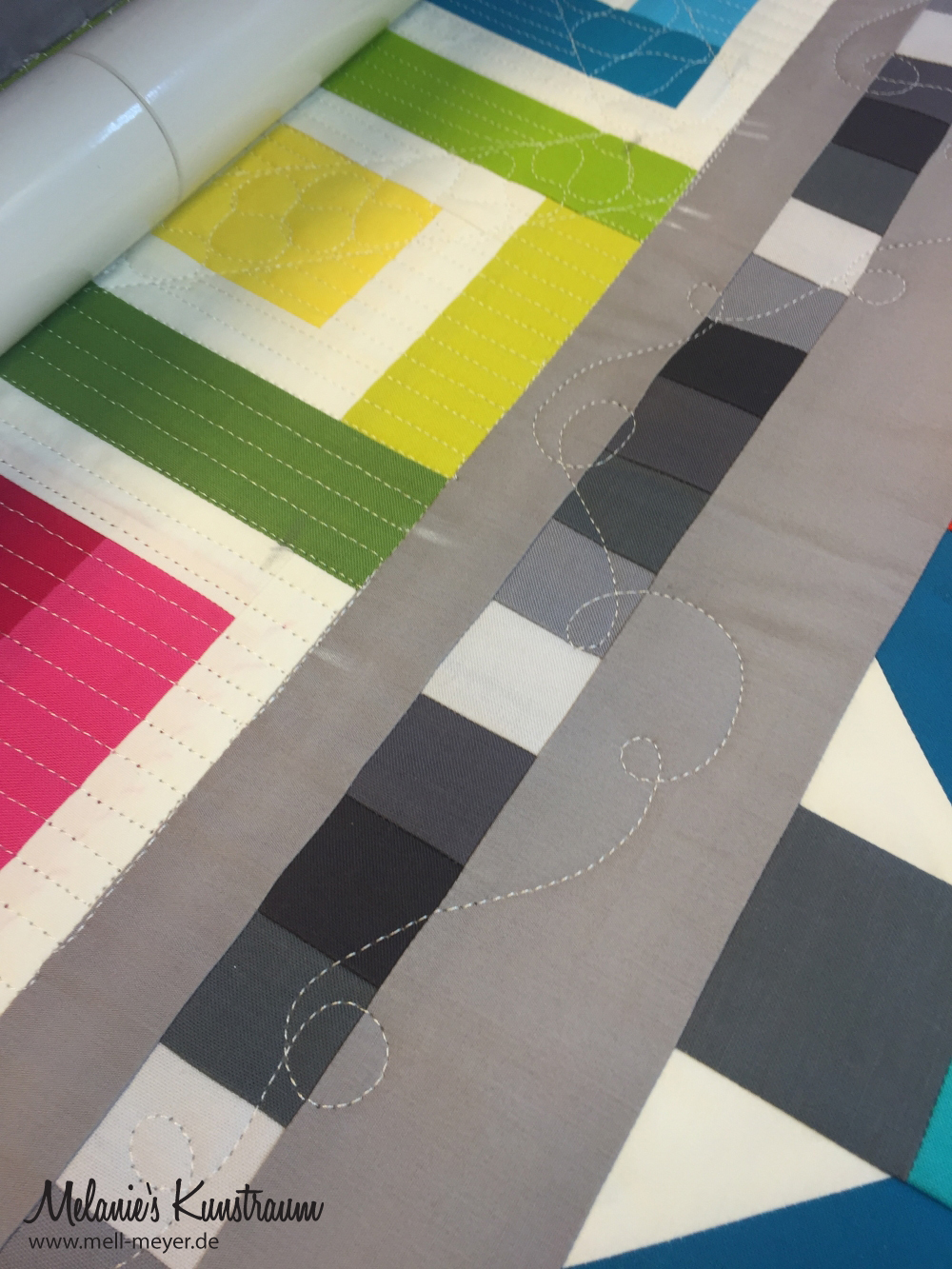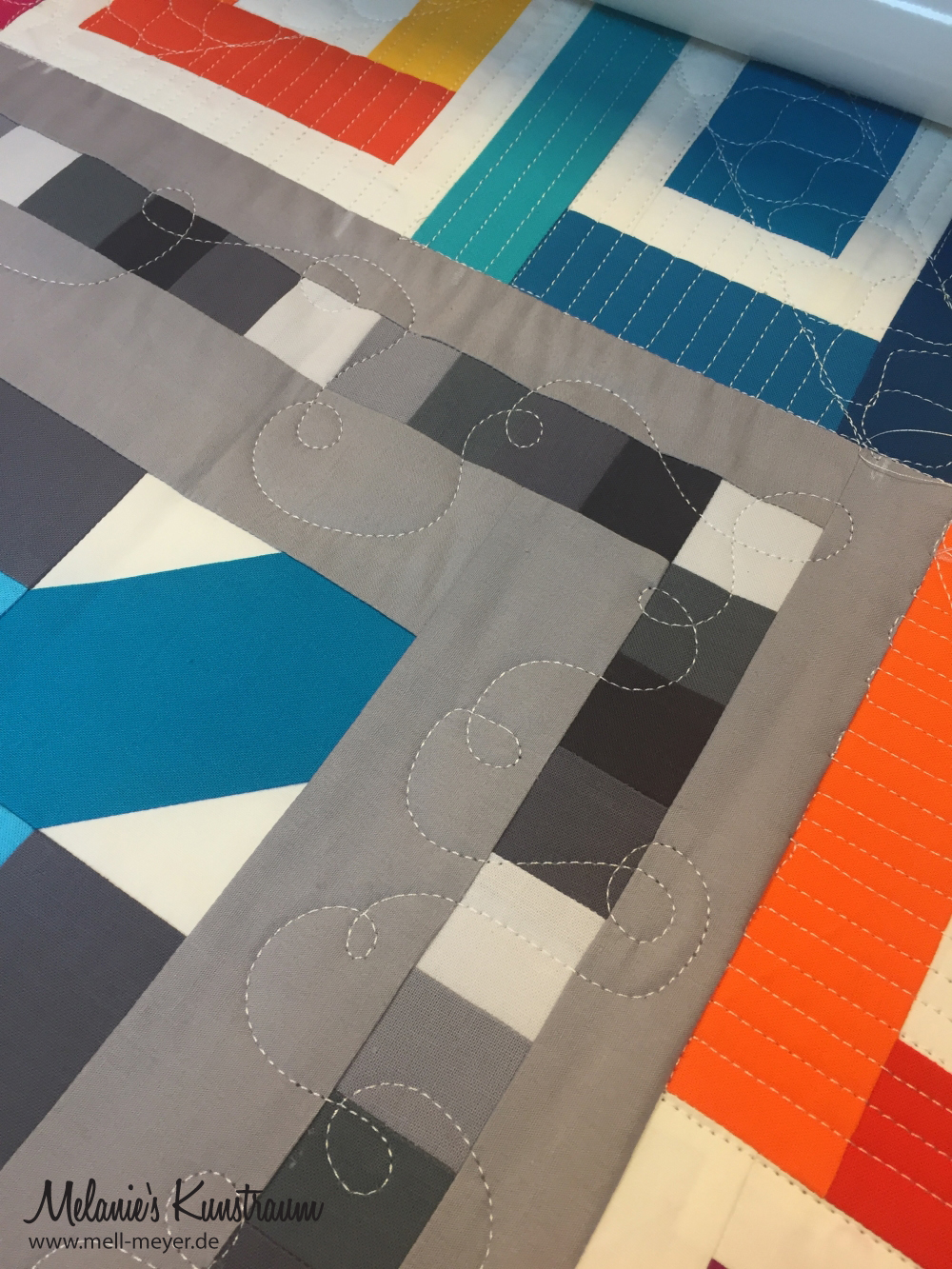 I did a double echo on the crosses and some straight lines and wishbones in a randomized, modern way in the second border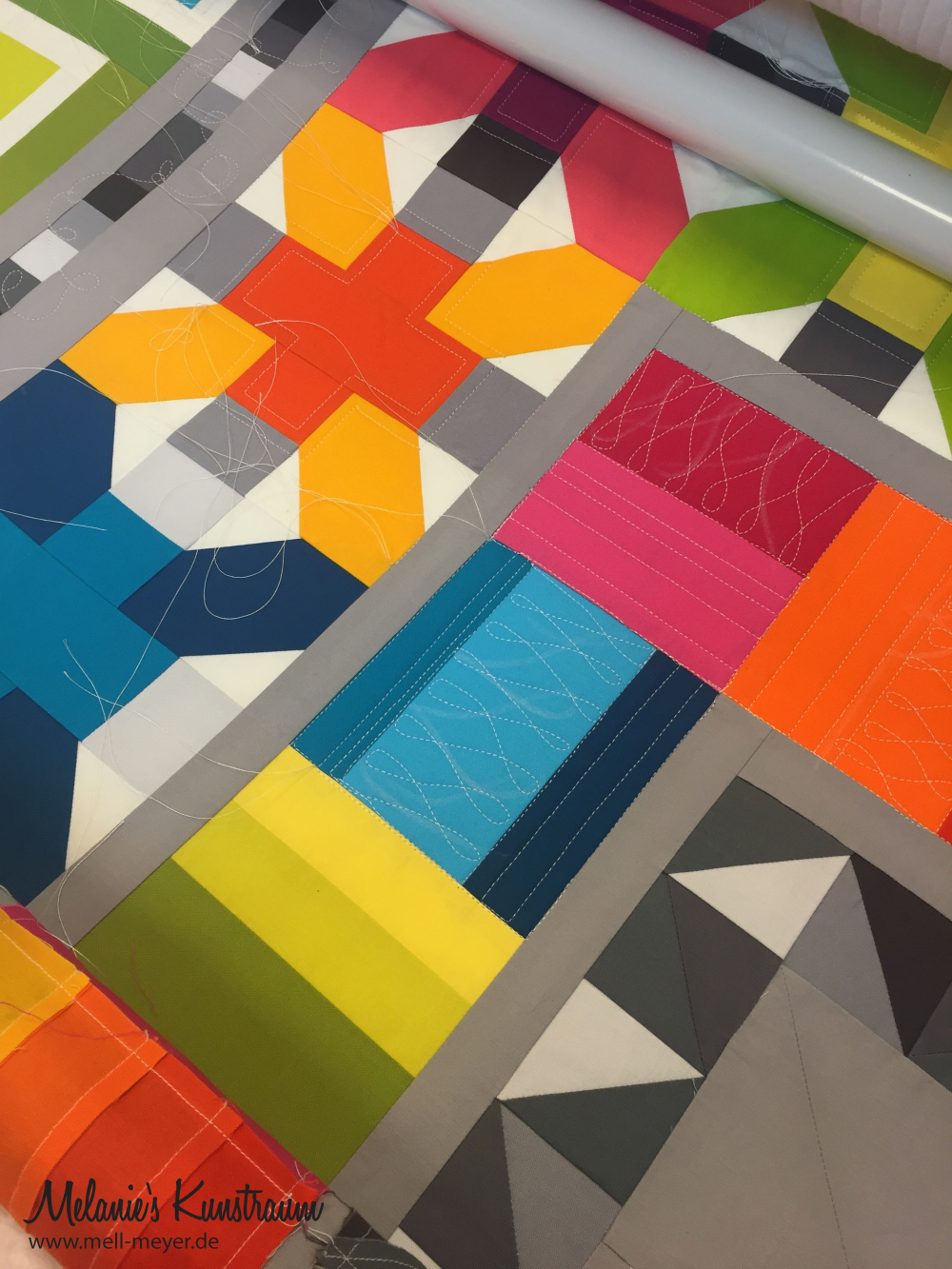 some arrows in the first border and echoing of the birds and straight lines in the center block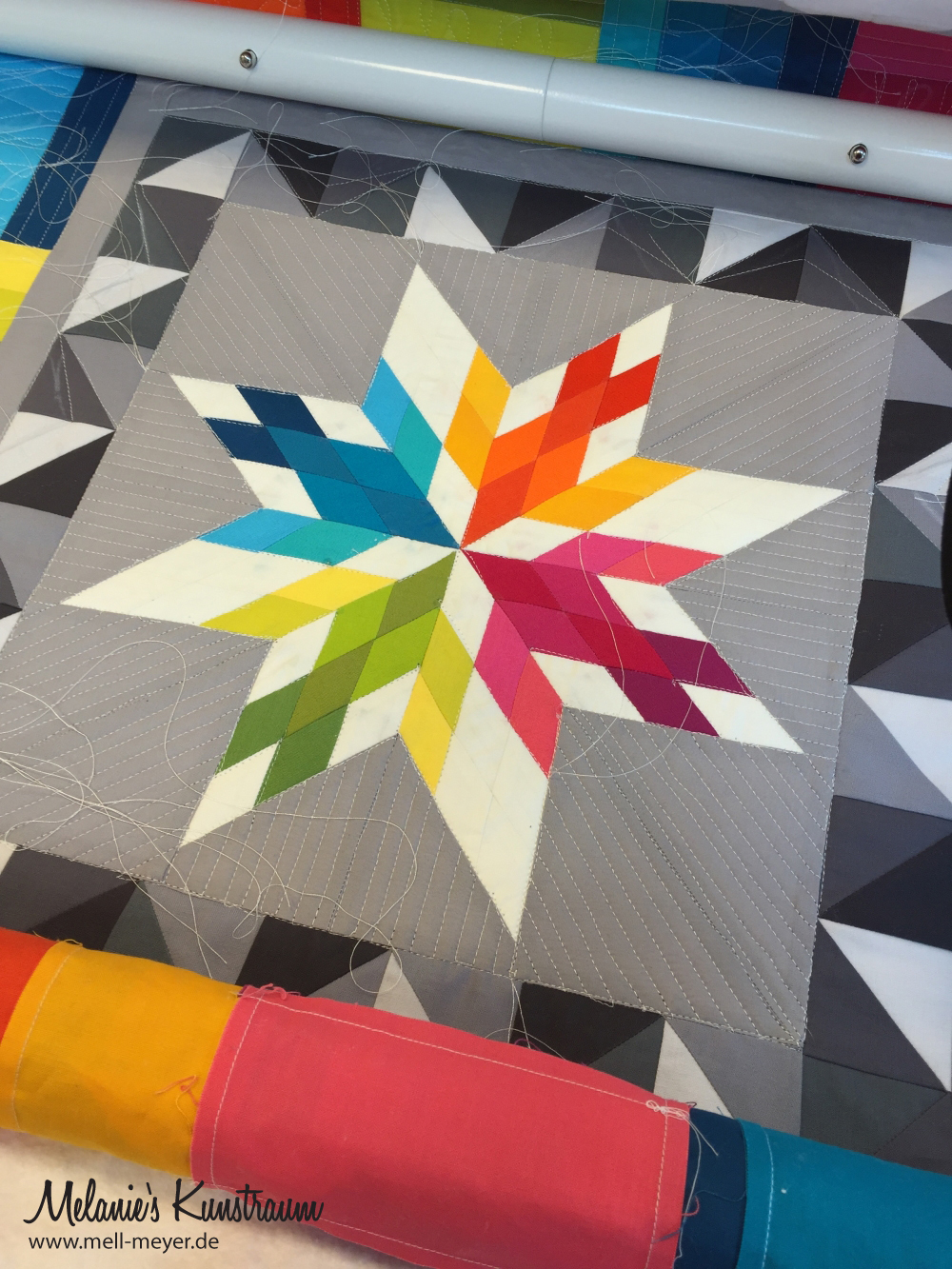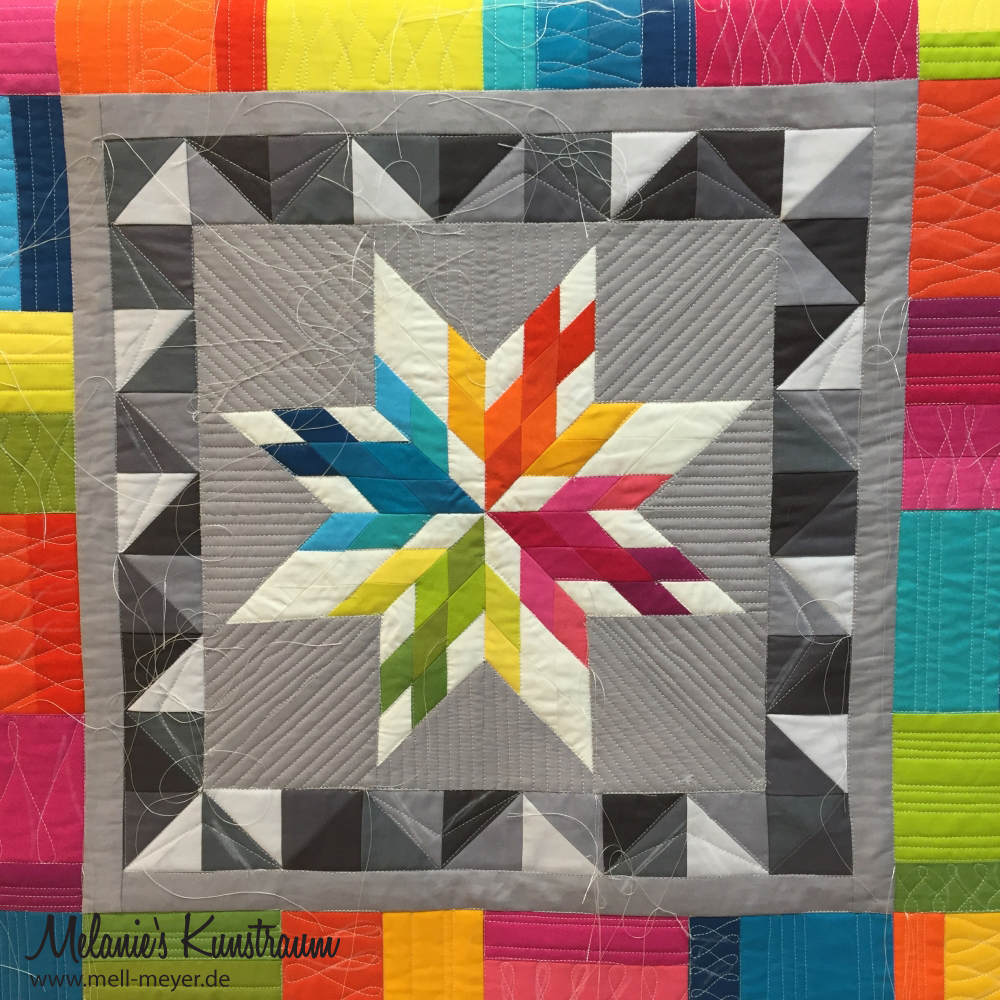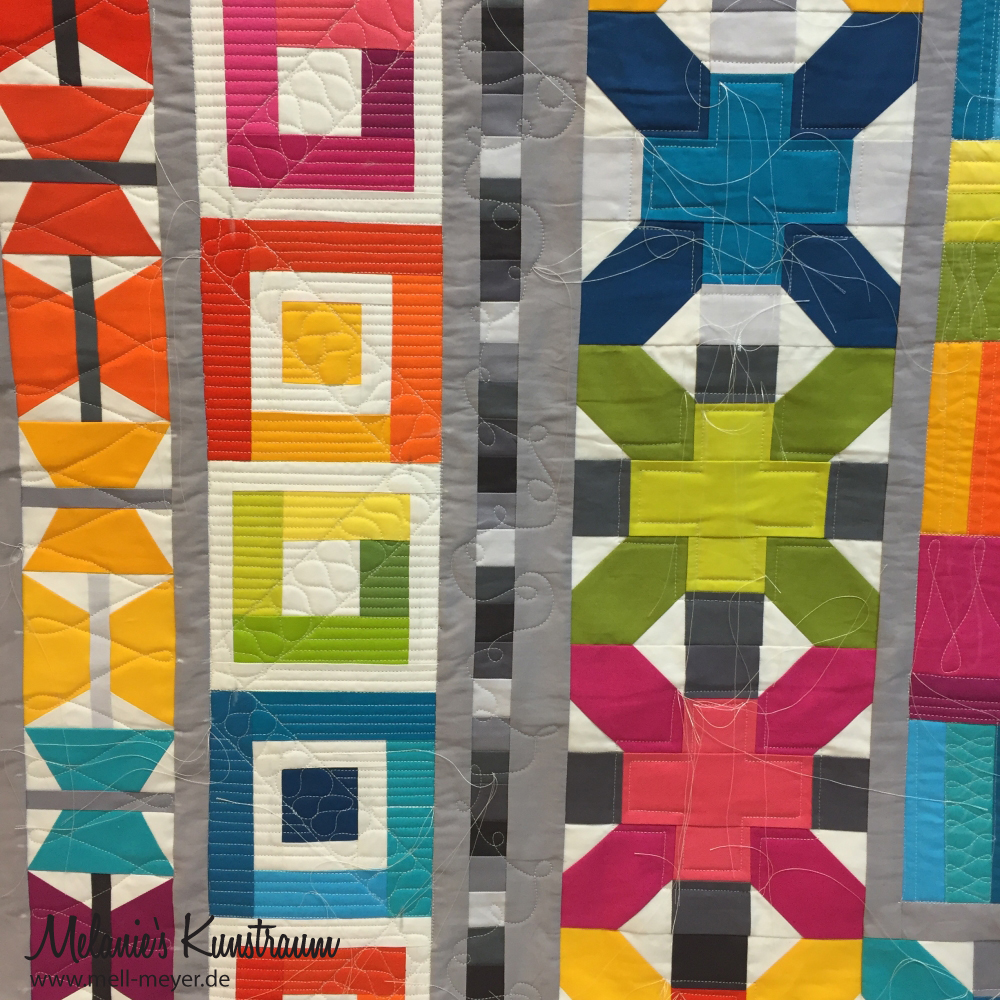 Yeahh, "finished". For the second time working on a longarm ever I am really proud of my results and more than happy.
I didn't tie-off the threads by machine so I will have to bury them oneday… So far I have not been able to motivate myself. Hate that job! And it feels like I have a million to get to.
Do you knot the threads by hand (to bury) afterwards or do you secure them by machine and cut them? And are you as "last minute" as I am or more "on the safe side"?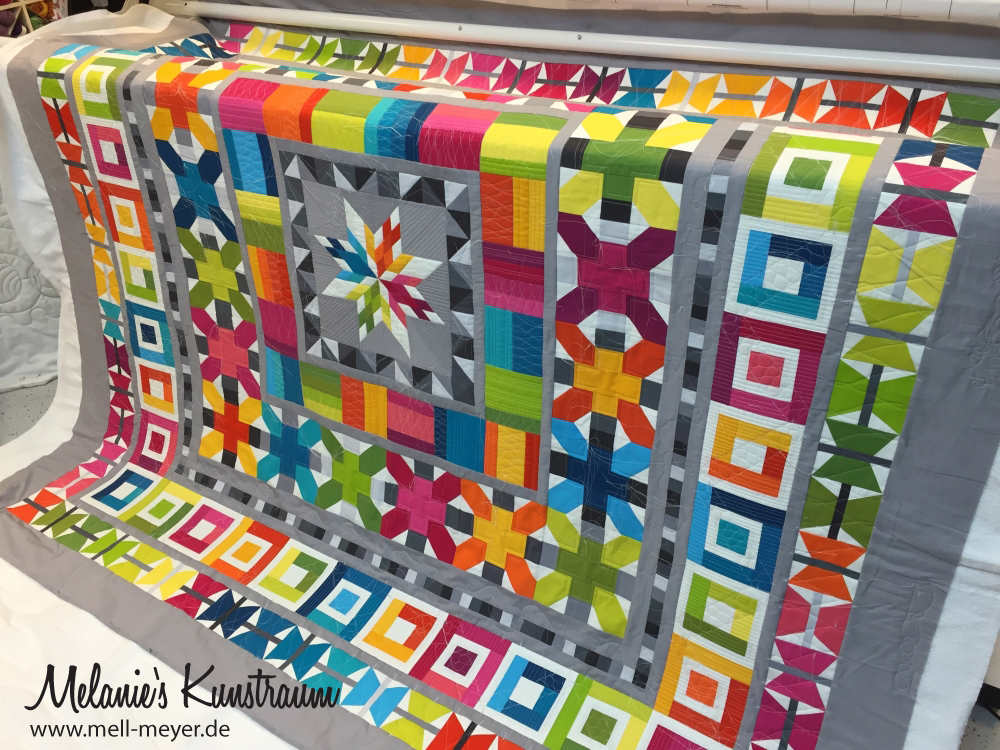 Linking up at WIP Wednesday @ Freshly Pieced und Let's Bee Social #97 @ Sew Fresh Quilts