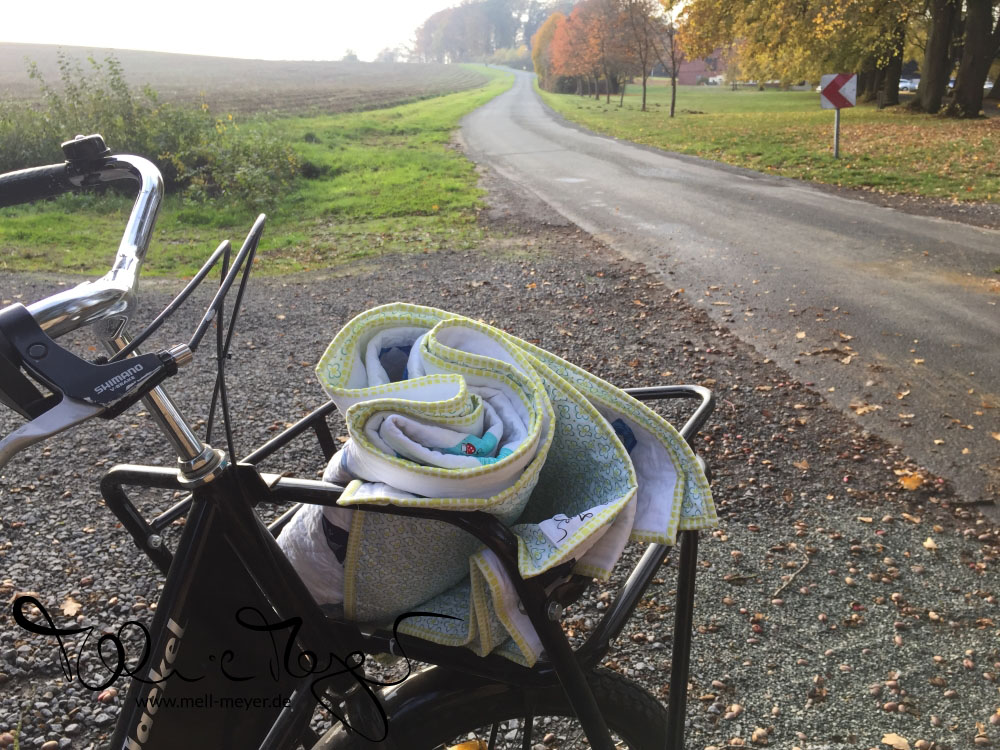 No. 2 of my Finish Along List for Q4 is finished! #yeah
Please do a short happy dance with me. I finished a project! It is the first finish this quarter.
So let's go for a ride through the country side while I tell you more about "Nonconformist".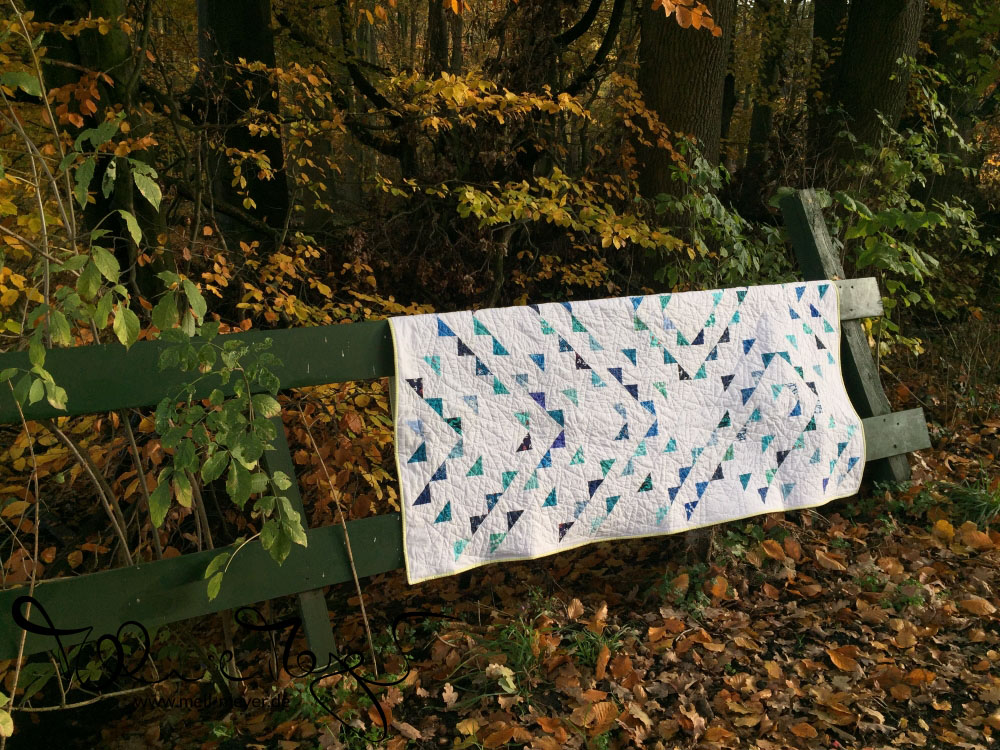 You wonder why you look at photographs of this quilt in the wilderness and not in my beautiful town of Hamburg? Well, I finished it on the retreat last weekend and the location is quite a nest. A beautiful one, though still a bit strange for me the City girl.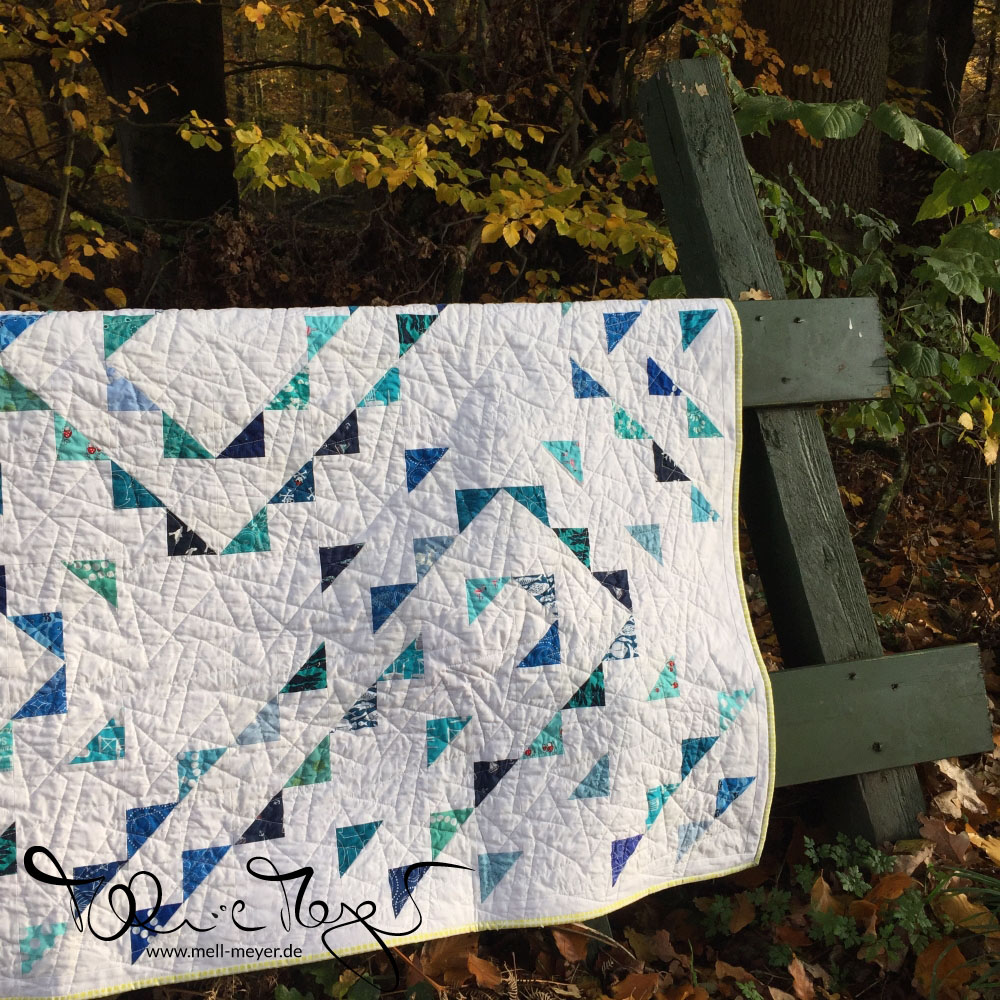 The modern block design by Rachel Singh was published with the Modern Quilt Guild. It is in itself a very unique and modern interpretation of a traditional block. Furthermore the irregular directional placement/layout of the blocks and the somewhat non-standard quilt size do add to that experimental statement. So why not do its name justice and photograph it in this for me atypical environment?!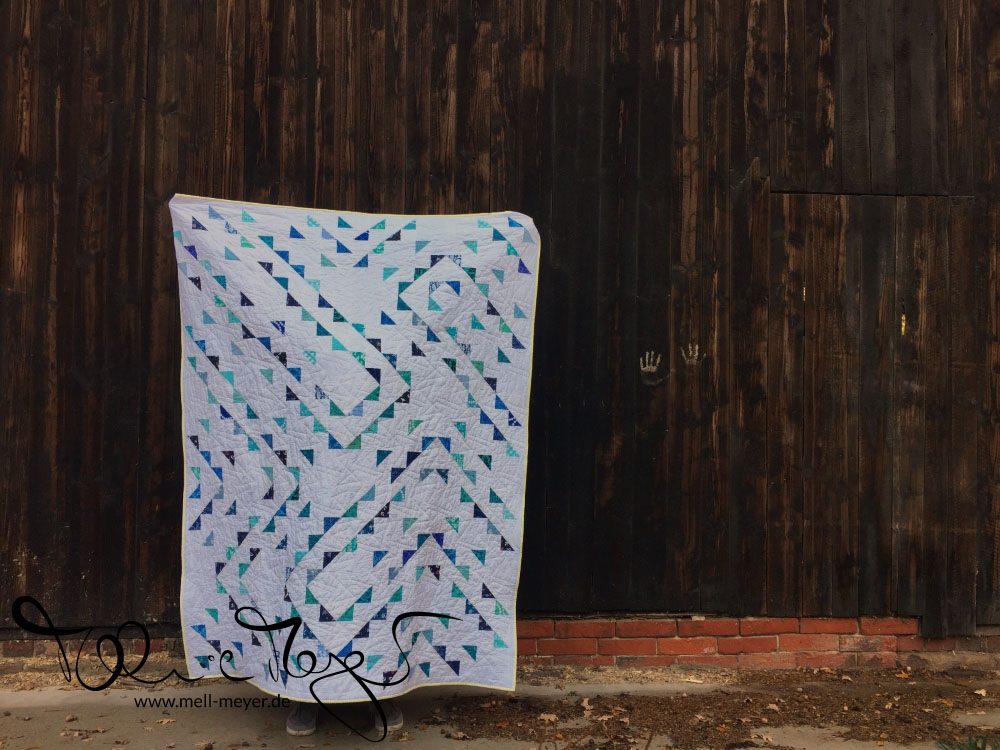 I used the leftover corner triangles from traditionally made flying geese units from this quilt. The amount of those units determined the number of blocks and thus the finished size of the quilt. It finishes at approx. 53×67 inches (135×170 cm).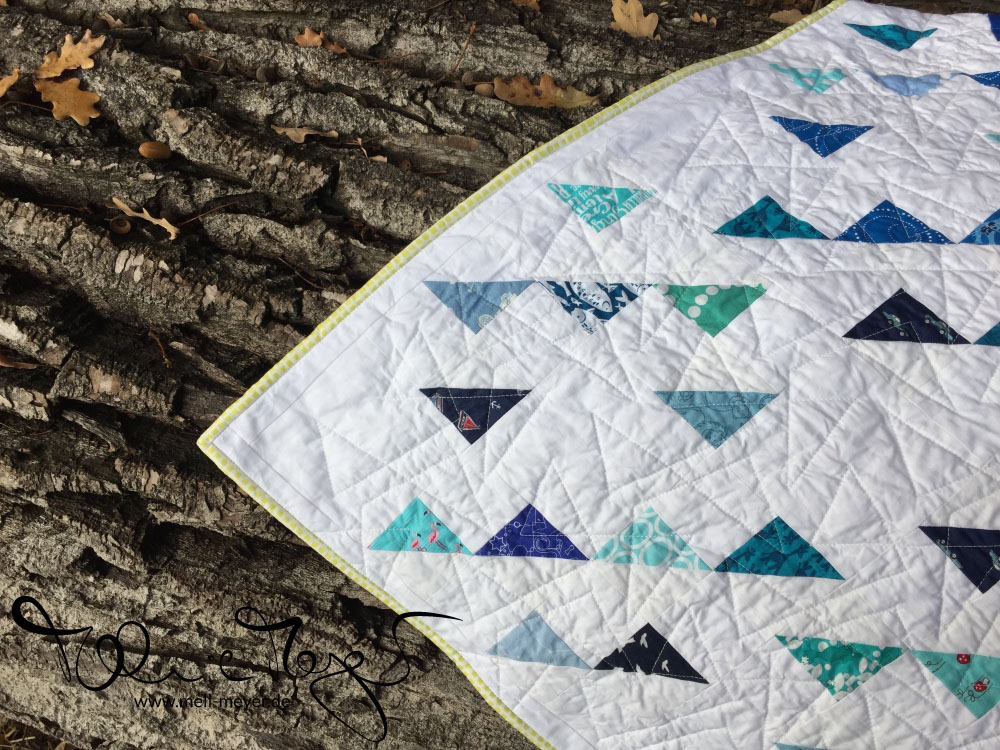 The quilting design is based on this inspiration. It is originally a longarm quilting pantograph but I decided to somehow make it work for my walking foot quilting. You can see more of my process in these Instagram photos. I love the design because it fits perfectly with the triangles in the block design. But it took quite some time quilting it; and lots of twisting and turning the quilt around. The mere stitching time of the quilting was about 20-21 hours. A good hour for every of the 19 lines moving horizontally across the quilt.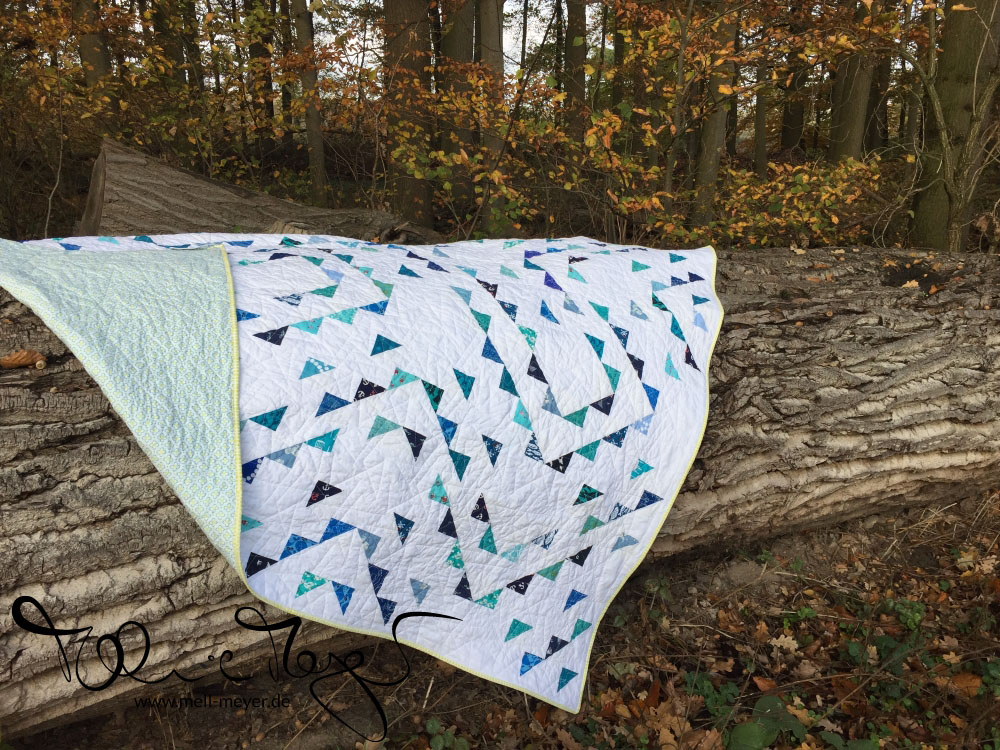 I picked a blue fabric from my stash for the backing.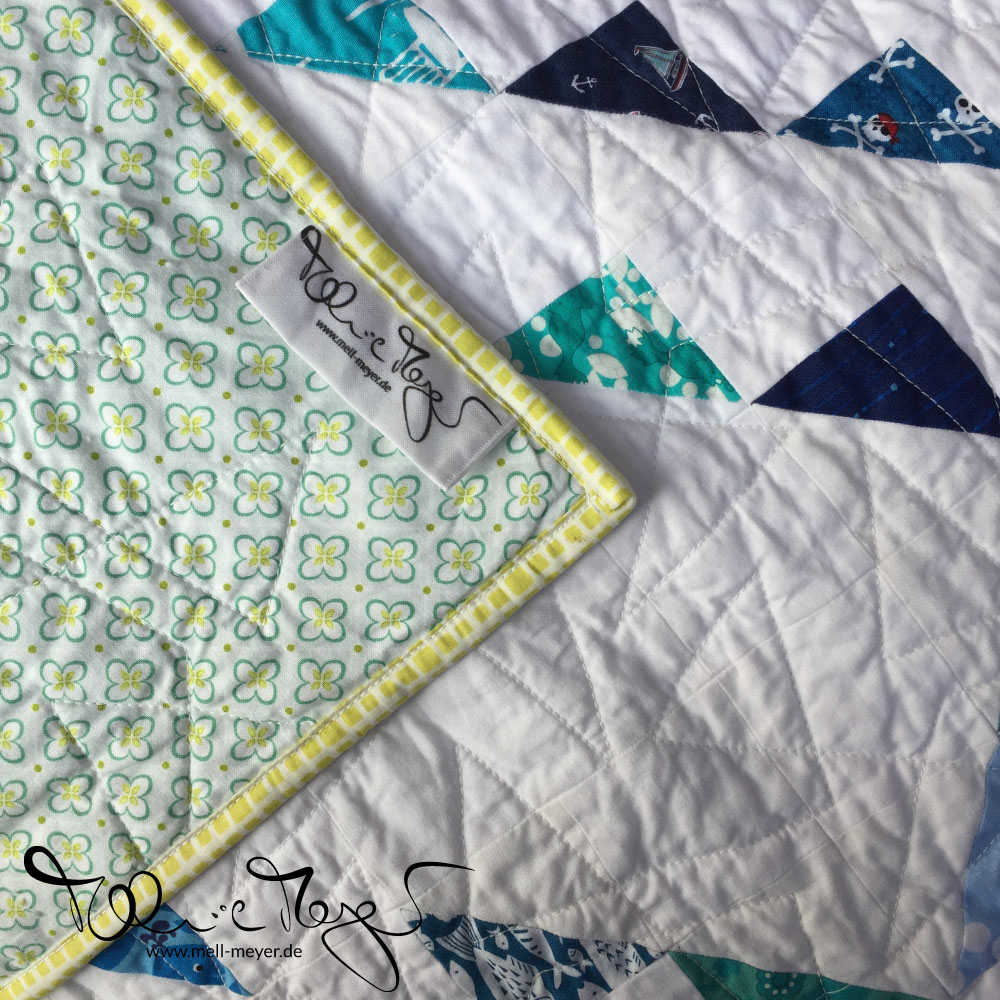 The binding fabric fit so nicely with the flower centers and I love the pop of color on the front.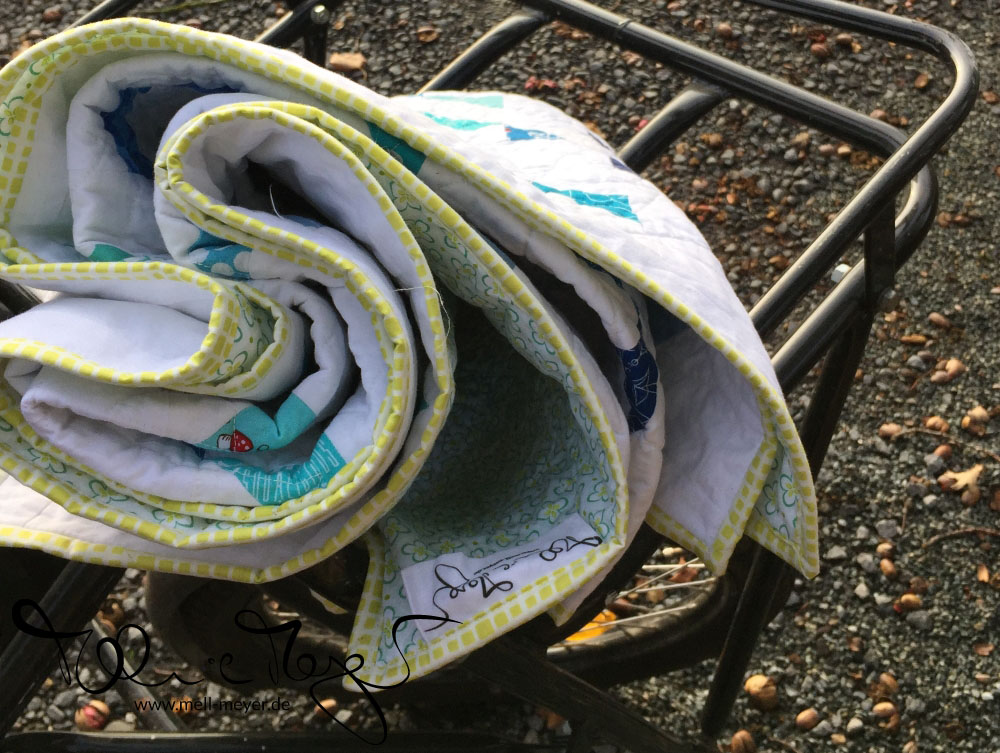 So here we are again. Finished quilt with label on… photographed, blogged… one project finished, all boxes ticked.
Any guesses where the trip will go to next? There are a few projects on my list to choose from :)
Hope you are having a fun & productive sewing time, too!
Best wishes
xo Melanie
So far this quarter …
Linking up at
Beauties Pageant @ From Bolt to Beauty br>
Q4 2018 Link Up @ She Can Quilt