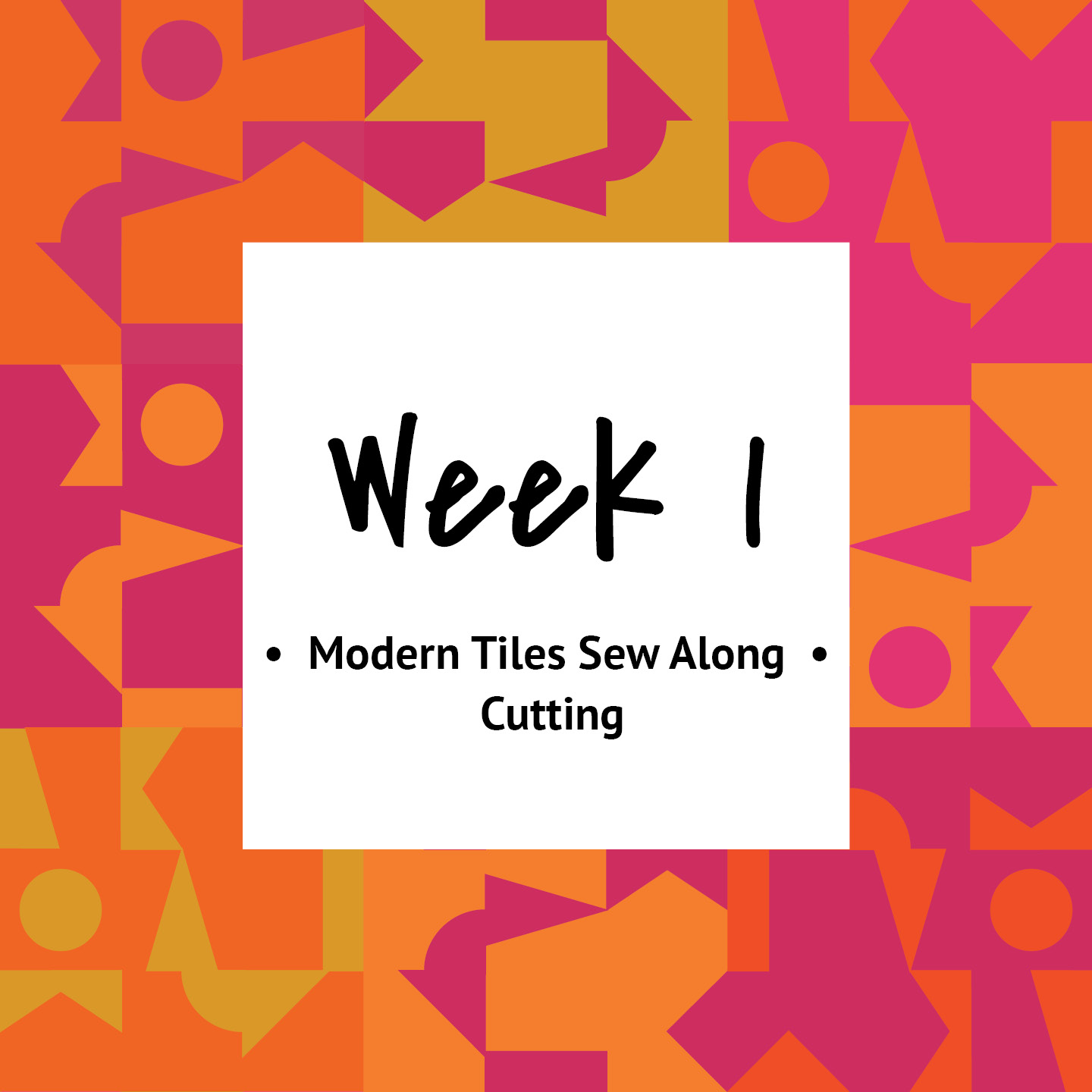 I hope you got all your preparations done – whatever they were – and are ready to dive into cutting your fabric.
And if you do not feel like cutting all at once: Cut a few blocks and start sewing the first block. It is a no pressure Sew Along, sure do what you feel like :)
The prompt for this week is of course showing of your fabric pieces. I have to say, that I found that quiet challenging so I am curious how you will display them. Always so fun to see other creatives at work!
This post is part of the Modern Tiles Sew Along! See all posts.
Important!
Please check that you have the newest pattern version. There is a measurement mistake: See pattern corrections!
Task
This week's progress
My progress was actually not very cutting intense but rather a decision making week :)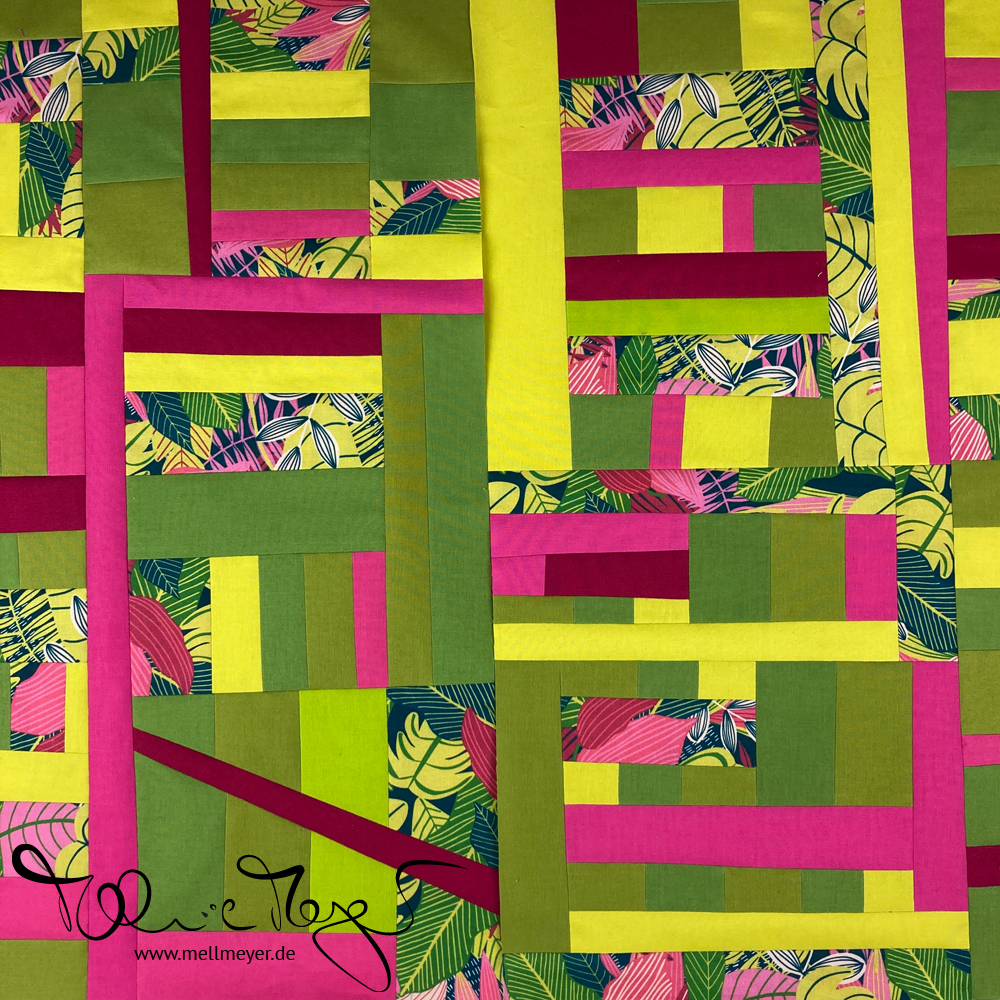 I sewed a scrap-made-fabric panel as planned, but when my Quilter's Assistant aka Mom complained that I could not cut that beautiful panel up, I asked around on Instagram – always fun to see what the creative quilting community thinks. And though a few were all for cutting it up, the majority did like it better as is. Back to the drawing board!
So wanting to work from stash and still keep the jungle fabric as the main fabric, I had to get creative. That leftover piece was only big enough for about three blocks. I went deep diving and found a teal fabric that fits and decided to do three blocks each, still considering the "accent circle" idea and the dark pink solid.
Here are my four mock up versions and their survey results from Instagram:
I have a slight preference for version 4 but of course the pink fabric is not big enough. Arghhh! So I will start with sewing units that are the same for both versions. Enough decisions for this week – the rest can wait till later ;)
So here is all my background and jungle & teal accent fabric cut up: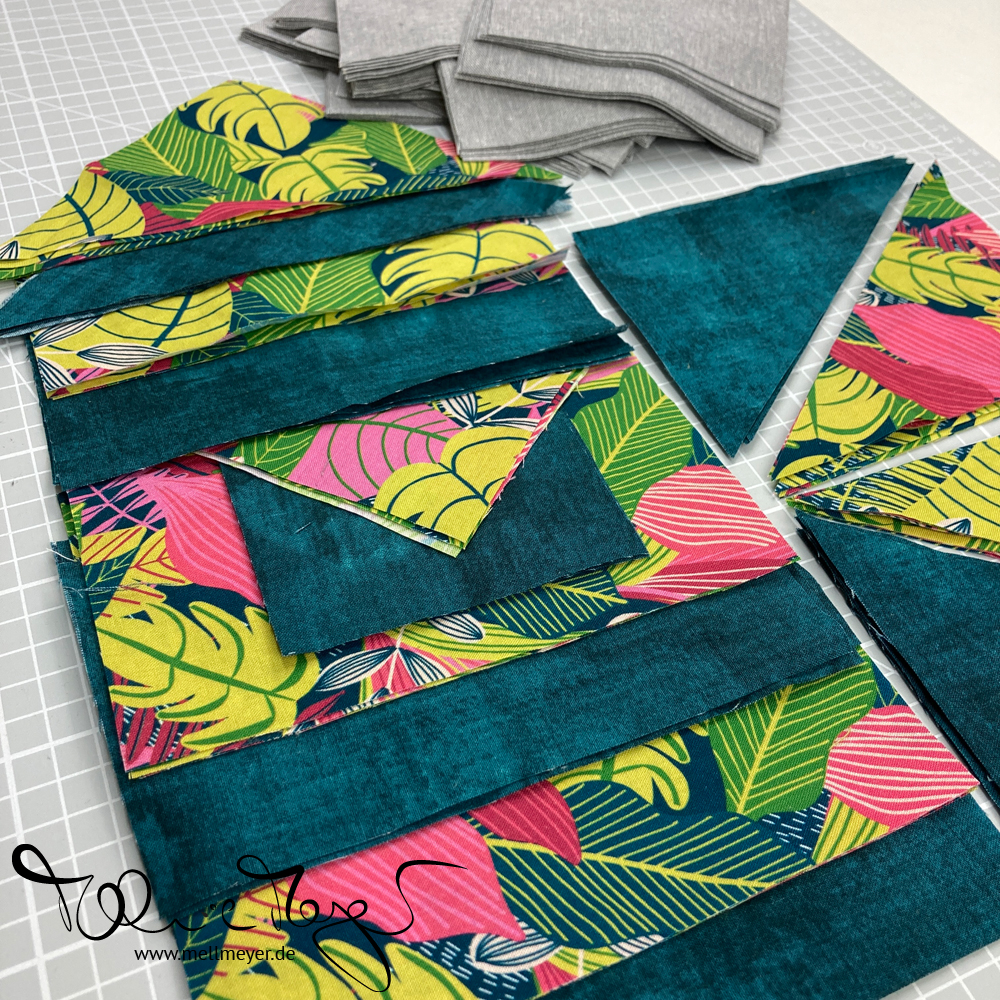 Tips & Tricks
These are the usual candidates but always great to get the reminder…
New blade!
I would highly advise to use a new blade in your rotary cutter. This is pretty logical and common knowledge, but sometimes we forget but it makes our lifes so much easier. With a new blade you could also stack a few of your fabrics and cut multiple blocks at a time. This saves much time but only works well with a new blade.
Starch?
Also if you want to, you can slightly starch your fabrics before cutting. It will keep them more stable. I have first heard about this from Alyssa @ Pile o' Fabric. But I guess there are a few more posts out there if you want to read up. I am a fan, but it is a controversial topic – similar to pre-washing your fabrics. Do whatever you prefer!
Community
Instagram Highlight
Monika started on her first block :)
Very cool is her idea to use Kona Cotton charm squares for the accents. I am so excited to see this grow!
Made by @himmelgartenquilts
Sponsors
… all the amazing prizes you can win
Now I am hoping to see all your beautiful fabric pop up on Instagram. Remember to use #ModernTilesSewAlong and feel free to tag me @mellmeyer
Have you signed up for the newsletter yet? No? Do it now, that way you can't miss any new posts and information.
br>
See you next week!
Best wishes
xo Melanie
Reader Interactions