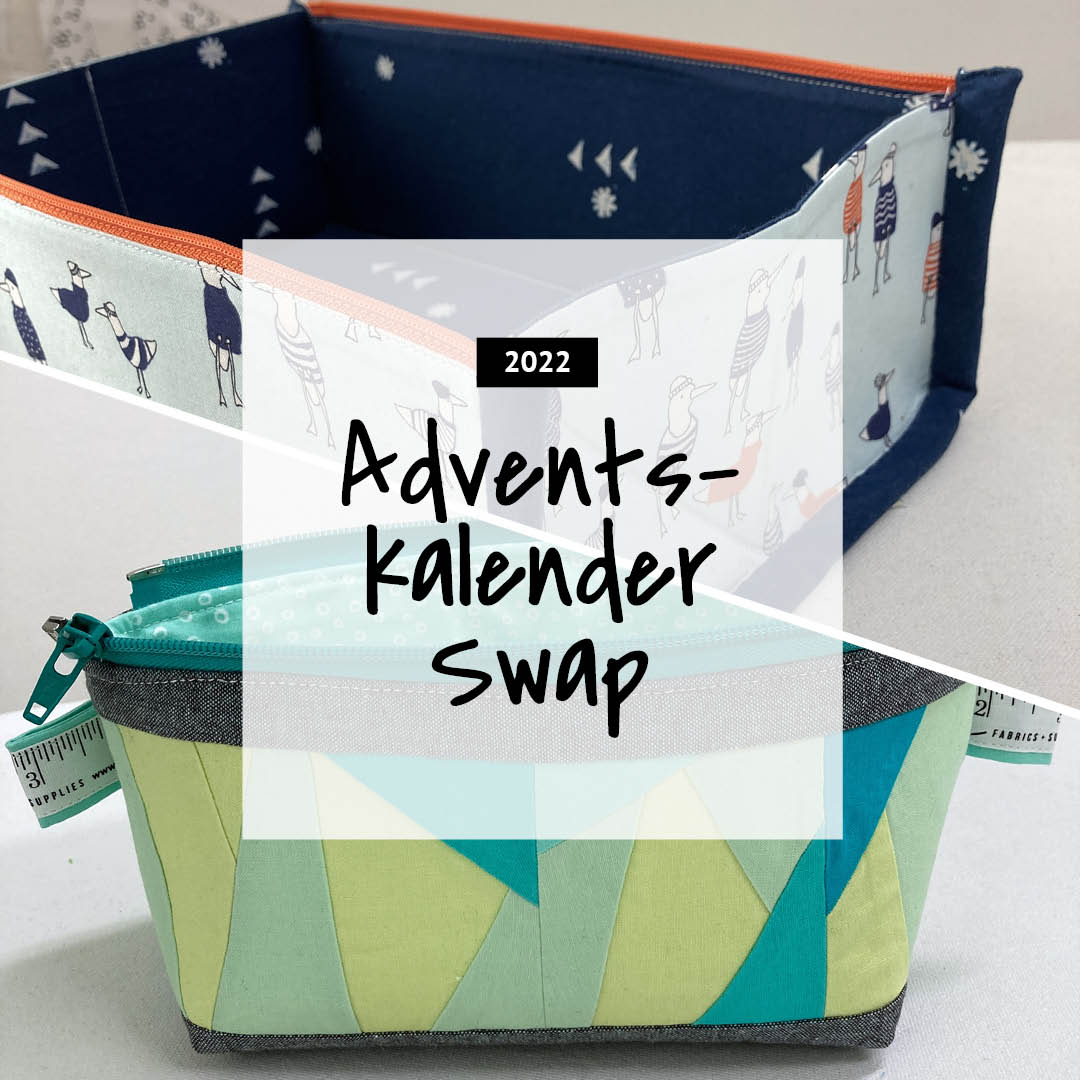 No. 15 of my Finish Along List for Q2 is finished!
You might be wondering about the timing but yes, I am really that late. I did not manage to finish my swap item in December and then other things always vied for priority. Frist QuiltCon then the operation, and fun sewing too if I am already confessing. But two weeks ago I finally decided to just start and as usual that was it. How come starting is often the worst part?
I think I should plan to sew a mini quilt for the next swap. Or just organize and opt-out as a participant? We will see about that later this year, but I am really bad at sewing my swap item on time. For some reason, I find it really hard to get myself going on 3D projects. I can manage, but I would rather sew a quilt.
The Wish
It is a German swap and my partner wished for "something colorful, happy, more American, less traditional. I would be happy with something small e.g. a tub, thread catcher, pencil case or similar" (loosely translated)
I decided on some kind of pouch early on. But which? Then I stumbled upon the Zip Up Tray Pouch by Aneela Hoey. I love the idea of having a pouch that you can actually use when on a retreat or sitting outside on the (pool) deck. Everything is corraled but easily accessible. And because I am five months late, I decided to add a second item: Her Zippered Basket Pouch. Which has a similar concept for accessibility but with a more traditional pouch style.
And then I stalked my partner. I am not very good at just guessing from a feed, but thankfully she had a guide up for another pouch swap and I took inspiration from there. I found she likes cute animals, maritime style, a patchwork plus Essex linen combination, and mint. And by chance I was able to combine two for each pouch and though they are totally different, I hope they – or at least one – hits the spot.
The Gifts
Zip Up Tray Pouch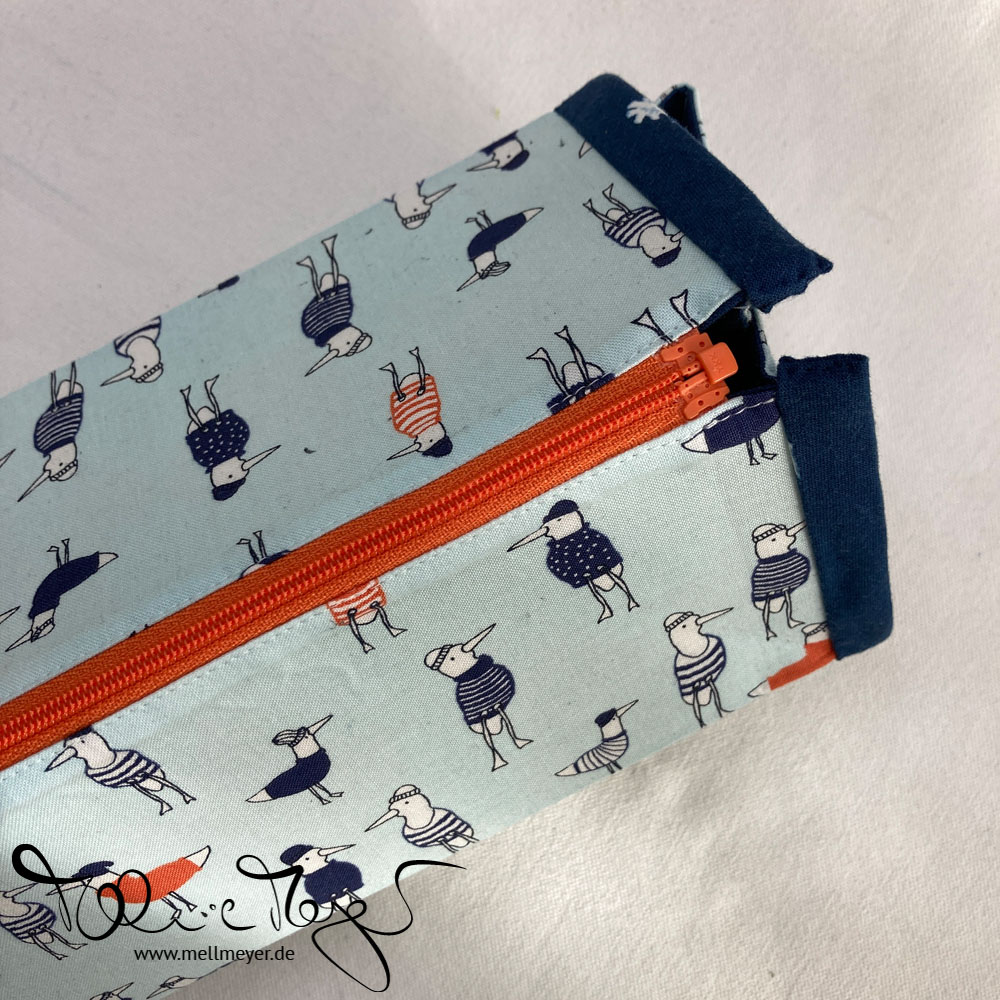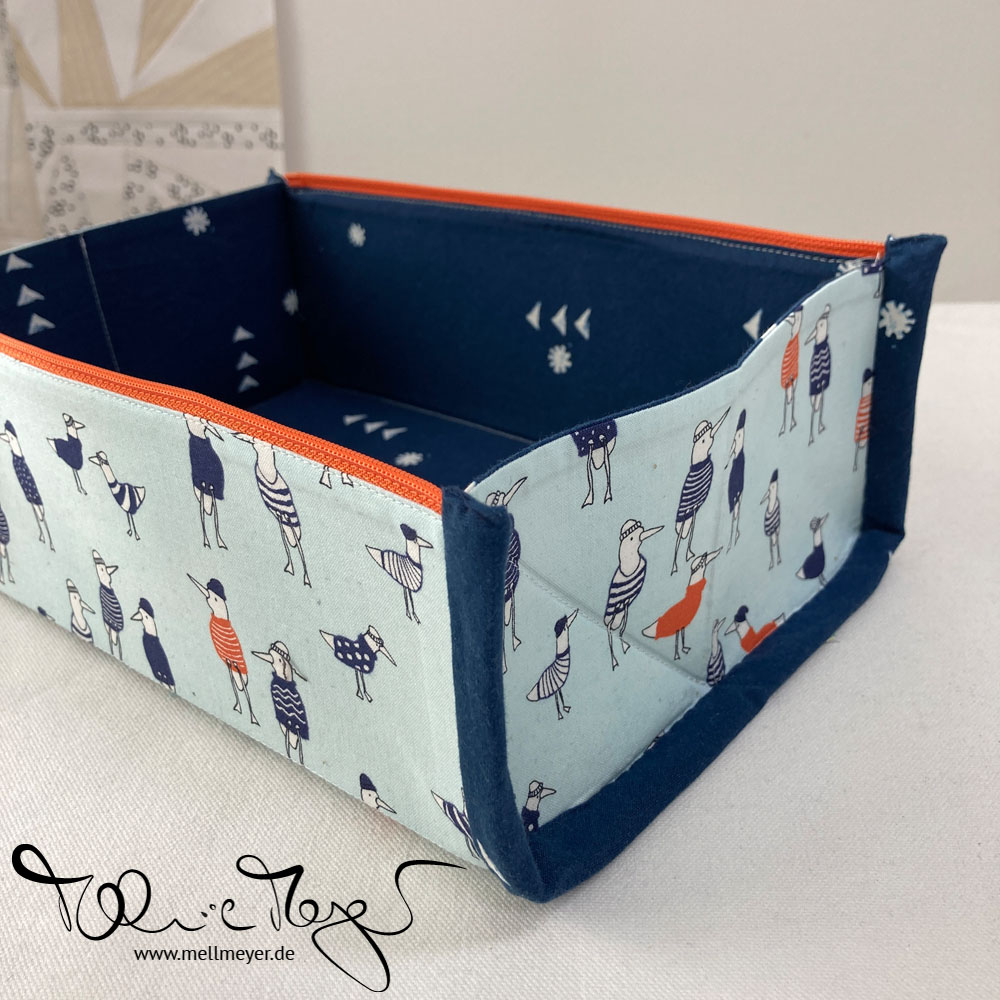 This is the cute animal plus maritime version – just if you couldn't guess that ;)
I found the pouch hard to photograph and if you want to see a few more pictures of it, you can find them at #zipuptraypouch. There is also a fun video of how it opens and closes.
Unfortunately I was not able to get the correct interfacing anywhere near me. So I layered a few of my "hardest" ones and it does work, but I think the original version uses even more stable interfacing. I guess an even harder/more stable interfacing might make it easier to open and close the pouch. If I were to sew one again, I would at least want to take a look at the original interfacing to decide.
Zip Up Basket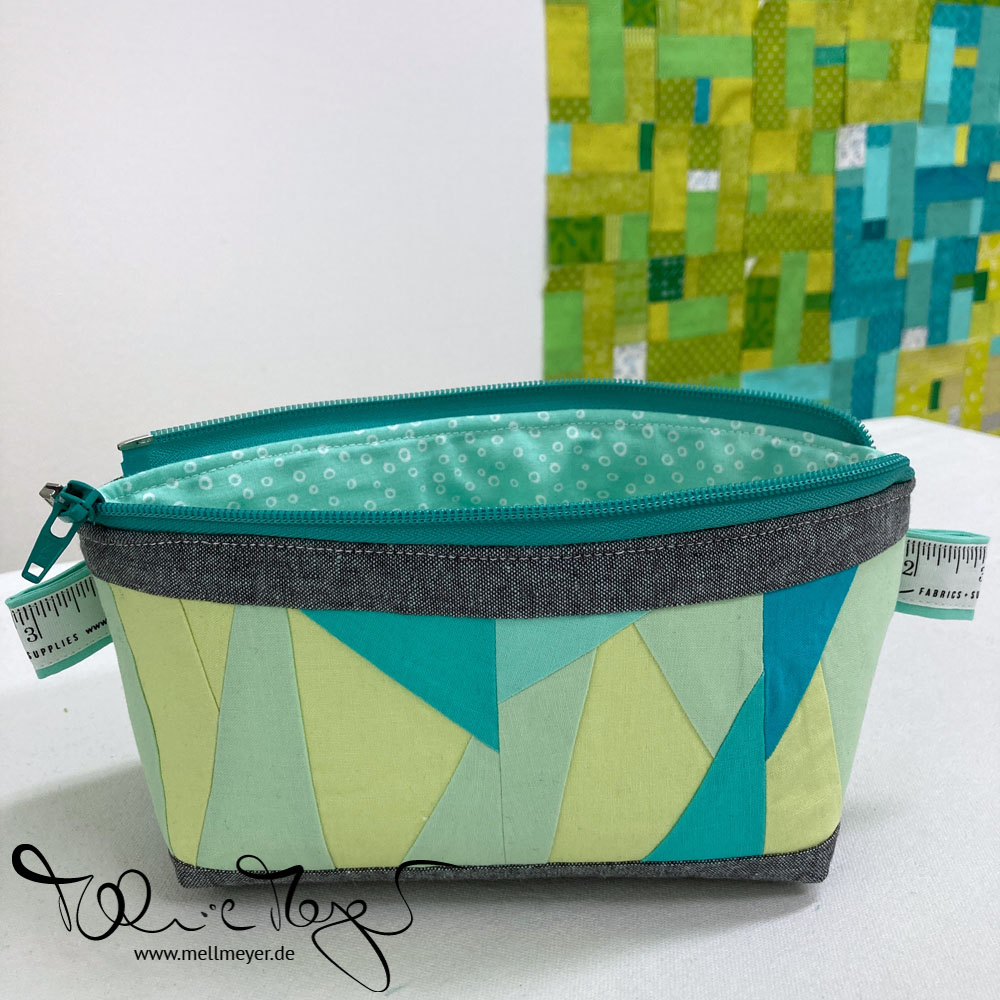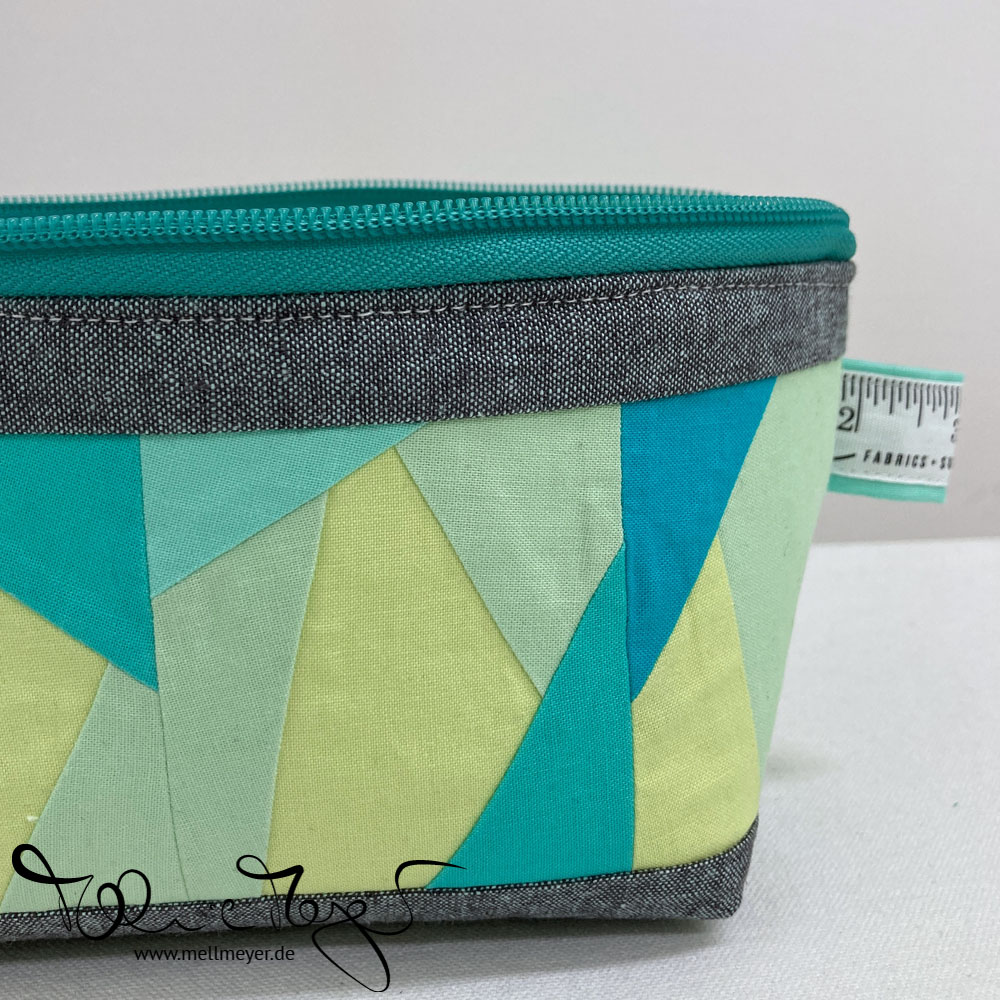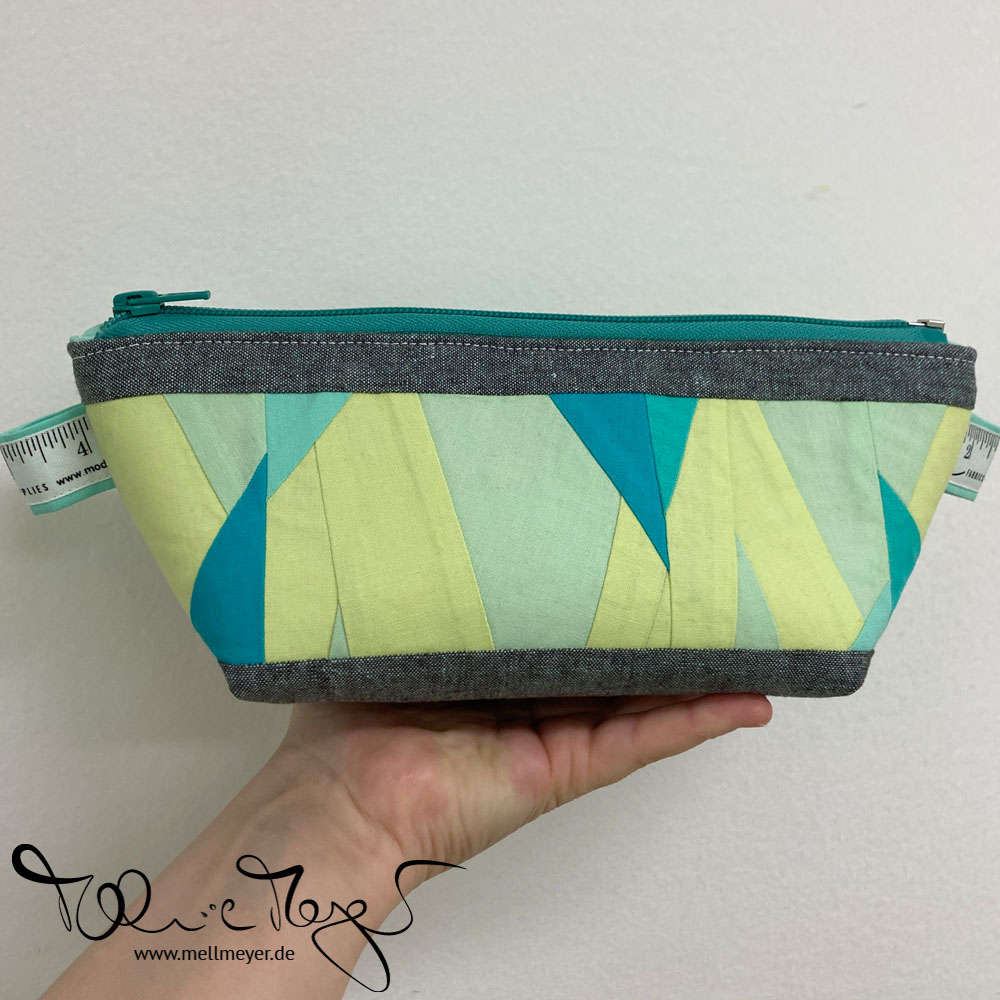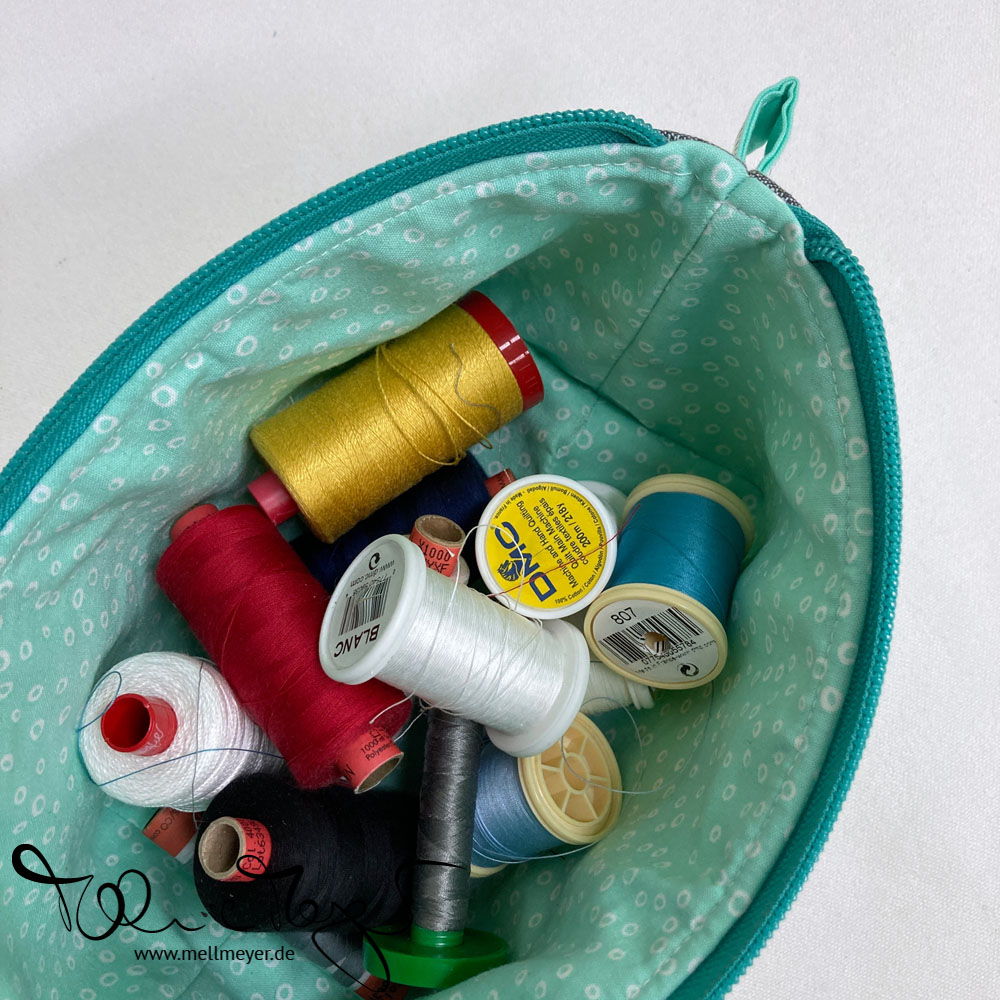 The second pouch combines patchwork and Essex linen and some mint fabric. The patchwork panels on the outside where left-overs from our Interaction QuiltCon group project and I cut them appart and added more turquoise and mint corners and improved them together again for a fun and modern look.
The construction was a bit more straight forward than the Zip Up Tray Pouch but both are very well written. I was especially delighted with a small trick to fixate the lining of the pouch at the bottom corners which makes for a lovely finish. I think one can apply that step to other pouches too and it is always fun to learn something new. I also tried Soft & Stable for the first time with this pouch and was very happy with how easily my machine sewed it.
My gift has now been received and ….
thankfully both pouches are liked. Puhh!
Best wishes
xo Melanie
So far this quarter …
Linking up at
Patchwork & Quilts #154 @ Quilting Patchwork Appliqué