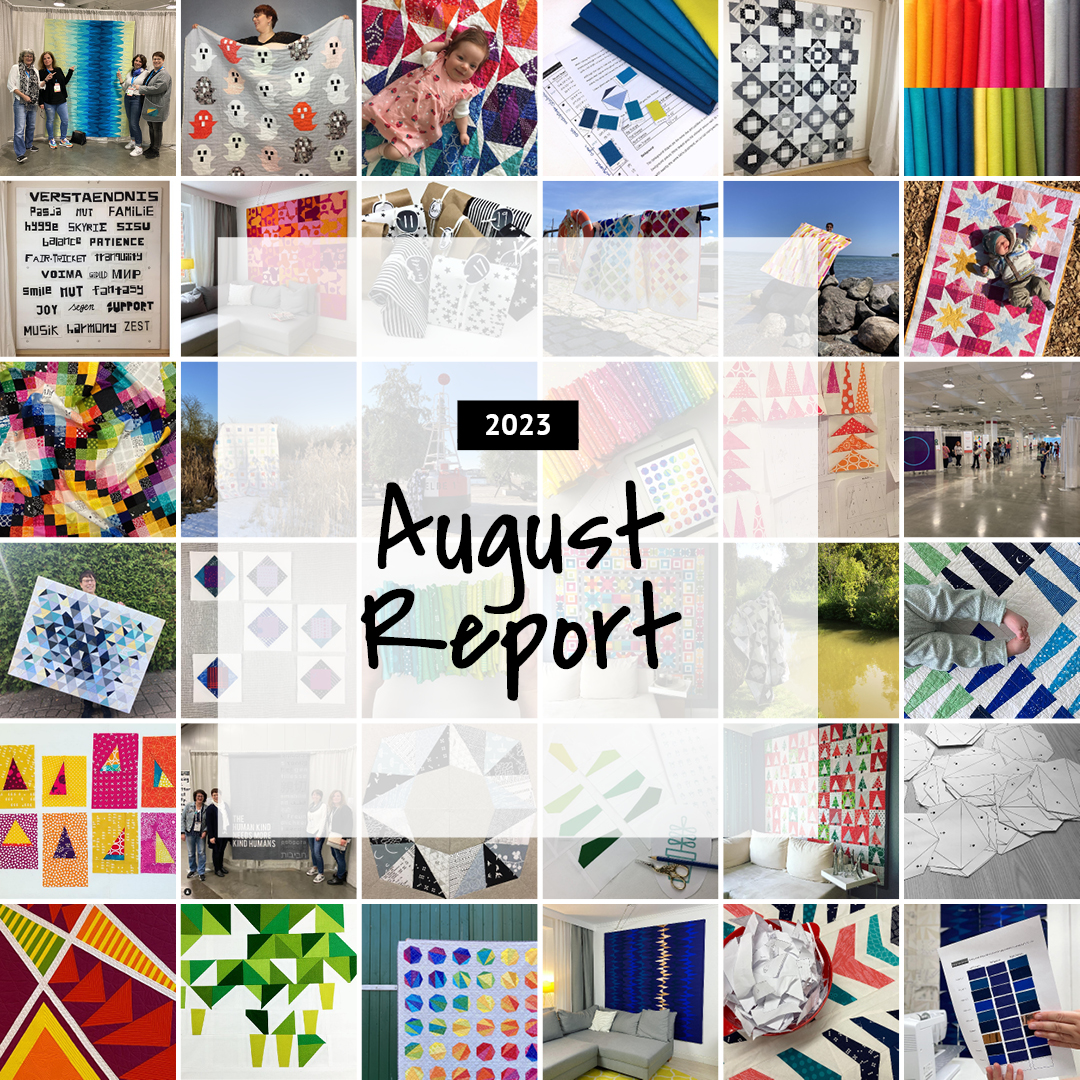 Blog Posts
Progress
There was a lot of prep work being done behind the scenes for the pattern release of All the Diagonals in German and for the Sew Along that just started. And according to IG I did not do any sewing… uuuups. I can't believe that is really true, but for sure I did not take any pictures. So I better get going on my WIPs again!
But I did post a collage for my 1000th Instagram post – which is why I also put it in this month marker. I started in 2014 so the ten year anniversary will be next year ;)
Fabric Tracking
Short and sweet this month: Nothing to report.
And just in case you were wondering: Jakob's quilt "Treasure Triangles" was finished in July and I counted it there. The blog post was just a bit late. An that note I still "owe" us the blog post for Scrappy Pixel. I better get that done next week during my vacation ;)
Minimalism
The topic I am reading the most about – besides quilting – is minimalism. So I thought I will put my best reads from this month in here in case you are interested too :)
I changed to my kindle reader and then kindle app "ages ago" and only own a few books. But in case you are starting to panic when thinking about giving away your books, this article might help ;)

It might have been a topic on my mind with my continued challenges food and movement wise. There are for sure a lot of ideas in there.

Would you like some breathing room aka white space?

I don't have kids, but these suggestions sounded very good ;)

Decluttering is a basic minimalism tool. Necessary for everyone, I would bet. Here are some ideas if you can't find your motivation.
Personal Life
A lot of things happend in the personal sphere but I do not have any pictures to share. Besides a restaurant visit with an old colleague, I visited my sister and my new nephew to gift the quilt. We also had a big boardgames night including a barbeque and we celebrated my first nephews start of school. That was so exciting! How come he is so "grown-up" already?
Even though it was very short this month, I hope you enjoyed my recap of the month and the extra insides into what is happening over here. I am sure with the week of vacation coming up I will have a lot more to report next month ;)
Best wishes
xo Melanie